The Cooking Fire Theatre Festival 2004 (Archive)
The Cooking Fire Theatre Festival (2004 Archive)
-a New Festival of Outdoor Performance-
in Dufferin Grove Park
Weeklong: June 24-27, 2004
The Festival, June 24 - 27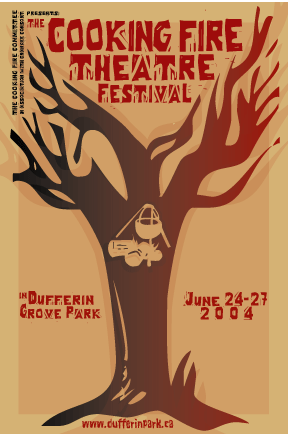 The Cooking Fire Theatre Festival is a week-long outdoor performance extravaganza produced by The Cooking Fire Committee, a group of local artists with long standing ties to Dufferin Grove Park. In the last week of June, companies from Toronto, Halifax and New York City will perform plays for children and adults, offering work that combines storytelling, puppetry, singing and clowning.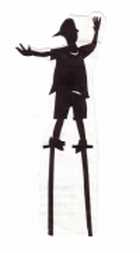 The performances range from a show performed in a tree, political satire, retellings of old folktales, a new take on Victorian melodrama, and a very tiny piece about religious tolerance in medieval Europe. Soup and bread will be served to the audience as well, and you can come for a short play and a meal, or stay for the whole evening and watch big and little shows happening all over the park. An event bringing together interesting companies from different parts of North America, The Cooking Fire Theatre Festival will blend humour, seriousness, inventiveness and delight, adding a new chapter to theatre in Dufferin Park.
To contact the festival organizers call 416.531.1208 or write to strangertheatre@hotmail.com.
The Schedule:
We will begin serving food at 5:30pm on Friday, Saturday, and Sunday. Theatre Performances start at 6:30pm and 8:00pm. For more information about the Festival suppers, see Festival Suppers below.
The entire program listed below is being run each of the four nights of the festival.
Program One ~ 6:30 (family-friendly)
Great Small Works, New York City - King George and the Devil
Stranger Theatre, Toronto - East of the Sun, West of the Moon
Cardboard Heart, Toronto - The Trees of Memory
Program Two ~ 8:00 PM
Number 11 Theatre, Toronto - Peter Schlemihl
Zuppa Circus Theatre, Halifax - Uncle Oscar's Experiment
Great Small Works, New York City - Three Books in the Garden
The Festival Staff
Festival Director ~ Kate Cayley
Festival Co-ordinator ~ Lea Ambros
Volunteer Co-ordinator ~ Sheryl-Ann Simpson
Publicity ~ Julie Penner
Food Preparation ~ Anna Bekerman and Daniel Molloy
Graphic Design ~ Kilby Smith-McGregor
Great Small Works-New York City
King George and the Devil and Three Books in the Garden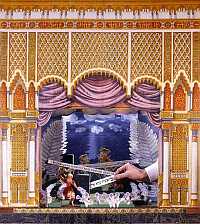 Using traditional cantastoria (picture performance) technique and rod puppets, King George and the Devil is the story of the mighty King George W. and his long-standing relationship to Corporate Oil.
Three Books in the Garden is a toy theatre production, using elaborate cardboard sets and original music. It was inspired by Maria Rosa Menocal's recent book, Ornament of the World, and addresses the period in medieval Andalusian Spain when Jews, Christians and Muslims lived side by side and supported the flourishing of each other's cultures.
Founded in 1995, Great Small Works is a collective of six theatre artists. The company draws on folk, avant-garde and popular theatre traditions to address contemporary social issues. They produce work on many scales, from giant outdoor spectacles involving a hundred performers to miniature proscenium stage shows in living rooms. On any scale, Great Small Works seeks to renew, cultivate and strengthen the spirit of their audiences, promoting theatre as a model for participating in democracy.
Find out more about Great Small Works at www.greatsmallworks.org
Stranger Theatre-Toronto
East of the Sun, West of the Moon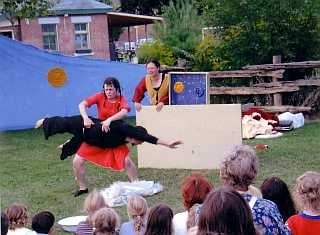 Stranger Theatre, 2003
Performed in a brief run in Dufferin Park last summer, this story about a girl who marries a bear returns in a new version. Based on a Norse folktale, the show combines different methods to re-imagine an old story about love, leaving home, and seeking your fortune in a troubled world.
Stranger Theatre is a feminist theatre company with a mandate to retell old stories from myth, folktale and literature in ways that mix surprise and delight with serious thought, using playful methods combining mask, music, puppetry, storytelling and original writing. The company has performed at SummerWorks, Rhubarb!, The Atlantic Fringe Festival (Halifax), On the Waterfront (Halifax), and LadyFest Midwest in Chicago, as well as producing work independently in both Toronto and Halifax.
We have a picture gallery past versions. See the picture gallery>>
Find out more about Stranger Theatre at www.strangertheatre.ca
Cardboard Heart-Toronto
The Trees of Memory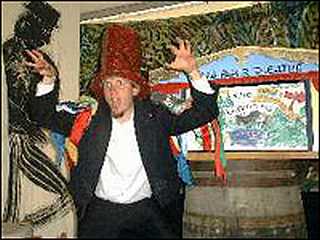 Noah Kenneally
A new piece that takes place in and around a tree, using puppets, circus acrobatics, visual poetry and physical theatre. The Trees of Memory weaves storytelling and remembering together, telling three different stories involving tress and the memory of landscape and place.
Cardboard Heart is a new company led by puppeteer and circus performer Noah Kenneally, with a mandate to rescue old stories that will make an audience softer, more vulnerable and more thoughtful than before.
Number 11 Theatre-Toronto
Alex McLean
Peter Schlemihl
Based on a tale by Adalbert von Chamisso, the show incorporates singing, puppets and stilt walking to bring life to this fantastical story of a man who sells his shadow in return for a bottomless bag of gold.
Number 11 Theatre is a permanent ensemble dedicated to creating original performances from text, action, story and song. Peter Schlemihl is their first outdoor performance.
Find out more about Number 11 Theatre at www.numbereleventheatre.com
Zuppa Circus Theatre-Halifax
Susan Leblanc-Crawford
Uncle Oscar's Experiment
Felicity Luckless is cursed. Or so they say. Everywhere she goes she brings death and destruction. Or so they claim. No-one can help her. Or so they thought. Until… Inspired by nineteenth century melodrama and early science fiction, Unlce Oscar's Experiment is a rich, musical fantasia set on the borderland between Earth and Eternity.
Zuppa Circus Theatre is a theatre troupe mandated to collectively create new works based on original or found stories and to present them in distinctive places and formats. The members are committed to discovering different configurations of the audience/performer relationship while always holding in high regard the idea of "bringing theatre to the people."
Find out more about Zuppa Circus at www.zuppacircus.com
Festival Suppers
From the festival organizers:
Dear park friends,

For the next three nights (Friday, Saturday, Sunday) the suppers begin at 5.30, to co-ordinate with the Cooking Fire Festival of Outdoor Theatre. The performances, in four park locations including the yurt, begin at 6.30.

The Cuban music with Larry Lewis and Poquito Grande begins at the same time as the supper. There are no reservations: first come first served (lots of food). Main plate $6 unless you bring your own dishes.

Friday menu:
black bean soup
Farmer's market minestrone
Beretta's beef lasagne
Vegetarian lasagne with spinach and garlic scapes

Farmers' market green salad

Apricot cake with whipped cream

Saturday menu:
potato soup with shallots and sage
Beretta's beef stew with chipotl peppers
Vegetarian curry with farmers' market snap peas

Farmers' market green salad

strawberry tarte

Sunday menu:
surprise soup
spanakopita with spinach
spanakopita with asparagus
pasta salad
surprise dessert

The weather forecast is lovely but cool -- warm sweaters are good. The plays include lots of music (vocal and instrumental) and acrobatics and stilt-walking and funny/serious plot lines to move you. A very nice way to welcome summer -- with an abundance of farmers' market produce turned into some very tasty meals.

See you at the park!
This festival has been generously funded by: