Dogs at Dufferin Grove Park
Final decision

After a well-attended meeting on Dec.10, 2018, the decision was made by city staff NOT to put the DOLA into Dufferin Grove Park.

Letter from City Councillor Ana Bailao

I would like to thank those who reached out in regards to and attended last week's community meeting with respect to the proposed dogs off-leash area (DOLA) for Dufferin Grove Park.

I truly appreciate many of your heartfelt messages about the role that the tobogganing hill plays in the community.

As many of you know, my office has received many requests over the last couple of years to create a DOLA in our community. That is why I previously asked City staff to undertake a scan of the previous ward that I represented to identify opportunities for a DOLA.

Staff identified Dufferin Grove as the only option that was suitable and met the DOLA policy that the City currently has which is why we wanted to consult with the community on how best to serve everyone.

At last week's meeting we heard from both dog owners and park users that the space as proposed does not work and that it would not serve the needs of everyone well.

Dog owners expressed concerns over pea gravel, the location and size of the proposed DOLA. It was clear that dog owners were open to other ideas such as off-leash times, different locations or other solutions that both the community and City staff might be able to come together and agree on.

Moving forward, I am asking City staff to identify additional locations across the new Ward 9 - Davenport, including possibilities around Geary Ave. I will be bringing together a small group of dog owners who have indicated their willingness to work with my office and City staff to explore these types of opportunities.

I look forward to continuing this conversation and work to hopefully find a solution that can work for everyone in our community.
Community meeting about a DOLA (Dogs off-leash area) in the park: Monday Dec.10, 6.30 to 8 pm at St.Mary's High School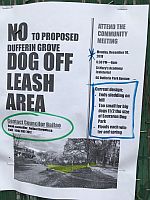 From the December 2018 newsletter: It seems to be a municipal requirement to put a DOLA in every ward. There's $300,000 in the budget to put a DOLA into the southwest corner of Dufferin Grove Park this coming spring. However the space is small, and most owners of large dogs say they'll continue to walk their dogs elsewhere in the park. The DOLA is on low ground that turns into a lake in late winter. And parents are unhappy that it will mean tobogganing on the hillside is over.
On Dec.8, two city staff drove into the park, walked over to a lamp-post and took a photo of an anti-DOLA poster there. There have been some quite strongly-worded letters as well: read more
---
July 17, 2018
Eric Code's truly encyclopedic list of municipal dog park approaches is here
May 28, 2018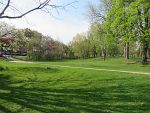 Note: This page had no posts between 2007 and now. The whole dufferinpark.ca website is being awakened after being mainly an archive since 2014. And the dog section has a particular relevance, since a DOLA is being planned for Dufferin Grove Park (DOLA = dogs off leash area).
At a small residents' meeting in November 2017, participants voted to approve a new DOLA in the hollow on the west side of the park, by Dufferin Street. The capital projects budget for 2018 lists $40,000 for a consultant to plan the park and $260,000 to instal it.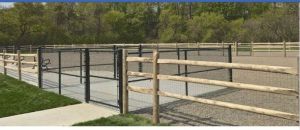 But it seems that dog parks in other parts of Toronto have been getting mixed reviews. The photo for the Raymore Dog Park Friends Facebook Page shows a picture that looks a bit like a prison exercise yard.
Dog parks with the Toronto standard pea gravel surfacing seem to be particularly contentious (see for example this article about Greenwood Park).
Eric Code, who is part of a group called Leash Free Toronto, and a goldmine of dog park information, writes: "The idea isn't just to create parks for dogs - it's to create conditions that make it easier for people and dogs to share public space in harmony. The more crowded cities get, the more important this becomes." Eric's annotated links are here.
---
posted June 30, 2007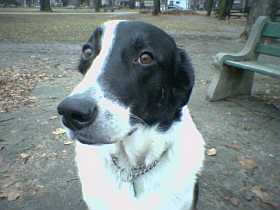 Dogs at Dufferin Grove Park are welcome as long as they are well behaved, which most are. The rules of conduct in Dufferin Grove Park are: no dogs are allowed in the playground, wading pool or sandpit area.
There is no legal dog off leash area in Dufferin Grove Park, but many mature, responsible dog owners choose to walk their dogs off leash during less busy times of day and in less well used areas of the park. For some years there has also been a parade of pugs once a year in September.
To find out about the City of Toronto's proposed new policies and our local rules of conduct.
The latest news, and older news can be found as well.
Our resident park photographer and dog walker Wallie Seto has assembled a photo gallery of local park dogs.
There is an interesting archive of stories about pitbulls and the pitbull ban, pugs and other events and the relationship of dogs to humans in our storylines section.
Professional dog walkers:
There are not many at Dufferin Grove -- mostly it's people walking their own dogs. But there are a few people who do it for a living. Quite a few neighbourhood dog owners have recommended Dave Monette.
Contact park staff at staff@dufferinpark.ca or 416-392-0913 for questions or suggestions.
Latest News
Dog owners be aware, Giambrone's office has unleashed By Law officers
Isaac Meyer wrote:
Hello Neighbours,

I know that many of you are dog owners so I just wanted to pass on a heads up that the city's by law enforcement is targeting Ward 18 for any off leash dogs. I just received a $260 fine for having my dog off leash in McCormick field in the pouring rain at 8:30am when there was absolutely no one else was there.

The By Law officer did provide me with some background. It seems that Councillor Giambrone's office has insisted that the city should be patrolling and enforcing a no-tolerance ticketing of the parks in this area. Apparently, Ward 18 is the only ward in the city that does not have a designated off leash area which makes us easy pickings for collecting lucrative $260 fines.
posted on June 26, 2008
City dog-bylaw officers have been unleashed on our parks to hound canine lovers and stop Rover from roving
By: MIKE STROBEL
Published: June 11, 2008
Source: Toronto Sun

There's a big stink at Ashbridge's Bay. And I don't just mean the sewage plant.

Such a peaceful park, too, especially when, like yesterday, mist rolls over Woodbine Beach and turns the basswoods a satin grey.

But menace hides in those trees and in the long grass and along the sandy trails.

"I'm looking over my shoulder all the time," says Krisy Tengberg, 49, walking her yellow Lab, Max.

"You never know when they're going to jump out of the bushes."

Tension is so high, the locals have taken to wearing whistles to warn each other.

"They're too aggressive," says Harry Kitamura, 67, who ought to know. He's a retired tax auditor.

"They can't go pushing people around like this."

They? American tourists? Druggies? Canada geese?
From the July 2007 Newsletter
THE CITY'S NEW DOG POLICY
From the proposed new City of Toronto Parks off-leash dog policy: "The 2008 request for ten new By-Law Enforcement Officers, including supplies and space rental costs for 6 months in 2008 will require $666,600 of Operating Budget funding and an additional $175,000 of Capital Budget funding for five new vehicles. For 2009, an annualization of $496,600 will bring the total annual Operating Budget funding to $1,163,200. In addition, approximately $405,000 per year of Parkland Capital improvements will be requested to support the installation of off-leash amenities in parks." http://www.toronto.ca/legdocs/mmis/2007/pe/agendas/2007-07-04-pe07-ar.pdf
At an additional cost of $1.6 million every year, that's a lot of money! 40 people came to make deputations at the Parks and Environment Committee Meeting on July 4. Two deputants gave us their web site addresses, with two very different perspectives: www.highpark.org and www.playatthepark.ca.
Parks manager Sandy Straw is the lead on the new policy. The City also brought in the director of by-law enforcement from Calgary, Mr. Bill Bruce, to speak to the councillors. He emphasized Calgary's close attention to dog licensing, strict by-law enforcement, and large number of off-leash areas.
For its new off-leash areas, the City's report suggests mandatory dog owners' associations, which would sign letters of agreement with the City. At the same time all unofficial off-leash dog areas will be targeted for intensive ticketing. This will have an effect on Dufferin Grove Park's dog owners. Dufferin Grove Park staff are prepared to schedule a few park dog-policy conversations if that's wanted (less formal than a public meeting, but open to anyone, and around a few picnic tables – a lead-up to any larger formal meeting called by the Councillor.) Should there be an official off-leash area at Dufferin Grove? If so, where? To follow up, or for more information, call Dufferin Grove Recreation staff Amy Withers, or e-mail her at awither@toronto.ca. Or call Councillor Adam Giambrone's office at 416 392-7012.
HURRAY FOR JUDY SIMUTIS AND FOR HER MOTHER MURIEL
Judy Simutis has been walking her dog Elmo in the park for years, and in the winter she bakes Rice Crispie Happy Faces for the rink snack bar whenever there's a special occasion. On Monday of the Canada Day weekend, Judy brought over a big box with red-and-white-icing Canada Day cupcakes arranged like the Canadian flag. She had decorated the box with Canada's coat of arms. Those cupcakes were delicious, and Judy is a person who really knows how to mark special days.
Judy often brings her mother Muriel to Friday Night Supper in her wheelchair. Later this month, it will be Muriel Simutis' eighty-fifth birthday. Judy's planning to bring a cake to share with the neighbourhood – as always. A chance to sing happy birthday and applaud Judy and Muriel – July 22.
---
posted on July 05, 2007
Leash Free Policy (and more permits) may be in force by the fall of 2007
Leash-free policy lacks teeth: Critics

By: JOHN SPEARS, CITY HALL BUREAU
Published: July 05, 2007
Source: thestar.com

Dog owners who want an off-leash area in their neighbourhood will have to form an association and negotiate terms with city officials under a new policy recommended by the city's parks committee.

But critics said the policy fails because it doesn't require all leash-free areas to be fenced.

Three dozen citizens addressed the committee on the new policy, and no consensus emerged between dog owners and those who want more protection from dogs.