The Unofficial Website of Dufferin Grove Park, Toronto
Publications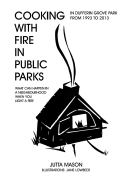 ---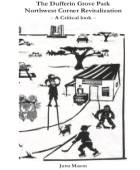 The park reno: a critical look
---
Films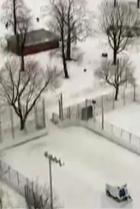 Citizen-Z Cavan Young's 2004 film about the zamboni crisis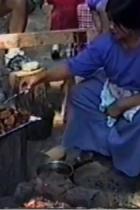 The Big Back Yard in Dufferin park, a 1995 film made by Amnon Buchbinder
---
(:redirect Home.FrontPage:)
(:redirect Home.FrontPage:)
Custodians:
The Dufferin Grove Park Farmers' market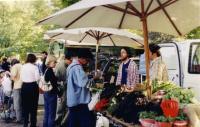 After more than two years as a virtual market with pickup at St.Anne's Church, the market returned to Dufferin Grove Park, south end near the playground, in May 2022. Every Thursday, rain or shine, 3 p.m. to 7 p.m.
NOTE: MOST OF THIS WEBSITE IS NOW A HISTORICAL ARCHIVE ONLY, FLAGGED ON EACH PAGE
---
CURRENT
Update:
Until the middle of September, the former community oven at Dufferin Grove was a ghost oven. The city's oven policy was such an ill fit that many outdoor city ovens were padlocked most of the time.
That changed after some resistance. On Friday Sept.16, Recreation Supervisor Anthony DeLaurentis came to the park to talk about oven friends collaborating with city staff to bring this community oven back to life.
---
Follow-up posts and comments
---
September is here -- fall is a fine time to learn to use your green thumb at the park gardens (or learn how to acquire one)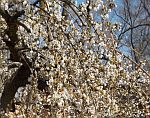 Want to join the Dufferin Grove Park Garden Club Cooperative? For more information, get in touch: gardens@dufferinpark.ca. read more
---
Park maintenance
This summer there are no encampments in the park but there has been some new vandalism. Dog walkers, moonlight picnickers, keep a lookout when you're in the park. If you see someone making a mess, or camping, and they look like they might need help, or a reminder to behave better, call 311 and let them know.
Park maintenance reports for 2022
---
The cob courtyard kitchen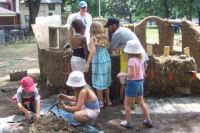 This structure is a remarkable collaborative project -- headed by Georgie Donais, involving over 500 pairs of hands -- both children and adults -- during the three months it took to build it, in 2005. It was plumbed and wired by the city's expert Tech services staff.
It's lasted well, but like every public structure, it needs maintenance. To find out more: cob maintenance, 2022
---
---
PARK BOOKLETS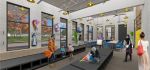 from the editor...
The Dufferin Grove Park Northwest Corner Revitalization Project (2019): a critical look.
---
---
A park booklet: "Dufferin Grove Park as a neighbourhood commons, 1993 to 2015" is posted here -- a little history, at the end of an era, with stories, lots of coloured photos, and some short interviews. Paper copies are available in the park newsletter slots.
---
---