Caring for the park during the time of Covid: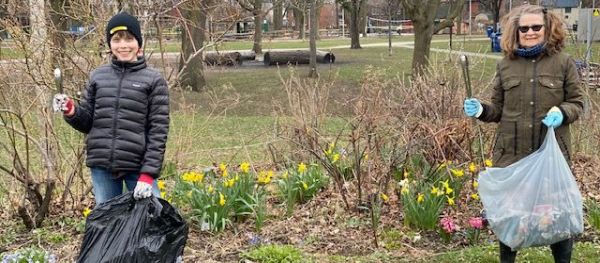 From long-time community gardener Skylar Hill-Jackson, April 17, 2020: "my friend, Barbara and her 12-year-old daughter, Zoe, (live in a condo at Yonge and Davisville) and I picked up rubbish in the park on Friday for an hour and a half. We did the north/west corner on the west side of the rink house, all around the outside of the veg and herb gardens (not allowed to go inside as the gardens are considered closed 'park facilities'), and then picked up more rubbish on the grassy area between the gardens and the basketball court. Then Zoe wanted to climb a tree. It was cold and windy. However, we were out of our forced isolation, breathing fresh air, getting some exercising and cleaning up and connecting with nature. Making Dufferin Grove Park beautiful for everyone! More park clean-up days ahead."
---

Women against men tug-of-war, St.Anthony's Roman Catholic Church annual picnic, August 3 2008
Dufferin Grove Park as a neighbourhood commons: stories from 1993 to 2015
The making and unmaking of Dufferin Grove in 32 short chapters (from 2011)
See also Park Events, People, The Friends of Dufferin Grove Park early annual reports, random neighbourhood e-list discussions
The archived park theatre event subsite is available here: Cooking Fire Theatre Festival
About us: who were the friends of Dufferin Grove Park?
posted January 31, 2005 / updated September 2017
How the Park Works
Dufferin Grove Park is operated by the City of Toronto Parks, Forestry and Recreation Division. It is not operated by the friends of the park, nor by volunteers.
The friends of Dufferin Grove Park no longer exist. They were never an organization. There was no executive, no annual meetings, no formal status. There was no written agreement anywhere between the friends and the city. But in times of trouble, there were impromptu park-user meetings, usually attended by 30 to 100 people depending on the issue.
So how did it work then, in the day to day? And who were these "friends of Dufferin Grove Park"?
The friends were all those people - more every year until 2012 - who are friendly to that 14.2 -acre city-owned common space which is bordered by the Dufferin Mall, St.Mary's Catholic High School, and the mixture of affluent and subsidized housing that borders the park to the east and the south. Most park friends expressed their friendship only through their joy at what goes on in the park. At the other extreme, for about 15 years, Jutta Mason made friendship for the park her almost-full-time hobby. In between, there were many people who gave things (time, plants, music, theatre, toys in the sandpit, conversation, sports skills, etc., etc.) as they felt moved to do that. There was no schedule to how these things are given, no five-year plan - it was (sorry) organic. Some of the friends crossed over to being park staff, magnifying their friendship as they were able to increase their responsibilities there.
Videos and slideshows
---