Park Events
Events 2014

Native Child and Family Services of Toronto invites you to join us in celebrating The Ninth Moon of Creation
Saturday, September 27, 2014
Dufferin Grove Park 875 Dufferin Street
Click on poster for more information.
---
Events in 2012
Upcoming events

Skating Party
Celebrating the annual ward 18 skating party
December 1, 2012. 2 pm
Previous years
Twelfth Night: January 5 2010
Photos were taken by Teresa Vanneste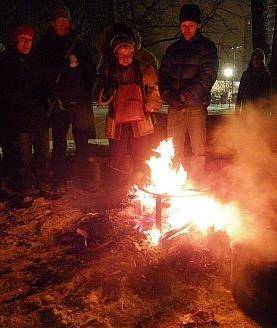 Working notes, from Jane Wells: Last week, on January 5th, a small group gathered at Dufferin Grove Park to observe old Twelfth Night, the evening before Epiphany, or Twelfth Day, or Old Christmas Day. Called many things, it is the finale of the Christmas celebration, almost certainly drawing on pre-Christian ritual to recognize the dark cold of winter, remind us of the distant spring, and make some charm for a good harvest to ease the winter next. In putting together this workshop of Twelfth Night, I drew on accounts from various regional British traditions, many apparently medieval, but not exclusively.
We gathered behind the big oven, where noise-makers were handed out and a few jobs assigned.
We were then greeted by Old Meg, a crone with a lantern. Played by Bruce Beaton (cross-dressing and disguise were a big part of medieval Twelfth Night parties), Old Meg was the name for the 13th and largest fire of the evening, which also sometimes had a straw figure, the old meg, in the centre of it. Creepy, but interesting!
She led us to the two cherry trees, where declamations were made, caraway toast was hung from the branches, and cider poured down each trunk. This 'wassailing of the fruit tree' was traditionally done to apple trees, and in rural areas of the southern UK was the main event of a Twelfth Night.