Events in 2012
Upcoming events

Skating Party
Celebrating the annual ward 18 skating party
December 1, 2012. 2 pm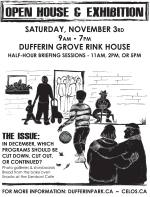 Open House/Exhibition
Saturday Nov.3, 9 am to 7 pm: at Dufferin Grove rink house.
Hosted by CELOS
Register your opinion: in December, which programs should be shrunk or let go, and which ones should be preserved?
There will be lots of photo displays about the different programs that were developed over the years, with some Parks and Recreation budget and organizational displays as well. There will be three half-hour briefing sessions -- at 11 a.m., 2 pm, and 5 pm, take your pick -- about the four Ward 18 parks at issue. The zamboni cafe will be open, one of the bake ovens will be fired up (with bread samplings), and there are bound to be some lively conversations among neighbours.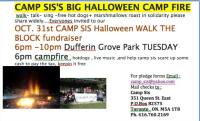 October 31, 2012. CAMP SIS Halloween WALK THE BLOCK fundraiser
6pm - 10 pm
Walk - talk - sing free hot dogs + marshmallows, live music ...
everyone invited!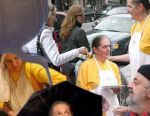 Performance: FOOD=NEED, November 1st, 2012,2 to 5 pm
(in the garden near the market, by the rink-side campfire site)
From the artists: Food is a basic human need. It shapes desires and obsessions and yields many kinds of enjoyment and pain. One can explore food from diverse perspectives, seeing it both as an object produced and consumed and also as a symbol of our human relations. The diversity of what we eat (and don't eat) and of how food is produced and shared shapes cultures, communities, and nations.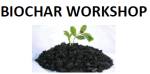 November 3, 2012 3pm - 5pm
Biochar is high quality that can be used as a soil amendment to create a healthier for plants and microorganisms.
---
Previous events.

June 7, 14, 21 & 28, July 5, 12, 19, 26, August 2, 9, 17, 23 & 30.
Thursdays at 6pm, Yoga in the Grove. Free - look for the flags by the main campfire pit. Everyone is welcome. 60 minutes of stretching, strengthening, moving, breathing and music... Weather permitting
---
Thursday July 26 and Thursday August 30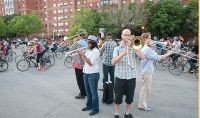 ArtSpin: This month we're partnering with the good folks over at Dufferin Groves Park, so we have a new meeting spot!
Be there at 6:30pm, tour leaves at 7,
---
July 1st and after
Starting Sunday July 1st (Canada Day) - every Sunday in July and August, Octopus Garden Holistic Yoga Centre, will be offering free Yoga classes 10:30am - 11:30am.
(on the flat, shady, grassy area, west of the path south of the main campfire site:)
---
August 23 Scottish Dancing
Dance your way to healthy active living in Dufferin Grove Park! Join us near the field house around 6:45 on for some Scottish Country Dancing on Thursday Aug. 23, after your marketing at the Farmer's Market. Listen for the bagpiper, who will pipe interested parties from the market to our dance. We'll be demonstrating some easy dances and encouraging folks to join in the fun. Kids welcome too!
Looking forward to seeing you then,
Liz Martin & Paul Barber
Havelock St
(Your friendly neighbourhood Scottish Country dancers)
---

The second-ever "Sleep-in" at Dufferin Grove Park, Friday August 17, 7 pm.
From the "loveduffgrove" organizers: "Everything you love about Dufferin Grove is now at risk. Last year, Grove-lovers demonstrated our willingness to fight for this park by holding a "sleep-in"…Apparently, they didn't get the message the first time."
Facebook: A sleep-in at dufferin grove. More information: loveduffgrove@gmail.com.
This newsletter is written by Jutta Mason and published by the Centre for Local Research into Public Space (CELOS), www.celos.ca. To read this story online: www.parkcommons.ca
---
Papier-Mâché Art Camp at Dufferin Grove Park
July 23 - 28, 2012
Papier-Mâché Art Camp at Dufferin Grove Park with Artist Erin Robertson 9 - 5 pm $185. per session includes all art materials & one snack a day provided & one bursary spot per session.
July 23 - 28, 2012 (Ages 6 – 10)
Theme: Mini Me
Have you ever wanted your very own Mini Me? How would your miniature self dress, or act? Would they follow your every wish and command? On the final day, you shall introduce your creation to the WORLD! Explore and express your inner self in Papier mâché under the inspiring talents of Erin Robertson.

July 30 - Aug 03, 2012 (Ages 9 – 13)
Theme: Día de los Muertos
It's time...to bring your skeleton…to life! Cute or scary? Beautiful or bizarre? What will it do? On the final day, you will introduce YOUR creation to the WORLD.
---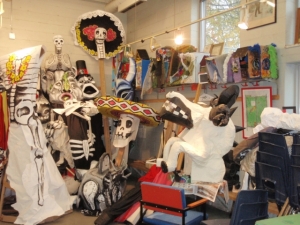 Thirteenth annual NIGHT OF DREAD
Saturday October 27, 2012
Assemble 4pm, by the campfire at the basketball court .
Parade leaves the park at 6pm, returns to the park an hour later, for more performance, spectacle, and good food.
---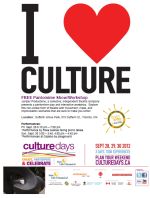 I LOVE Culture
Performances:
Fri. Sept. 28 6:15 pm – 7:00 pm
*Performance by Rose bushes facing picnic tables.
Sun. Sept. 30 3:00 – 3:45, 4:00 pm – 4:45 pm
*Performances at Gazebo by playground