The Unofficial Website of Dufferin Grove Park, Toronto
Publications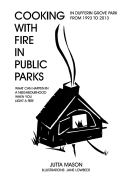 ---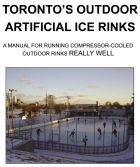 Films, videos, slide shows
---
---
(:redirect Home.FrontPage:)
In the Neighbourhood

Local service providers
If a pipe bursts in your basement or your roof leaks, where do you turn? Find out your neighbours' favourite fixers, where your neighbours like to go out to eat, who they go to for piano lessons, and more. This list Local Service Providers is a compendium of listserv posts from four local lists
---

17th Really Really Free Market at Campbell Park
The first Saturday of every month
195 Campbell Avenue, near Landsdowne and Wallace
Open from 10am until 4pm. Bring your items before 3pm. Clean and usable items only.
Everything is free--really! No swapping, not trading. Bring what you don't need, take what you need.
---
(:redirect Home.FrontPage:)
Custodians:
News
DUFFERIN GROVE ORGANIC FARMERS' MARKET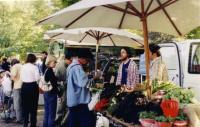 The Weekly Market Notes for Thursday September 11th (3:00pm - 7:00pm) are on-line. Read more>>
The Farmers' Market continues all year round, every Thursday, rain or shine. The market has moved outdoors for the summer season. Read more background info about the market>>
---
September 2014 newsletter is online
---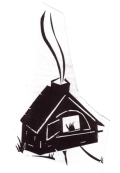 Friday Night Suppers
To see Friday night menus over the past few years, click here.
From 6 (ish) to 7.30 Due to staffing restrictions, there is now only one entrée option: a vegetarian (or sometimes vegan) meal, a side dish, a salad, and dessert. Although the money all goes back directly to the City now, prices listed are still only a suggested donation. If you can't spare the cash, donate at some other time – nobody goes away hungry! (Of course, if you feel like donating more than the suggested amount, that's fine too.) Click here for this Friday's menu.
For an alternate and cozier venue - try going to our sister location, Macgregor Park for meant and veggie dinners just at the corner of College and Lansdowne. Join the facebook page for weekly menu updates.
---
Park campfire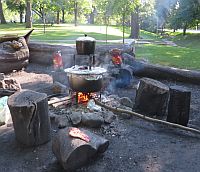 Park campfire, Monday August 18
Monday August 18, 4 pm:
A group was roasting a goat over the fire, in the traditional Pakistani manner (takes 3-4 hours). Then they finished it off by steaming (in the big pot). The smaller pot on top has the rice in it -- which was cooked inside the stomach of the goat, then taken out and put in the pot. The smell was delicious. More information about campfires at Dufferin Grove below
---
SPORTS
The rink pads are used for bike polo, soccer, skateboarding and BMX all fall - except for thursday afternoons in October/November. More information: dufferinpark@gmail.ca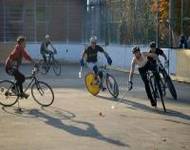 Bike polo plays 3 regular games a week
Staff assigned to Skate Park rebuild
See more in the Sports section
Regular activities
PARK GARDENING
Drop In Times for Sunday, August 17, 3 - 5 pm and Wednesday, August 20,
4 -6 pm.
There is no denying it, we are past mid summer and almost into fall. The veggie beds are looking bountiful with newly planted greens and the sunflowers are in full bloom in the front of the rink house. This week we'll be doing more maintenance and perhaps making aluminum scarecrows to scare away the sparrows who seem intent on nibbling away at the foliage of the scarlet runner beans that are climbing on the trellis and looking magnificent with their bold flowers.
---
CAMPFIRES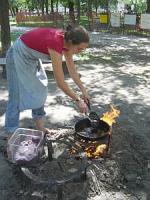 Please note - the Cob Site will close in October To book a campfires please email staff at dufferinpark@gmail.com,
There are three small-group campfire locations, but only the main pit is used through out the year. The centre path fire circle is in the middle of the park, the cob fire circle is beside the playground, the rink side circle is by the little bake oven. The park's recreation staff book the cooking fire times. There is an orientation on Saturdays at 12:30 and Tuesdays at 6pm and a fire safety session for first-time users, and staff are available to help start/end your fire.
---
PIZZA DAY
Public pizza days for September are Sundays from 12 noon to 2 p.m.
Weather permitting in season. $2.50 per pizza is the requested donation. You get a lump of dough, some tomato sauce, and cheese, and you can pick toppings from the park gardens when they're growing there. If you plan to bring a big group (more than 12 people altogether) please call ahead to warn the staff 416-392-0913 or email dufferinpark@gmail.com."
---
Cob Courtyard & Playground Cafe
Coffee, snacks and lunch are available by the playground on the weekends, throughout september. Hours are 12-3pm.
---
---