Women against men tug-of-war, St.Anthony's Roman Catholic Church annual picnic, August 3 2008
For some history of the park, see the History section.
See also Park Events, People, The Friends of Dufferin Grove Park Annual Reports,
Neighbourhood e-list Discussions, Dufferin Grove Is In Trouble(1), Dufferin Grove Is In Trouble(2)
On this page:
(click to open)
Quick Page Table of Contents
About us: who were the friends of Dufferin Grove Park?
posted January 31, 2005 / updated August 19, 2008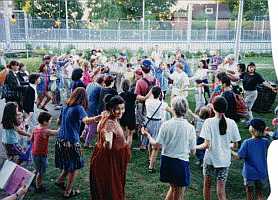 Tia Dancing at Dufferin Grove Park
How the Park Works
Dufferin Grove Park is operated by the City of Toronto Parks, Forestry and Recreation Division. It is not operated by the friends of the park, nor by volunteers.
The friends of Dufferin Grove Park no longer exist. They were never an organization. There was no executive, no annual meetings, no formal status. There was no written agreement anywhere between the friends and the city. But in times of trouble, there were impromptu park-user meetings, usually attended by 30 to 100 people depending on the issue.
So how did it work then, in the day to day? And who were these "friends of Dufferin Grove Park"?
The friends were all those people - more every year until 2012 - who are friendly to that 14.2 -acre city-owned common space which is bordered by the Dufferin Mall, St.Mary's Catholic High School, and the mixture of affluent and subsidized housing that borders the park to the east and the south. Most park friends expressed their friendship only through their joy at what goes on in the park. At the other extreme, for about 15 years, Jutta Mason made friendship for the park her almost-full-time hobby. In between, there were many people who gave things (time, plants, music, theatre, toys in the sandpit, conversation, sports skills, etc., etc.) as they felt moved to do that. There was no schedule to how these things are given, no five-year plan - it was (sorry) organic. Some of the friends crossed over to being park staff, magnifying their friendship as they were able to increase their responsibilities there.
The City has a formal formula for advisory councils, which includes a range of possibilities ranging from formal election of local representatives to an informal yearly meeting canvassing park users about what they want for their parks. In 2001, the former Economic Development and Parks Committee put out terms of reference for any style of advisory councils. Advisors are to "provide comments, insights, and advice to assist staff in the performance of their responsibilities." They can "provide and, with City staff, manage funding designed to enhance existing City activities...Prepare and make public accurate financial records derived from fundraising activities." But in 2012, the City put in a strict hierarchy of central control at Dufferin Grove (as was already in place everywhere else citywide). Management redefined active collaboration between local staff and park users as "conflict of interest." Even the sharing of information was ordered to stop.
At the same time, the neighbourhood culture changed, with the increasing replacement of neighbourly conversation in the park by the use of electronic media. Social media swamped out more direct encounters, partly by filling in most of what used to be experienced as "spare time." People whose children were playing in the sand pit or skating at the rink no longer reached out very much to the strangers who were their neighbours, and who were also there with their children. More often the parents worked their smart phones.
Dufferin Grove continued its role as a kind of clickable icon of "community," with real estate values inflated by that reputation. But park users' basic familiarity with the many problems generated by the tightening central bureaucracy more or less stopped. The informal giving of gifts atrophied in the hurry and clutter of present-day social conditions. And so, at least for now, the friends of Dufferin Grove are no longer very active in the park at all.
Except for here and there, in an almost hidden way.... Read more >>
---
What is at issue in the bureaucracy of cities
"Of course it is important to the political and social sciences that the essence of totalitarian government, and perhaps the nature of every bureaucracy, is to make functionaries and mere cogs in the administrative machinery out of people, and thus to dehumanize them. And one can debate long and profitably on the rule of Nobody, which is what the political form known as bureau-cracy truly is."
Hannah Arendt, Eichmann in Jerusalem, Postscript.
Recent History
Ward 18 Parks Conservancy
posted October, 2012
Dear park friends,
On Saturday Nov.3 , 2012, between 9 am and 7 pm, CELOS is holding an all-day Open House/Exhibition at the Dufferin Grove rink house and surroundings.
At the Open House, you'll be asked to register your opinion: in December, which programs should be shrunk or let go, and which ones should be preserved?
There will be lots of photo displays and storyboards about the different programs that were developed over the years, with some Parks and Recreation budget and organizational displays as well. There will be three half-hour briefing sessions -- at 11 a.m., 2 pm, and 5 pm, take your pick -- about the four Ward 18 parks at issue. The zamboni cafe will be open, one of the bake ovens will be fired up (with bread samplings), and there are bound to be some lively conversations among neighbours. Read more >>
---
The making and unmaking of Dufferin Grove Park.
Summer Serial
City management says it's run the WRONG WAY.
How did Dufferin Grove Park develop into a park that gets in so much trouble?
Summer Story
Chapter One,Chapter Two, Chapter Three, Chapter Four, Chapter Five, Chapter Six, Chapter Seven, and Chapter Eight are now online.
Beginning Sept.1: Fall Story
Chapter Nine, Chapter Ten, Chapter Eleven, Chapter Twelve, Chapter Thirteen, Chapter Fourteen, Chapter Fifteen, Chapter Sixteen, Chapter Seventeen, and Chapter Eighteen, are now online.
Beginning Nov.24: Winter Story
Chapter Nineteen, Chapter Twenty, Chapter Twenty-One, Chapter Twenty-two, Chapter Twenty-three, Chapter Twenty-four, Chapter Twenty-five, Chapter Twenty-six, Chapter Twenty-seven and Chapter Twenty-eight, are now online.
Beginning March 15, 2012: Spring Story
Chapter Twenty-nine, Chapter Thirty, Chapter Thirty-one and Chapter Thirty-two are now online.
---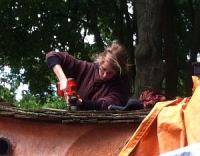 Cob maintenance
Good news! Park program staff are allowed to repair the cob cafe structure after all. (At first they were told they couldn't.) See the photo gallery.
---
Basketball Court Shooting, July 11, 2011
When something about guns gets in the news, lots of rumours float around. Here's what happened:
On Monday night (July 11) around 10 pm there was the usual lively scene around the basketball court, with a full-court game and some people hanging around watching at the side. Inside the rink house there was one staff person cleaning and the other one baking muffins for the next day. They both heard a couple of bangs that sounded like firecrackers. Firecrackers have been around a lot since Canada Day, so they didn't think much of it. The muffin-baker was all done, so she left. Moments later, two guys came into the rink house. One of them said, "Help, my friend's been shot." His friend's hand appeared to have been strafed by a bullet and he said he had been shot in the buttock. He sat down, and the staff called the police and administered some first aid. He was then taken away by ambulance.
Although quite a few basketball players at Dufferin Grove have been involved with the courts at some point, they all agree that Dufferin Grove is not a place for guns or fights. Read more >>
October 2010: The animators of Dufferin Grove Park: a culture of "yes"
The word "animator" shows up in many electoral presentations when public space is discussed. If parks need animators, Dufferin Grove is in luck – they've been here for years already. The hobby of the recreation program staff – to remove the blocks to people's gifts – is the reason why there's so much going on. The fall so far has shown what happens when park staff have a culture of "yes." On Labour Day weekend the Morris dancers gathered by the oven and ate and danced and made music. The following market day, a Ukrainian band entertained the farmers. Two days later, the Abrigo Centre celebrated its twentieth anniversary of newcomer counselling, with a giant blow-up clown and candy floss machines and sardines, a rummage sale, and a stage with music and ethnic dancing. As soon as they had finished, a group of jazz musicians took their place and made sophisticated (difficult!) music near the marsh fountain. The weekend after, a group of environmentalist/cyclist/musicians set up special bikes hooked up to amplifiers and gave a concert beside the field house. The organizers said they hadn't been sure they could pull it off, so they put up no posters for this event – only a facebook event notice. It turned out that the music was beautiful, the pedal-power amplification clear and steady but not over the top, and the facebook-summoned audience sizeable and appreciative. The weekend after that, the annual Havelock Street Fair organizers held the usual potluck supper by the park ovens. After supper, there was music on Havelock Street. But it had begun to rain, so the park staff lent the band two of the park tents, and the show went on.
The last weekend of September had the annual pow wow, with tipis, drums, dancers in fantastic costumes, buffalo burgers, and many vending tents. Lots of people came, and it was clearly an occasion when friends from all over the city could catch up with each other. Then, as soon as October began, the rain started. No matter – on the first Saturday, a group of refugee Hungarian Roma (Gypsy) families came to cook goulash over an open fire. Their support workers, from St. Christopher House, translated. The group, they said, wanted to cook outside because their traditional goulash tastes much better if it's cooked over a campfire. It must be true. The park program staff had brought over two of the market tents and set them up over some picnic tables, to give shelter from the rain. The big cookpot of goulash served not only the newcomer families, but everyone else in the rainy park as well – and it was beyond delicious.
10 per cent savings
Toronto is soon going to be caught up in a pretty big shortfall of money, and cuts are going to be made that will need to be more than cosmetic. The city's chief financial officer says that next year's city budget is short by $774 million, and the word this year is that every departmental budget of the city has to be cut by 10 per cent. This means Parks, Forestry and Recreation too. Right now, it costs $376 million to run the parks and rec centres and take care of the trees. About $100 million is covered by government grants and fees, but that's not enough.
That's because the increase in the Parks, Forestry and Recreation (PFR) Division's spending has been dramatic. According to the last budget report, PFR operating costs have increased $51 million in the last four years, or which $32 million was in rising wage and salary costs.
So Dufferin Grove Park's budget will have to be reduced by 10 per cent. Finding out which ten per cent needs some careful thought, by park users. That means first figuring out what the park budget is – harder than you might think. However, CELOS has been tracking numbers for some years, and we think that the park's budget is about $429,500 for this year. Read more >>
October 2010
Campfires in the park
The "culture of yes" that animates the park's program staff doesn't only pertain to groups and public events, of course. The park offers many pleasing sights of sociability at picnics, both morning and afternoon. At night-time the fun carries on, with staff booking campfires in the central area or nearer the playground (sometimes at both). Having a cookout or a marshmallow roast means going to some trouble. People have to bring firewood and kindling and supplies and blankets for chilly nights. The park's program staff make it a bit less cumbersome by lending out trivets, and a big pot for cider, and metal skewers for marshmallows or hot dogs. Despite the fuss it takes people to organize such an occasion, they often call to book another one. Fire, as the Roma families said, makes everything taste so good. And incidentally, it puts people into the park at night, when it would otherwise be deserted. Safer for everybody, cheaper and more fun than police patrols. To book a campfire: 416 392-0913, or staff@dufferinpark.ca.
---
Ward 18 City Councillor Ana Bailao
City Councillor Ana Bailao, the new elected representative for Ward 18, is holding her first Town Hall meeting, about the upcoming budget. This will be at the end of a whole week of City Hall budget briefings, so she'll have lots to tell. Location is the Wallace Emerson Community Centre, 1260 Dufferin (just south of Dupont, west side). Read more >>
News 2012
"JANE'S WALK" Sunday May 6th, 3-4:30pm
Starts at MacGregor Park - up Lansdowne Avenue - ends at Campbell Park
Showing:
....when public space is protected by a 'park conservancy'
Community Parks Summit - Ana Bailao, May 5, 2012
The Ward 18 Community Parks Summit is an open house and consultation session taking place at the beautifully-renovated Dovercourt Park Boys and Girls Club on May 5th, 1-5pm, followed by a walk and supper at Dufferin Grove Park 5:30.
Norweigan National Day, May 19, 2012
Location: south end of the Park
Easter Egg Hunt with Councillor Ana Bailăo
Date: April 7th
Time: 1pm-3pm
Location: Dufferin Grove Park

posted March 1st, 2010
---
In February 2010, Dufferin Grove got in trouble
Working in public space, with the people who use it, is the job of Parks and Recreation Division. But at Dufferin Grove Park, the recreation supervisor who matched local initiatives with the needed support was moved away from contact with citizens completely, on February 19. We believe this is meant to send a warning to his colleagues across the city: don't collaborate with local projects unless specifically directed from downtown. The current administration's top-down approach, mostly speaking with very little listening, is a very bad thing for our parks and community centres. It should be the other way around. Read more about Dufferin Grove is in trouble
Videos
| | |
| --- | --- |
| The making and unmaking of Dufferin Grove Park | Adventure Playground |
| | Georgie Donais' slideshow and commentary about the playground cob wall (2006) |

Crowds at the Cooking Fire Theatre Festival, 2004

Hangin' out at the park
---