Women against men tug-of-war, St.Anthony's Roman Catholic Church annual picnic, August 3 2008
For some history of the park, see the History section.
See also Park Events, People, The Friends of Dufferin Grove Park Annual Reports,
Neighbourhood e-list Discussions, Dufferin Grove Is In Trouble(1), Dufferin Grove Is In Trouble(2)
On this page:
(click to open)
Quick Page Table of Contents
About us: who were the friends of Dufferin Grove Park?
posted January 31, 2005 / updated August 19, 2008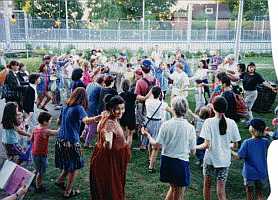 Tia Dancing at Dufferin Grove Park
How the Park Works
Dufferin Grove Park is operated by the City of Toronto Parks, Forestry and Recreation Division. It is not operated by the friends of the park, nor by volunteers.
The friends of Dufferin Grove Park no longer exist. They were never an organization. There was no executive, no annual meetings, no formal status. There was no written agreement anywhere between the friends and the city. But in times of trouble, there were impromptu park-user meetings, usually attended by 30 to 100 people depending on the issue.
So how did it work then, in the day to day? And who were these "friends of Dufferin Grove Park"?
The friends were all those people - more every year until 2012 - who are friendly to that 14.2 -acre city-owned common space which is bordered by the Dufferin Mall, St.Mary's Catholic High School, and the mixture of affluent and subsidized housing that borders the park to the east and the south. Most park friends expressed their friendship only through their joy at what goes on in the park. At the other extreme, for about 15 years, Jutta Mason made friendship for the park her almost-full-time hobby. In between, there were many people who gave things (time, plants, music, theatre, toys in the sandpit, conversation, sports skills, etc., etc.) as they felt moved to do that. There was no schedule to how these things are given, no five-year plan - it was (sorry) organic. Some of the friends crossed over to being park staff, magnifying their friendship as they were able to increase their responsibilities there.
The City has a formal formula for advisory councils, which includes a range of possibilities ranging from formal election of local representatives to an informal yearly meeting canvassing park users about what they want for their parks. In 2001, the former Economic Development and Parks Committee put out terms of reference for any style of advisory councils. Advisors are to "provide comments, insights, and advice to assist staff in the performance of their responsibilities." They can "provide and, with City staff, manage funding designed to enhance existing City activities...Prepare and make public accurate financial records derived from fundraising activities." But in 2012, the City put in a strict hierarchy of central control at Dufferin Grove (as was already in place everywhere else citywide). Management redefined active collaboration between local staff and park users as "conflict of interest." Even the sharing of information was ordered to stop.
At the same time, the neighbourhood culture changed, with the increasing replacement of neighbourly conversation in the park by the use of electronic media. Social media swamped out more direct encounters, partly by filling in most of what used to be experienced as "spare time." People whose children were playing in the sand pit or skating at the rink no longer reached out very much to the strangers who were their neighbours, and who were also there with their children. More often the parents worked their smart phones.
Dufferin Grove continued its role as a kind of clickable icon of "community," with real estate values inflated by that reputation. But park users' basic familiarity with the many problems generated by the tightening central bureaucracy more or less stopped. The informal giving of gifts atrophied in the hurry and clutter of present-day social conditions. And so, at least for now, the friends of Dufferin Grove are no longer very active in the park at all.
Except for here and there, in an almost hidden way.... Read more >>
---
What is at issue in the bureaucracy of cities
"Of course it is important to the political and social sciences that the essence of totalitarian government, and perhaps the nature of every bureaucracy, is to make functionaries and mere cogs in the administrative machinery out of people, and thus to dehumanize them. And one can debate long and profitably on the rule of Nobody, which is what the political form known as bureau-cracy truly is."
Hannah Arendt, Eichmann in Jerusalem, Postscript.
News 2014
From the July 2014 Newsletter:
How the park trees are doing
Here's a bit of park tree history: Dufferin Grove Park is named for its trees. Photos taken a hundred years ago show lots of white pines and giant elms, as well as sugar maples and some flowering trees. In the 1930's, the park became known all over the city for its horticulture – for its trees and shrubs as well as its beautiful flowerbeds. In the 1950s, many Norway maples were planted. Around the same time, most of the trees in the northeast quadrant of the park were cut down to make room for a sports field. (Before that, the central grassed area of the Dufferin Race Track across the street was often used as a sports field when the horses weren't running. But in 1957 the race track was sold to make a mall. That sports field gave way to shopping.)
So the sports field was established in the park instead. The Norway maples in the rest of the park grew fast. The elms began to die off, though, because of Dutch elm disease, and the white pines gave way to silver maples, linden trees and ash. The city flowerbeds were gradually eliminated to save on gardening costs. New flower beds were made through various community garden projects, and now the garden club looks after these beds – and the new flowerbeds are joined by vegetable gardens as well. In the late 1990s, half a dozen oaks and three white pines were planted south of the field house and north of the rink. Meantime, various park friends, after consultation with the City's horticulture staff, began planting small beds of native species that included trees as well as shrubs.
There was no more tree planting by the City until 2007. That year, a City contractor was hired to plant 42 new trees all over the park, mostly various kinds of oaks, maples, and Kentucky coffee trees. But that was also the year of the drought and – therefore – it was the summer of hoses and mulch piles everywhere, as the park's recreation staff worked with volunteers to keep the new trees alive despite six weeks without a drop of rain. Almost all those trees made it, and are thriving now.
In 2008, a City contractor planted two "little forests" of native species trees and shrubs down in the hollow near Dufferin Street. These plantings were part of City Council's big program of doubling Toronto's tree canopy. Many people wondered why the plantings were so dense, all jammed together. City forestry developer Uyen Dias said it was because of an assumption that many of the little saplings would not survive the first year.
But the land near Dufferin Street lies in the former Garrison Creek hollow. It's fertile and moist. All except the white pines in the little forest flourished. Meantime, the Norway maples around the wading pool and the sandpit seem to have made use of all the extra water coming their way, and with their enormous branches they are giving wonderful shade despite passing the old age of 50. Good news all around!
The new "Reflexology Footpath" for Dufferin Grove Park
Many people who use Dufferin Grove Park either knew Jenna Morrison personally or heard about her tragic death in a bike accident in 2011, crushed by a truck at the corner of Dundas West and Sterling Avenue as she was riding her bike to pick up her son from school.
Jenna's husband Florian Schuck, her family and friends, undertook to memorialize Jenna in Dufferin Grove Park, a place where Jenna and Florian often took their little boy. Florian wrote:
''"When Jenna came back after a trip with her mother to South Korea in 2001, she was enthusiastic about her discovery of the reflexology footpath. The reflexology footpath consists of a bed made of concrete in which cobblestones of various shapes and sizes are embedded to various degrees. Some are upright while others are flat, protruding the surface of the concrete at slightly different heights. As one walks the path barefoot or in socks, the sole, and therefore acupressure points of the foot, are massaged. The design of paths varies, but more often consists of a loop that allows the visitors to engage more than once over. Accompanying the path are benches for rest and removing shoes, as well as trees and shrubs for an 'oasis.' "''
Jenna's family and friends raised about $20,000 to put such a reflexology path into Dufferin Grove Park, and Councillor Ana Bailao contributed another $20,000 from her development-charges fund. The previous general manager of Parks, Forestry and Recreation, Jim Hart, was moved by the story and allocated the balance from the city's capital budget. The total cost is about $130,000.
The path is now under construction in the middle of the park. Some new elements (groupings of giant boulders, called "armour stone") have been added to the design. How the final project will look is known to the Parks capital projects staff but not to onsite recreation staff or the public – it's not the practice of the Parks staff to post such information. So at the moment the project is a daily-unfolding surprise.
The new storage sheds and second zamboni garage for the park
The Parks capital projects staff recently removed the crumbling storage sheds next to the rink pad and hired a contractor to put up two new solidly-built wooden sheds – much more attractive, with their pretty cedar shingles. The pad for the second garage is ready, and at some point, no doubt, the new garage will appear. Sadly, the money spent on the garage means that there was not enough money (so far this year) to top up the sand at the adventure playground sandpit nor to address the drainage issues there. However, Parks management staff, working behind closed doors, may come up with another surprise – who knows?
Recent History
Ward 18 Parks Conservancy
posted October, 2012
Dear park friends,
On Saturday Nov.3 , 2012, between 9 am and 7 pm, CELOS is holding an all-day Open House/Exhibition at the Dufferin Grove rink house and surroundings.
At the Open House, you'll be asked to register your opinion: in December, which programs should be shrunk or let go, and which ones should be preserved?
There will be lots of photo displays and storyboards about the different programs that were developed over the years, with some Parks and Recreation budget and organizational displays as well. There will be three half-hour briefing sessions -- at 11 a.m., 2 pm, and 5 pm, take your pick -- about the four Ward 18 parks at issue. The zamboni cafe will be open, one of the bake ovens will be fired up (with bread samplings), and there are bound to be some lively conversations among neighbours. Read more >>
The making and unmaking of Dufferin Grove Park.
Summer Serial
City management says it's run the WRONG WAY.
How did Dufferin Grove Park develop into a park that gets in so much trouble?
Summer Story
Chapter One,Chapter Two, Chapter Three, Chapter Four, Chapter Five, Chapter Six, Chapter Seven, and Chapter Eight are now online.
Beginning Sept.1: Fall Story
Chapter Nine, Chapter Ten, Chapter Eleven, Chapter Twelve, Chapter Thirteen, Chapter Fourteen, Chapter Fifteen, Chapter Sixteen, Chapter Seventeen, and Chapter Eighteen, are now online.
Beginning Nov.24: Winter Story
Chapter Nineteen, Chapter Twenty, Chapter Twenty-One, Chapter Twenty-two, Chapter Twenty-three, Chapter Twenty-four, Chapter Twenty-five, Chapter Twenty-six, Chapter Twenty-seven and Chapter Twenty-eight, are now online.
Beginning March 15, 2012: Spring Story
Chapter Twenty-nine, Chapter Thirty, Chapter Thirty-one and Chapter Thirty-two are now online.
---
posted March 1st, 2010
---
In February 2010, Dufferin Grove got in trouble
Working in public space, with the people who use it, is the job of Parks and Recreation Division. But at Dufferin Grove Park, the recreation supervisor who matched local initiatives with the needed support was moved away from contact with citizens completely, on February 19. We believe this is meant to send a warning to his colleagues across the city: don't collaborate with local projects unless specifically directed from downtown. The current administration's top-down approach, mostly speaking with very little listening, is a very bad thing for our parks and community centres. It should be the other way around. Read more about Dufferin Grove is in trouble
---
Ward 18 City Councillor Ana Bailao
City Councillor Ana Bailao, the new elected representative for Ward 18, is holding her first Town Hall meeting, about the upcoming budget. This will be at the end of a whole week of City Hall budget briefings, so she'll have lots to tell. Location is the Wallace Emerson Community Centre, 1260 Dufferin (just south of Dupont, west side). Read more >>
---
Videos
| | |
| --- | --- |
| The making and unmaking of Dufferin Grove Park | Adventure Playground |
| | Georgie Donais' slideshow and commentary about the playground cob wall (2006) |

Crowds at the Cooking Fire Theatre Festival, 2004

Hangin' out at the park
---