On this page:
Friday Night Suppers | Pizza | Food Cart
(click to open)
Quick Page Table of Contents
Welcome to the Bake Ovens and Food pages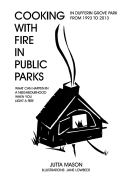 Ask for a copy of the updated Cooking with Fire booklet by emailing us at dufferinpark@gmail.com. They are $5 each to cover printing costs.

Available in COLOR
Food is an important part of life at the park, and there's lots of it. The Bake Ovens produce much of the food sold at the park, and they are at the centre of the many parts of the food life around the park. See Food In The Park for more information.
The Masonry Stove Builders' continent-wide bake-oven information link is here.
See also the new CELOS website for public ovens at publicbakeovens.ca. Here is our guest baker project, working with other ovens, both in Toronto and beyond.
posted April 15, 2004
Where

The two wood ovens are near the basketball courts and the outdoor ice rink, at the northwest corner of the park. They're next to some flower and vegetable gardens that are surrounded by split-rail fences to keep the dogs out. Roses grow over the fence, and beans and squash in season. Sometimes in winter if it's really cold out, skaters come off the ice to stand by the oven nearest the rink, to try and warm themselves. But the ovens are not very warming, because they were designed to channel all their heat into their baking chamber.
Read more about the Bake Ovens>>
---
Media 2012
posted on July 18, 2012
City staff shortages threaten popular Dufferin Grove Park dinners
By: Stephanie Law
Published: Wednesday, July 18, 2012
Source: The Star

If Friends of Dufferin Grove Park have their way, they won't be having their last supper anytime soon.

Toronto Parks and Recreation staff have been serving up three-course dinners in the park every Friday evening during the warmer months since 2003, when the community group worked with the city to organize the meals.

But last Friday, residents who showed up for the dinner were disappointed to learn it wasn't being served because there weren't enough city employees available to run the event. The supper is confirmed for the next two weekends, but its future remains uncertain.
Read more Ovens and Food in the media >>
News 2011
can this continue?

NEW BAKE OVEN POLICY passed on Nov.22, 2011....

by the Parks and Environment Committee -- to charge fees to baker volunteers. See the Star article

We believe this policy will stop bake ovens in their tracks. Here are some baker reactions on Youtube: bake oven fees

Here's our deputation (it fell on deaf ears).

Here's our earlier response to the city's bake oven policy. It's in the same format as the policy so that the two documents can be compared more easily. Our approach was to maximize community oven use and stress the need for a collaborative relationship between City staff and bake oven users. This version was not accepted by staff and therefore not considered by the Parks Committee.
---
News 2010
From the October 2010 Newsletter:
Can the Dufferin Grove snack bars and skate lending programs be adopted by the City?
For almost a year now, Dufferin Grove program staff, CELOS, and city management have been in talks about park programs that involve staff in handling cash. CELOS has been partnering with the city in running the food programs, but CELOS needs to step back now. CELOS stands for "Centre for Local Research into Public Space," and the food and skate lending programs were part of that research. That research is done and the results are in – it turns out that year-round food and winter skate-lending in parks both work well. On top of that, the small extra income generated can enrich the broader park programming.
The logistics for integrating that research with City programs are tough, though. At a meeting with Parks, Forestry and Recreation general manager Brenda Patterson in September, she said she'd have to bring the issue to the new city council in 2011. Meantime, two recreation supervisors (Tino DeCastro and Dave Hains) and the Toronto/East York recreation manager (Kelvin Seow) have been meeting with park program staff Mayssan Shuja Uddin and Sarah Cormier, all of them trying to fit what goes on at Dufferin Grove into the city's template. (The city used to run lots of snack bars directly, but they got out of that after amalgamation.) One of the few remaining models in the city is the East York Curling Club, where recreation staff run the bar that goes along with any curling club. Last year the club was audited by the City Auditor, not because there was any suspicion of misappropriation but just because city staff were handling cash and serving alcoholic drinks. A three-month audit resulted in many detailed suggestions, so complicated that a year after the audit began, the new cash handling measures are still being finalized. When Dufferin Grove staff visited the curling club, a new cash register system was just being set up. The system costs about $5000, and it does inventory, gives receipts, and even includes categories for "spillage" and "complimentary" – when VIPs are invited to an event.
The checking of inventory is one of the obstacles for Dufferin Grove programs – if park staff have to enter every slice of bread and every mini-pizza into they system, there won't be time left to make the food. It's an example of a City policy direction that may not work in the long run – turning the program staff into bean counters, or – more accurately – toilet paper roll counters and pen counters. Already, every City roll and every City pen will soon have to be recorded and submitted for checking. CELOS would welcome any information from our readers, about studies done elsewhere that include a detailed cost accounting of such measures. What is the real cost for City staff having to do all that investigating, recording, re-checking, and analyzing of toilet paper or bread slice dispensing? What is the benefit?
An interesting and timely question, and another good topic for CELOS research. To follow these negotiations, go to CELOS/cash handling.