News 2011
Food cart reopens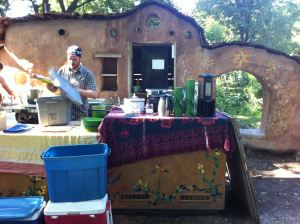 From the Summer 2011 Newsletter:
Picnics and birthday parties: These are one of the ways parks are made lively and fun – even for people just passing by and enjoying the sight. A few cautions: Smoky barbeques beside the wading pool or the playground are no fun for the park users. A birthday party that sets up right by the cob cafe or right at the edge of the public wading pool – this is confusing for park users who suddenly feel like uninvited guests at the party. Streamers from tree to tree to tree suggest staking out part of the park for private use. And since picnic tables are becoming scarcer, bring folding tables and chairs from home, to make sure all your guests have places to sit. Larger groups need a city permit; anyone else, just ask the park staff if in doubt about where to set up.
Matzah Bake at Dufferin Grove Park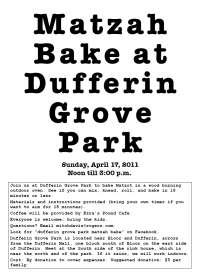 Sunday, April 17, 2011
Noon till 3:00 p.m.
Join us at Dufferin Grove Park to bake Matzot in a wood burning outdoor oven. See if you can mix, knead, roll, and bake in 18 minutes or less.
Materials and instructions provided (bring your own timer if you want to aim for 18 minutes).
Coffee will be provided by Ezra's Pound Cafe.
Everyone is welcome; bring the kids.
Questions? Email mitchdavis@rogers.com.
Look for "dufferin grove park matzah bake" on Facebook.
Dufferin Grove Park is located near Bloor and Dufferin, across from the Dufferin Mall, one block south of Bloor on the east side of Dufferin. Meet at the South side of the rink house, which is near the north end of the park. If it rains, we will work indoors.
Cost: By donation to cover expenses. Suggested donation: $5 per family.
If you would like to help out with the bake, please email mitchdavis@rogers.com. If you would like to help spread the word, forward this email or put up the attached poster. Thanks.