posted August 2, 2006
Clay and Paper Theatre SUMMER PERFORMANCES:
Camões, the One-Eyed Poet of Portugal.
Wednesday to Sunday, July 21 to August 13, 7:30 p.m.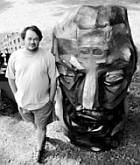 Camões, the One-Eyed Poet of Portugal is the fourth show in Clay and Paper Theatre's program called "Building Local Stories", following The Resurrection of Fornax, The Ballad of Garrison Creek, and Gold all of which were written by Larry Lewis and directed by David Anderson.
From director David Anderson: "On the northwest corner of College and Crawford stands a sculpture of Luis Vas de Camões. Many local Torontonians know that statue, but few who are not Portuguese know that he is the national poet of a nation of poets, the greatest and most beloved poet of Portugal. We hope to correct this omission. Narrated by the one-eyed adventurer, soldier and poet himself, Luis de Camões in Dufferin Grove Park will sing the praises of the Portuguese who have come to our community. It will fill the air with the songs of the Fado. Gigantones and Cabecudos (giant puppets and big head puppets) will recall and connect the Portuguese parade tradition with ours. This is a collaboration between David Anderson, Nuno Cristo, Aida Jordao, Mark Keetch and Larry Lewis."
The Bairrada Churrasqueira (at College and Rusholme) send their cook up after the show to grill delicious Portuguese sardines, served with corn bread, at the cob courtyard. Pay by donation (all proceeds go to Clay and Paper Theatre). They also give lessons in how to eat the sardines (peel them off the bone, bit by bit).