posted August 2, 2006, revised August 11, 2006
DUFFERIN GROVE FARMERS' MARKET, EVERY THURSDAY 3 TO 7 P.M.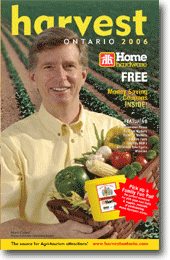 The farmers' market is a tough place to shop if you're in a hurry – people are so friendly and there are so many interesting conversations that it's hard to get out of there.
One of the conversations lately has been about a "Harvest Ontario" booklet (www.harvestontario.com) listing all Ontario farmers' markets. Bob Chorney, the executive director of Farmers' Markets Ontario (www.farmersmarketsontario.com), offered copies of this booklet to market manager Anne Freeman for distribution at the market, and she showed it to quite a few market users. But they didn't like it very much. The booklet has a colourful centrefold directed at "Mom," telling her to just relax about pesticides. There are lots of pictures to illustrate the point, for example an eggplant in a bubble bath, with the claim that pesticides are a lovely "spa for vegetables."
The centrefold ad comes from "CropLife Canada," (www.croplife.ca) the "trade association representing manufacturers, developers and distributors of pest control products and plant biotechnology." Ouch! There are lots of pressures on organic farming, including initiatives like this ad booklet. We won't be contributing by handing it out.
Since Farmers' Markets Ontario has just been funded by the Greenbelt Foundation (www.ourgreenbelt.ca - an arms-length corporation endowed by the Ontario Government) [ see the Greenbelt Plan Area (map) ] to "keep rural life in south central Ontario strong and productive," it seems that their influence in promoting such a booklet is not unimportant. However it's also important to get the facts right, and your newsletter editor didn't do enough checking before calling attention to this booklet in the first printing of this newsletter. That made Farmers' Markets Ontario's Bob Chorney very unhappy. Hopefully there are no errors in this story now.
Bob Chorney says he has now passed on our concerns to "Bright Light Communications" (www.brightlightcommunications.com), publisher of the booklet. That's good. Farmers Markets Ontario and the Greenbelt Foundation have a very big task ahead, and we wish them the best in their efforts. For more information, a link to the Greenbelt web site, and a map of the "Greenbelt," see the market page of the park web site.