REGULAR SUMMER AFTERNOON PARK ACTIVITIES IN AUGUST (FREE)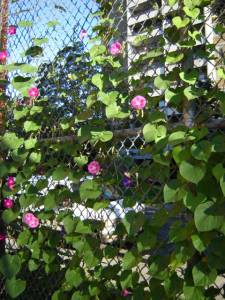 posted August 2, 2006
DANCING IN THE PARK FOR CHILDREN.
Every Tuesday and Wednesday afternoon,4 to 6 p.m.
Park staff Eroca Nicols is a dancer, as lots of park friends know. Eroca says there are so many wonderful group dances/ line dances/ square dances in all the cultures of the world, and she wants to introduce some of them into the park, with the help of park kids. So the park is offering free children's dance classes every Tuesday and Wednesday all summer long at the park.
The sessions are:
Tuesdays:

Ages 5 and under – 4:00pm-4:30pm.
Ages 6-8 – 4:45pm-5:30pm

Wednesdays:

Ages 9-12 – 4:00pm-4:45pm.
All Ages Dance/Instrument Jam 4:45pm-5:45pm.
From Eroca: "All classes will be in front of the playground gazebo. Make sure to wear sunscreen and bring water to class." To find out more or to sign up, call the park at 416 392-0913 and leave a message, or e-mail Eroca at info@dufferinpark.ca
posted August 2, 2006
BUILDING WITH CLAY
Tuesday afternoon, 1 to 3 pm by the wading pool
with Kate Cayley.
posted August 2, 2006
STORYTELLING IN THE PARK
Wednesday afternoon, 1 to 3 pm
...with Kate Cayley. Near the playground. Everyone is welcome to come and hear stories from all around the world, with new stories each week. As August progresses, drama and puppetry may also be part of the Wednesday afternoons. Kate is a former staff member at the park, and is now the artistic director of The Cooking Fire Theatre Festival. She told stories by the wading pool and at pizza days for many years.
posted August 2, 2006
COB-BUILDING
Wednesday to Sunday, 11am to 3.30pm
with Georgie Donais, Jenny Cook, and lots of others. Help build a park bench that looks like an old tree; find out how to make an earth-bag foundation; and (later in August) make a little composting-toilet enclosure with bas-relief sculptures. For more information: cob@dufferinpark.ca. See the dufferin park cob courtyard subsite for details about cob.
posted August 14, 2006

See a review of this project in the National Post: Park goes arty with compost toilet

posted August 13, 2006

7 a.m. by the cob gardens
posted August 2, 2006
TRADITIONAL CAMPFIRE COOKING
Thursday afternoon, 1 to 3 pm
with park staff Anna Bekerman. By the cob wall. Cook scones, fritters, dovladas, tortillas. Children too.
Anna cooking blue corn pancakes at the Saturday afternoon campfire:
posted August 2, 2006
Thursday Stories For Children
Thursday 4-5 pm at the farmers' market
Stories for children with April and Daniel.
posted August 2, 2006
BIKE MAINTENANCE CLINIC
Thursdays (except NOT Aug.10 and 17), 2 to 6 p.m. near the farmers' market.
Park friend Issie Chackovicz brings his tools and also his educational material about the CAN-BIKE courses he teaches. He does on-the-spot bike maintenance, with explanations. If your bike is squeaking, the handlebars are crooked, the brakes are loose, the gears don't work right – Issie can get your bike back in shape while your kids play in the sandpit, or while you walk the dog, or come to shop at the market. He'll charge for the work and the parts; the explanations, of how to do it yourself the next time, are free. That might get some squeaky bikes back into good condition fast, for all those busy people who can't fit in regular maintenance trips to the bike shop.
posted August 2, 2006
STILTWALKING
Friday afternoon, 1 to 3 pm (except August 4):
with park staff Sandy Gribbin. Sandy does physical theatre when he's not working at the park. He has four pairs of stilts for kids who want to try being taller.
posted August 2, 2006
Saturdays
Those are just lazy afternoons, but there's often a surprise activity of some kind, since the park staff have many talents. You can also borrow a volleyball, chess and checker pieces are set up, and once in a while there's croquet.
posted August 2, 2006
BEACH BLANKET BINGO
Sundays 1 to 3pm
That's the time for Eroca Nicols' BEACH BLANKET BINGO. Everyone welcome.