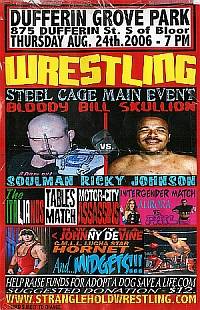 posted August 2, 2006
Something brand new at Dufferin Grove: WRESTLING SHOW.
Thursday August 24, 7 – 9 p.m. On the rink.
There will be various wrestling acts, such as the Italianos versus Motor City Assassins, Magnus the Punisher versus Big Daddy Hammer, and many others. There are also midget wrestlers (Farmer Pete versus El Tigre) and lady wrestlers (Ladies' Champ LuFisto versus Sexxxy Eddie). The finale may involve quite a bit of ketchup. This is a fund-raiser for a dog-adoption shelter called "adopt a dog - save a life." By donation.
This is a chance for Dufferin Grove to get even more diverse than it already is. For that one evening, the skateboarders will have to yield their place to the wrestlers, on the pleasure-skating side of the rink.
Produced by www.strangleholdwrestling.com.