Neighbourhood Events
posted December 30, 2006
Wallace Rink: OPENING CELEBRATION, DJ on ice
Sunday January 14, 2 to 5 pm
The rink beside Wallace-Emerson Community Centre has been completely rebuilt, at a cost of over $1 million. The reason for rebuilding was to install a different kind of cooling system, which would use less ammonia (regarded as an explosion hazard). Since the rink was being rebuilt anyway, Councillor Adam Giambrone arranged for some improvements: a more interesting pleasure-skating rink (oval) and a less dingy change room. The shape of the new hockey rink is also easier for the zamboni to clean.
That's the good news. The bad news is (1) the project went so slowly that the rink remained closed for most of the Christmas school holidays; (2) the designer forgot drainage holes and also made it more troublesome for the zamboni operators to fill their water tank; (3) there's still no garage to house a zamboni (Wallace is the only double rink without its own); and (4) the stairs that were added last year to connect the rink with the rest of the park, and the parking lot, have gone missing.
It seems that the City's project supervisor (who changed halfway through) was unavailable to collaborate with the City's rink maintenance staff at all. Later in January, rink friends from this area will submit a City Outdoor Rinks Report to City Council's Parks Committee, recommending some changes in how such projects get done in future.
But for now: it's time to have an opening party. On Sunday January 14 there will be DJ music for skaters, a campfire with food, and a ribbon-cutting by Councillor Adam Giambrone. This is a collaboration between the three rink staffs. There's plenty to admire, in the airy new rink change-room, and the pleasure-skating rink in the round, and the music will be fine. Come and have a skate at a rink that's not crowded!
posted December 30, 2006
Campbell Rink DJ Dance on ice, with DJ Ted Carlisle
Friday January 19, 7 to 9 pm
Campbell Rink is on Campbell Avenue just a block west of Lansdowne, two blocks south of Dupont. Many soccer parents know the park from the summer. This year, Dufferin Rink staff are working at Campbell Rink on Fridays, running a twice-monthly kids' hockey program. On January 19 they'll make a barrel fire too, and there will be free hot dogs and marshmallows and great skating music.
posted December 30, 2006
Local Theatre "And what ALICE found there"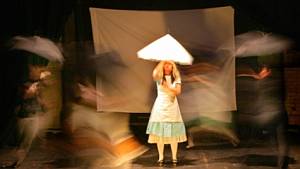 January 23 to February 4, The Great Hall Downstairs Theatre (Queen & Dovercourt), 8 pm (Sunday matinee at 2.30pm)
Many of the park on-site staff are at the park part-time, and do other things the rest of the time. They dance, or do research, or do union work, or grow food. And some of them do theatre. "And what Alice found there" is a new play about Alice in Wonderland, involving singing, dancing, video art, and puppetry. The park staff who are part of this Stranger Theatre Company (website) performance are: Lea Ambros, Sarah Cormier, and Christina Serra. Some tickets are available at the zamboni snack bar.