Park Events
posted December 30, 2006
A Medieval Celebration: Twelfth Night
Friday January 5, at 5.45pm
Twelfth Night is orthodox Christmas Eve all over the world, but it's also an old festival of foolishness and fun which began in the fifth century. At Dufferin Grove Park this year it will involve a Lord of Misrule, a King and Queen of the Bean, a wassail song around an apple tree near the park fire circle (or a newly-planted tree decorated with apples), twelve small straw fires, a mummers' play, and a campfire pot of hot cider with cooked apples and cream floating in it ("sheep's wool"). The idea is to celebrate the gradual returning of the light and the earth's fertility.
David Anderson's Clay and Paper Theatre will present THE RETURN OF THE GREEN MAN, as the mummer's play, with giant puppets. There's a call for more volunteer mummers. David writes: "The show can be performed with as few as 8 actors, but benefits tremendously from having as many as 20 (or more!) performers. We need you. Please call 416 537-9105 or talk to the park staff. Volunteer now! There will be ONE rehearsal only, the night before in the gymnasium of the Wallace Emerson Community Centre. We have the rehearsal space booked for 2 short hours, from 8:30pm to 10:30 pm on Thursday January 4th."
Contact:
David Anderson
Artistic Director
Clay and Paper Theatre
163 Concord Ave.
Toronto, Ontario
M6H 2P2
Email: claypaper@sympatico.ca
Website: www.clayandpapertheatre.org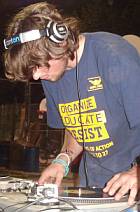 posted December 30, 2006
DJ on ice, with DJ Ted Carlisle
Sunday January 7, 2 - 4.30 pm
Park staff Ted is also a DJ, with a wonderful collection of music to please all ages. There will be some mats on the ice near the DJ, for little non-skaters who want to dance too (with Eroca Nicols, park dance teacher). But the most fun is on skates.
We stole this idea from Harbourfront Rink, where they have a DJ on most Friday evenings – and that's another wonderful place to skate.
posted December 30, 2006
The 2nd Annual The Women of Winter Outdoor Shinny Tournament.
January 12th (Friday) and 13th (Saturday)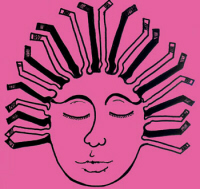 From women's hockey organizer Deirdre Norman:
"Over forty-eight women shinny players of all ages and levels of play will celebrate Hockey Day in Canada by taking to the ice at Dufferin Grove Rink. This is Toronto's only outdoor, recreational shinny tournament for women. Organised by volunteers and supported by Parks, Forestry, and Recreation, The Women of Winter celebrates the thrill of playing the game we love in our own community. Last year's tournament ended with an action packed overtime final – the puck bouncing both ways, spectators hollering, and snow falling. Don't miss the excitement this year. New for 2007: a mom-daughter game and opportunities for players to sharpen their skills."
To find out more, go to www.thewomenofwinter.com
Please note: there is no open shinny hockey on Friday or Saturday because of the tournament. Open shinny is available at three other nearby outdoor rinks:Campbell, Wallace, and Christie See City Rinks Web site for details about other rinks.