Park News
posted posted December 30, 2006
SKATING RINK SCHEDULE
Pleasure skating
Monday and Friday: 10 am to 9 pm (one side)
Tuesday, Wednesday, Thursday, Saturday: 9 am to 9 pm (one side)
Sunday: 9 am to 4.45 pm (both sides), 5 pm to 9 pm (one side)
Please take note: on Wednesdays and Thursdays, from 5 to 7.45 pm, the learn-to-skate program takes part of the pleasure-skating side (about one quarter), also on Friday from 4 pm to 6.45 and Saturday 9.30 am to 1.30 pm.
Shinny hockey schedule
Monday - Friday:
9:00am - 3:15pm all ages (New: on Monday and Friday the rink doesn't open until 10am, for extra ice maintenance)
3:30pm - 5:30pm Level 2 (about 13 to 17, medium pace)
5:30pm - 6:30pm Level 1 (12 and under and parent or caregiver, or novice adult)
6:45pm - 7:45pm all ages
7:45pm - 8:55pm Level 3 (usually 18 and over, fast-paced)
Monday 9p.m: Seasonal permit (plus pond hockey on the pleasure-skating side)
Tuesday 9 - 11 pm: Women's open shinny (plus pond hockey on the other side)
Wednesday 9-10: Seasonal permit. 10-11: "beginners only"drop-in shinny hockey (plus pond hockey on the pleasure-skating side)
Thursday 9 pm: Seasonal permit (plus pond hockey on the pleasure-skating side)
Friday 9 pm: Seasonal permit (plus pond hockey on the pleasure-skating side)
Saturday
9:00am - 12:00pm all ages
12:00pm - 1:30pm Level 1 (12 and under and parent or caregiver, or novice adult)
1:45pm - 3:45pm all ages
3:45pm - 5:15pm Level 2 (about 13 to 17, medium pace)
5:30pm - 7:00pm all ages
7:00pm - 8:55pm Level 3 (usually 18 and over, fast paced)
9 pm: single-occasion permit (open shinny on pleasure-skating side)
Sunday
10:00am - 5:00pm No shinny hockey. Pleasure skating both sides.
5-6.30 pm: parent/child shinny permit
6.30-8 p.m. Seasonal permit
8-9.30 pm. Seasonal permit, pond hockey on the other side from 9 pm
9.30-11: youth shinny league (plus pond hockey on the pleasure-skating side)
posted December 30, 2006
Novice adult shinny hockey practice
Wednesday nights from 10 to 11 p.m
Are you a wannabe shinny hockey player, but just starting to get the hang of it? Dufferin Rink offers an hour of protected drop-in shinny hockey time, Wednesday nights from 10 to 11 p.m. None of the Dufferin Rink hot shots are allowed on the ice during that time. No need to register, and it's free, with a staff resource person on the ice who will pass to you, help you with drills, and give you pointers if you want. Or you can just practice as you choose. For more information, call the park at 416 392-0913. Ask for Dan Watson.
posted December 30, 2006
Youth ice-games experiment
Kids of a certain age want to play British bulldog and ice tag, more than they want to breathe. The rink has a posted rule against those youthful, thrilling, obnoxious games, and the rink staff spend lots of energy taking kids off the ice for breaking the rule.
A few parents have suggested that maybe kids should be allowed to play exciting ice games for ten minutes, on the hour, so that skaters wanting a relaxing skate will know they can come at ten minutes after the hour and enjoy the next 50 minutes.
December was too busy at the rink to try this, but when things calm down in January, there will be an extra rink monitor posted. Sharp at 7 p.m. and again at 8 pm, on week nights only, there will be ten minutes of kids' ice games. Staff will still supervise, but with a lighter hand. Feedback from other rink users is encouraged.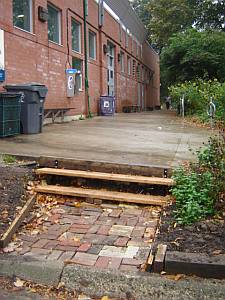 posted December 30, 2006
THE MISSING STAIRS
When people come to Dufferin Rink from the west, the access from the sidewalk up to the front door of the rink clubhouse is an uphill grade with no stairs, so smooth that people lose their footing as soon as there's any freezing or snow. For some years, rink friends have been asking parks staff to build a little stairway from the sidewalk up to where rink door access path levels out, and this year the Parks manager said yes. But then it didn't happen after all. So rink friends bought a two-stair riser from Home Depot and installed it as a temporary access until the City builds a permanent stairway.
However on Friday Dec.22, rink users arrived to find the stairs gone and the area surrounded by an orange danger fence, with danger tape for good measure. After some inquiry, the removal was traced to the Parks manager: "I arranged for appropriate City staff to inspect the stairs you installed and they are deemed unsafe, a trip hazard, and do not comply with code. Code and legal liability issues lie with City staff to ensure the park is safe and MUST be followed."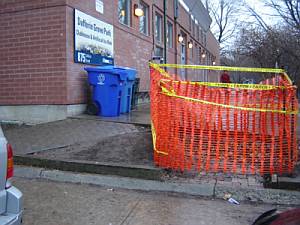 Within a few hours, there were seven pages of rink user signatures on a petition to City Councillor Adam Giambrone, asking the City to install the kind of stairs they like better, NOW, not next year or the year after. So many rink users have had a fall or a scare on the existing slippery access paths, everyone wanted to sign.
But by then all the parks staff – the Parks supervisor, the Parks manager, and her bosses all the way up the line – were on holidays. So a meeting is scheduled for Jan.2, to find out what code was being violated, and how the city carpenters can make a temporary stair for this winter, that will keep rink users from falling. Watch the orange danger fence (now doing double duty as a bulletin board) for an update.
posted December 30, 2006
NIGHT-TIME NOISE AT THE RINK
At night-time after the rink is closed, people eager to play hockey often climb over the fence and play by the light of the "morality lamps" on the side of the building. For two years, the staff left the gate to the pleasure-skating side unlocked at night, so that people could skate (more quietly) on that rink, with less boards to bang a puck off. But the noise of the big groups that came to the rink, sometimes at 3 or 4 in the morning, drove the neighbours crazy. So the staff now lock the rink every night at 11 pm.
But hockey is so popular that people often climb over the fence anyway, late at night. Sometimes the staff notice a car waiting, so they stick around doing extra work, trying to outlast the hockey invaders. The staff also tell the young people about outdoor rinks that are unfenced and not in built-up areas – City Hall, Ryerson, College Park, Rennie, Wallace.
But still the hockey players climb the fence at Dufferin Rink. That's because Dufferin Rink has more light (those morality lights), and so it's easier to see the puck. Last year, Jutta Mason tried to get the City to let the on-site staff turn off those lights at night-time, to make the rink less of a draw. But City management said, "liability," and refused.
Since other rinks don't have such bright lights, it's unlikely that there would be a liability issue only at this rink. So rink neighbours who are bothered by the noise should call the City to see if they'll get a better response than Jutta did. Here are the numbers to call: Ward 18 Councillor Adam Giambrone, 416 392-7012. You can also try the Area Recreation supervisor, Tino DeCastro, at 416 392-0041. (But when he tried to get the morality lights turned off last rink season, he was also unsuccessful.) City Rinks manager Kevin Bowser is at 416-394-2486, although he rarely returns calls. Or you can call his boss, Brenda Librecz, General Manager of Parks, Forestry and Recreation, at 416 392-8207. You can try the community response police, at 416 808-1400, although they don't usually come to such nuisance calls.
If you're really stuck and it sounds so bad out there that you can't sleep, call park lead staff Mayssan Shuja at 416 709-0573. She'll come even in the middle of the night, and talk to the invaders. That is the park staff emergency number, if something needs a remedy fast. The main thing to remember is to follow up by calling the other management numbers above – keep calling until there's help, from the people paid to keep things in good order.
posted December 30, 2006
WEATHER TRIVIA
The Toronto Star, on January 3 1958, editorialized: "It is true that the parks department operates 58 natural ice rinks for skating and 23 for hockey - or will do so, if and when there is enough frost. For all the freezing weather we get here most winters, the department might as well spare the trouble and expense, and get on with the job of multiplying the number of artificial ice rinks." Did they have global warming then already?
posted December 30, 2006
RINK INJURIES
During December, these were the main injuries: (1) a shinny player got slashed on the forehead with a stick, after he was repeatedly warned to stop slashing other people's shins. (2) A little girl got a bad nosebleed when she was leaning against the chain link fence watching hockey, and a puck flew up and hit the chain link. (3) A 9-year-old boy was hit in the nose by a learn-to-skate frame, and it broke his nose. In that case, his family would have had economic hardship because the father had to miss work to take his son to the hospital for an x-ray and follow-up, so the park paid the lost wages (with cookie money from the snack bar, a wonderful resource). The boy's nose is healing straight. And finally, (4) two players collided during women's shinny time. One of them got a cut to the forehead because she hit her forehead on the other player's hard helmet.
For those rink users who have said that shinny and soccer are played without helmets, in contrast to hockey and football, which are played with full gear: there's been no response from the Parks management to informal requests for documentation of the decision to make helmets mandatory for shinny (pond hockey). Time for a formal request