posted November 4, 2007
Friends of Dufferin Grove Park Newsletter
Comments? editor@dufferinpark.ca
Volume 8 Number 11, November 2007
Announcements
RINK UPDATES – DUFFERIN RINK TO OPEN DECEMBER 1
Saturday December 1 is opening day this year. Rennie Rink opens the same day, and so do Mel Lastman Rink in North York, Albert Campbell Rink in Scarborough, and West Mall Rink in Etobicoke. City Hall Rink opens on November 24, and Harbourfront Rink sometime before that. (Central Park Rink in NYC has been open since October 20.) All the remaining 44 outdoor compressor-cooled rinks in Toronto will open on or around Dec.8.
It was MasterCard's donation of $160,000 that pushed the city to reverse their original intention of keeping the rinks closed until January 1. The tax votes that passed on October 22 backed up that gift.
However, for 2008 the city will still be short about $240 million for its operating budget, so the rinks may be endangered again. (See saveourrinks.ca for detailed budget information.)
But for now, get your skates sharpened. Or if you don't skate, come by the rink anyway, have a cup of coffee or a bowl of soup and park bread in front of the wood stove fire, and talk to your neighbours there (or enjoy yourself watching the skaters from the warm rink house). There are always books and magazines there to read, as well as some toys and kids' books for when the little skaters (or their toddler siblings) need a break from skating.
RINK INFORMATION
The rink shinny schedule is almost identical to last year. As always, Dufferin Rink concentrates on drop-in shinny, according to a fixed age schedule. Weekdays until 3 pm shinny hockey is open to all ages, and much less crowded than evenings and weekends. The pleasure-skating side has no hockey, from 9 a.m. until the rink house closes at 9 p.m. After that, permits or special programs take over the shinny hockey side, while the pleasure-skating side has an unofficial, open-to-anyone "pond hockey" game, with shoes for goal markers.
Rink staff Dan Watson will once again offer free learn-to-play-shinny classes on Wednesdays from 10 to 11 at Dufferin Rink, and on Thursdays from 7 to 8.30 at Wallace Rink. (On those evenings there will be soup and bread at a Wallace rink-side campfire as well.) Women's open shinny is at Dufferin Rink on Tuesdays between 9 and 11 p.m., and at Wallace Rink it runs on Thursdays from 8.30 to 10. Dan Watson will also run a free youth shinny time (ages 10 to 15), with some skills instruction and a refereed game, at Campbell Rink every Friday between 5.30 and 6.30.
For more information, call Dufferin Rink at 416 392-0913 or go to cityrinks.ca. (For more details, see "More Rink news," below.)
GEORGIE DONAIS' TRIP to the Natural Building Colloquium in Texas: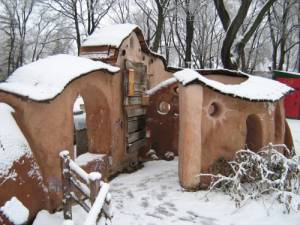 Dufferin Grove staff asked park cob builder Georgie Donais if she could show them her pictures tell stories of her visit to the Texas colloquium. So Georgie will do a show-and-tell at the rink house, on Wednesday , November 14, at 7:30pm.
From Georgie:
"I would like to sincerely thank the many people who came to the special fundraising supper in October, and CELOS, for sponsoring my trip to the colloquium. I spent ten days learning, building, laughing, planning, dreaming, scheming, singing, and dancing. And freezing. (I was not quite prepared to be camping in weather that reached as low as 32°F, as they say in Texas.)
I met and worked alongside some of the mentors whose books I've learned from: Kaki Hunter and Doni Kiffmeyer of Earthbagging fame; Elke Cole, cob builder in BC; Kiko Denzer, earth oven builder, writer, and artist; Sun Ray Kelly, Organic Architect (see some of his work at www.potkettleblack.com/natbild/sunray.html); Matts Myhrman and Judy Knox, two of the original straw bale builders; Coenraad and James from House Alive; Pete Fust, host of the original natural building colloquiums in the mid-nineties; Chris Magwood, author and strawbale builder from Ontario; and Joe Jenkins, author of the "Humanure Handbook" author and ace comedian (you'd have to be, I guess, to talk about that subject all the time).
Besides all the friendships and contacts I made, some other exciting things happened while I was there. A delegation made up of Mark Lakeman from City Repair in Portland, David Eisenberg of the Development Center for Appropriate Technology and Penny Livingston-Stark from the Permaculture Institute of Northern California met with Austin's mayor to talk about how the city can enhance its already green objectives.
A representative from the Parks Department at Corpus Christie came to recruit people to work with them to get more natural materials and community involvement into that city's parks. He was very interested in what we've been doing at Dufferin Grove Park, and may be inviting me down to work his department with other natural builders some time in the next year.
News
PARK MAINTENANCE UPDATE
Parks maintenance supervisor Peter Leiss said he would arrange for the Parks Technical Services Branch to give Georgie Donais an estimate of the concrete costs for the cob toilet foundation, since the building permit was approved in September. But that has not yet happened although two months have passed. The curb cuts for zamboni access to the asphalt entryway have not been done either, nor has the defective barrier post been removed. The promised market stairway has not been installed by the rink house garage, nor has there been any progress on the bike access separating pedestrians from cyclists at the main path north of the rink house. Park campfire rules have been even further bureaucratized. And at Campbell Park, Mr.Leiss removed hoses put there to water the newly seeded grass and the new trees that are still alive (three of nine new trees died of drought in summer and three more are struggling badly). So collaboration with the Parks maintenance supervisor is at a new low. On a brighter note, City carpenters and painters have replaced all the damaged rink boards and given the whole thing a fresh coat of paint. The rink is ready to go!
FIVE-YEAR ANNIVERSARY OF THE DUFFERIN GROVE FARMERS' MARKET
From market manager Anne Freeman:
"It's the Dufferin Grove Organic Farmers' Market's fifth birthday (first market: Nov.7, 2002). The chilly, short days of November aren't the usual choice to launch a market, but farmers Lorenz Eppinger, Ute Zell, and Zalia Conde, together with the park bakers, were brave enough to want to give it a try. They were on to something! Others, like Angelos and the Berettas soon joined, and month by month more people from the neighbourhood and beyond became loyal supporters. Now the market seems such a part of Dufferin Grove that it's hard to imagine Thursdays without it.
The pleasures of bringing home delicious food from the people who produced it and the way it enhances the changing seasons of the year to eat what's fresh and local really enrich our urban lives, and so does the weekly opportunity for exchange with neighbours, friends and favourite vendors. More Torontonians want that experience to be part of their neighbourhoods now, and 2007 has been an especially interesting year, as so many new markets opened. Through FoodShare's market network project (funded by Project for Public Spaces), Dufferin Grove Market has been able to offer some support to the organizers of the Trinity-Bellwoods, Withrow Park, and Green Barns Farmers' Markets in their initial seasons. The Park Bakers collaborated with Stonegate Farmers' Market in Etobicoke this year, too, and now the managers of all these markets, along with Elizabeth Harris from Riverdale and the new Brickworks Market, and Carrie-Ann Watson of the Oakville Market are working together on mutually beneficial plans and goals.
All these new markets mean more promising options for farmers, along with other small local food producers and fair-trade vendors, and more choices for customers, too.
There's terrific loyalty to Dufferin, though. What has made it special? It has to be the way people have come together: the customers who show up no matter what the weather because they know the farmers will be there, all the vendors who help each other out, the amazing staff at the rink house who back up the whole project as well as keeping the soup on and the loaves coming out of the oven.
On Thursday November 8th, we'll share a celebratory carrot cake with everyone who'd like a piece. Ute (of Smiling Goat & Co.) will be there as always, Lorenz (of Greenfields) will come in specially, and we hope Zalia (who's no longer farming, but still putting her cooking talents to great use) will be there, too. Please join in wishing the market many happy returns of the day!"
EDITORIAL: A LITTLE FARMERS' MARKET HISTORY (by Jutta Mason)
About ten years ago, the farmers at Toronto's only organic farmers' market (at that time) found out they had lost their regular location on Markham Street. At that time Mario Zanetti was the director of Toronto's Parks and Recreation Department. He was a "let's try and see what works" kind of guy. He said that if the market wanted to relocate to Dufferin Grove, he couldn't see a problem with that. So there was a bit of discussion with some of the farmers at that organic market, but in the end they settled on going to Queen Street instead.
Then in May of 2001, Elizabeth Harris started the first park farmers' market in Toronto, at Riverdale Farm near Parliament and Gerrard, every Tuesday afternoon. It was an organic market, and Elizabeth asked whether somebody from Dufferin Grove would be willing to come and sell bread. There were no park bakers then, so toward the end of the first Riverdale market season my daughter Kate and I began baking bread to take to that market. The sixty loaves we were able to bake were always sold in half an hour, since Elizabeth had laid the groundwork well and lots of people came.
In February 2002, the park newsletter ran a query from Anne Freeman: would people in the neighborhood be interested in a Dufferin Grove farmers' market on the model of Riverdale market? There was lots of enthusiasm, but by then the Toronto Parks bureaucracy had grown enormously (amalgamation). The obstacles seemed daunting.
That spring, Dufferin Grove had park bakers for the first time: Anna Bekerman, Jenny Cook, and Caitlin Shea (who were working at the park already) stepped up to bake for Riverdale market on their off-day. Bread production went up immediately, but the trip across town in mid-afternoon was always a cliffhanger. (Baking all day, then loading up a borrowed car with the table, the baskets of bread, the cutting board, knives, butter, cleaning supplies, fanny pouch with enough change, bags, tablecloth, then getting stuck in the heavy cross-town traffic, setting up late, etc. etc.)
Vendors at farmers' markets talk to each other a lot. One day near the end of the second Riverdale Market season, farmers Zalia Conde and Lorenz Eppinger were chatting with us about how much they'd like to carry on selling through the winter. Zalia was a baker as well as a grower, Lorenz had lots of storage vegetables, and both were convinced that a year-round farmers' market made it much easier for farmers to build a regular customer base. Besides that, they wanted a second location in the west.
James Dann was the Parks manager at that time, and he was willing to try a market at Dufferin Grove, since there seemed to be a lot of community enthusiasm. Word had spread fast, because of the newsletter and because the park web site and a neighbourhood e-list had already been started by Emily Visser and Bernard King. So it was resolved to do a west-end market following the good model that Elizabeth Harris had worked out with the farmers at Riverdale.
On the first day, Thursday November 7, the farmers set up a spectacular display of produce, pies, and meat. The park bakers had an overflowing bread table. The contrast between the cold outside and the cornucopia inside the rink house was astonishing. For their part, the farmers were surprised by the warm welcome they got from the market visitors. And the market customers found, from the very beginning, that it took a long time to shop, because there were so many familiar faces, and so much news to exchange.
The rest is in Anne Freeman's description on the facing page. She left out one very important thing, though: after the first year of the Dufferin Grove market, it became obvious that there was too much coordination for the Dufferin Grove staff, or the ad-hoc market advisory board, to manage. The market needed a real manager, and Anne Freeman seemed like the obvious choice. She needed some persuasion, but when she agreed to be manager, it was a lucky day for the market. So the 5-year birthday cake, baked by the park bakers, is also a cake for Anne.
MORE RINK NEWS
Last April, the little research group called CELOS presented an "Outdoor Rink Report" to City Council's Parks and the Environment Committee. The report had a lot of inexpensive suggestions for improving the outdoor rinks. The councillors asked Parks staff to consider the report and come back in three months with a response. Three months turned into 9 months (it's now due to be discussed in January). Meantime the budget crisis, looming for years already, broke over the city, causing havoc. To save money, the outdoor rinks were to stay closed until January 2008.
Then MasterCard gave its "opening the rinks after all: priceless" donation, soon followed by the passing of the new taxes. However, by all accounts Toronto is still short of meeting its 2008 operating budget. We're missing another $240 million, and so it seems likely that new cuts will continue to be made.
It would be good if city management was a bit more careful when making the next round of cuts. So CELOS is continuing its budget inquiries (see web site news p.6). And city staff have begun talking to the rink researchers and other rink activists, to begin making some improvements. The list so far:
Costanza Allevato, the acting Toronto/East York Recreation manager, has assigned staff to do "facility audits" of all the rink change rooms, to check for 1. benches, 2. bulletin boards, 3. working phones, 4. rubber mats, 5. broken vending machines, 6. signage (e.g. change room, staff office) and 7. cleaning supplies. By mid-November these audits will be done and repair orders issued where necessary. "Active Living" staff Vanessa Anderson is reorganizing the city's rink web site to be more informative and current.
Kevin Bowser, the citywide Outdoor Rinks manager, has committed to having outdoor rinks unlocked and accessible for skaters during all daylight and early evening hours even when staff are not there. He and his rink supervisors are working on placing shovels at every rink, plus training rink staff to work with rink users who want to shovel snow off the ice when the zamboni is unavailable. The rink supervisors will make sure that every rink has benches to sit on. When advised that many adult shinny players disagree with the city's helmets-for-shinny policy (on the books for five years but not enforceable so far), Mr.Bowser agreed to look into the process of making this policy.
On the subject of the rink season corresponding to the angle of the sun (opening mid-November and closing at the end of February), Mr.Bowser said there would have to be public meetings. Since CELOS rink researchers have done energy-conservation and ice-quality research supporting a return to the earlier opening and closing, they will be working with any city councillors who want to consult with rink users, on this and other outdoor rink issues. Adding windows to windowless change rooms and staff rooms will also be on the agenda. No budget for simple things like windows and rubber skate mats doesn't mean giving up. Other solutions can be found, as Ryan O'Neill from Jimmie Simpson Rink shows us: "I took the initiative to help with the rubber mat situation. I got in touch with Universal Services, a company that deals in rental floor mats. I asked what they do with the used mats that are no longer in circulation and offered them a way to creatively recycle them, and they were all for it. So I've got around 200 mats that I'm picking up next week." That's an inspiration!
WEB SITE NEWS
The park web site, which has grown too complicated, is about to get simpler. The "research" section, which deals with larger City budget questions and freedom of information inquiries as well as some local issues, is gradually being moved over to the new CELOS website, celos.ca.
CELOS (pronounced "see-loss") stands for the CEntre for LOcal Research into Public Space. Its mandate is to do both practical and theoretical research. For example, helping people who want to try a park campfire in their own neighbourhood park is practical research; finding out why there's no money in the $60 million Parks and Rec capital budget to fix the players' box at Wallace Rink is theoretical research.
The "City Rinks" section, which gives a lot of information about outdoor rinks elsewhere in the city as well as Dufferin Rink, is being moved to the new cityrinks.ca website (and being merged with "saveourrinks.ca"). In addition, the grant CELOS received from the Trillium Foundation has allowed quite a few other groups to set up their own wiki websites, very simple to post. So some of the dufferinpark.ca "neighbourhood news" items are now posted on those separate web sites: campbellpark.ca, wallaceemerson.ca, tibaldiparkette.parkcommons.ca, macgregorpark.ca, greenhere.parkcommons.ca, and perth-dupont.parkcommons.ca.
The dufferinpark.ca website is gradually getting caught up with its "problems and solutions" section, which catalogues and archives the ongoing care of the park. More pictures are being posted too. Joseph Lo (a Master of Architecture student from the University of Waterloo), doing his thesis on Dufferin Grove, sent a whole lot of old photos and old maps of the park that he found at the City Archives. Heidrun Gabel-Koepff will be posting them this month. It appears that there used to be a fountain in the middle of soccer field, surrounded by many trees. The photos show early flowerbed plantings, lots of grass tennis courts, Dufferin Street with only two lanes, and neighbouring houses which are hard to place now. Have a look – Heidrun will put a page link on the home page when she's done the postings.
CONGRATULATIONS, DAVID ANDERSON!

Clay and Paper Theatre's long-time director David Anderson just found out two days after the eighth annual Night of Dread that he has received a Chalmers Arts Fellowship from the Ontario Arts Council. This fellowship is endowed by the Chalmers family, which donated more than $9 million to the arts in Ontario. Here's what the fellowship is for: The program provides financial support directly to artists so they may have the opportunity to dedicate themselves to individual creative pursuits. The program aims to provide such support at moments in artists' careers when a concentration on personal and/or artistic growth or renewal and exploration is most likely to have the greatest impact on their long-term artistic and career development.
David plans to travel to Portugal to learn more about puppetry traditions there, and to return (for the third time) to the Republic of Georgia, where he already has many folk-art friends. Dufferin Grove Park will see the effects next year: congratulations!
WHAT ACTIVITIES MAKE POLICE STOP AND QUESTION PARK USERS?
Almost two years ago, a CELOS freedom of information request asked for all police incident reports over 4 years at Dufferin Grove Park (minus names). Until recently, no one found time to analyze the data. Now CELOS researcher Corey Chivers has gone through all the reports and made a pie chart to show what makes police question park users (notably 43% of the activity regarding loitering). This seems to suggest the need for some follow-up information, but first the chart has been sent to Fourteen Division Superintendent Ruth White, asking for help with clarification.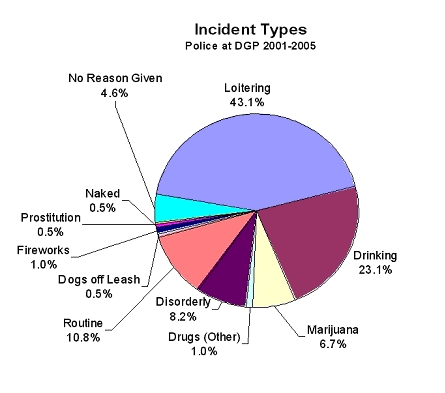 WOMEN OF WINTER WANT YOUR UNUSED SKATES, AND CANADIAN TIRE $
Deirdre Norman, of the Women of Winter shinny hockey program, has been gathering skates for the new Wallace Rink skate-lending program. She and her hockey mates are also collecting donations of Canadian Tire money (or just plain money) to buy a special High Park-style zamboni tent so that Wallace Rink can house a zamboni onsite. Now that Wallace Rink has been rebuilt so nicely, it's time to help it work better. To contact Deirdre: hockey@thewomenofwinter.com, or leave a message at 416 392-0913.
Newsletter and Website Credits
Newsletter prepared by: Jutta Mason
Illustrations: Jane LowBeer
Web site: Henrik Bechmann

Park phone: 416 392-0913
E-mail: mail@dufferinpark.ca
web address: www.dufferinpark.ca