Park Events in December
posted December 10, 2006
Annual Rink Clubhouse Craft Fair
Sunday Dec.10, 11 am to 4 pm
Handmade items for holiday gifts made by neighborhood artisans, on sale in the market tents in front of the rink house, with a campfire and hot cider. Organizer: Abbey Huggan: abbeyhandmade@yahoo.com. Also some daybooks and calendars will be for sale, with a part of the proceeds going to the park.
posted December 10, 2006
A Special Friday Night Supper BOOK LAUNCH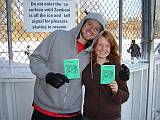 Outdoor Ice Rink Handbook, Friday Dec.15, 5-7.30 p.m.
…Well, booklet launch: celebrating the publication of the Outdoor Ice Rink Handbook, with contributions by eight Dufferin Rink staff. Published by CELOS with the help of park cookie money. For anyone (rink staff and rink users) who wants their neighborhood rink to run well, this has everything you need to know. Buy one as a Christmas present for each staff person at your local rink (other than Dufferin Rink). They're $2 each, 48 pages long, with Jane LowBeer's cheerful illustrations – just the right size for a pocket. Buy one for each of your shinny-playing or pleasure-skating friends, too, so they can find out how their neighbourhood rink can be improved.
The booklet is available now at Dufferin Rink, or download the pdf and have a look!
posted December 10, 2006
Macgregor Park Solstice Celebration
Dec.21, 4 to 6 pm.
Master of ceremonies: Jane Wells. Story-music performances with students from West Toronto Collegiate. Young children who want to be part of the pageant can come to the hour-long rehearsals at 4-5 p.m., Dec.18, 19, and 20, to be held at the school beside the park. To find out more or sign up, call Anna Galati at 416-535-9032.
There will also be a campfire with hot dogs, marshmallows, and hot chocolate, and lots of lights – to mark the shortest day of the year. Dufferin Rink staff will be there too. Under the direction of MacGregor Park artist-in-residence Kristen Fahrig.