Dufferin Grove Park Newsletter
Comments? editor@dufferinpark.ca
Volume 10, Nr.2, February 2009
UPCOMING EVENTS IN FEBRUARY
Fourth Annual WOMEN OF WINTER SHINNY HOCKEY TOURNAMENT
Friday February 6 and Saturday February 7, 2009. Organized by Deirdre Norman, this very popular tournament is already fully registered, so it's too late to join as a player – but it's great fun to watch. The pleasure-skating pad is open for public skating during the tournament. Spectators can skate and cheer at the same time. Times: first game is at 7 pm Friday. The games go all day Saturday, with the championship game at 6 pm. This means that regular shinny hockey is cancelled but the pleasure-skating pad is open for public use (and for watching the tournament through the fence).
Andrew Drown PHOTO EXHIBIT at the rink house – opens Friday February 13
Photographer Andrew Drown became interested in photographing details of Toronto playgrounds several years ago for aesthetic reasons – he took detail photos of the textured metal treads of the steps up to the slides, and the smooth weathering of the wooden structures. Then he found out how quickly the traditional playground structures were being torn down. He hastened to document their sturdy wood-and-metal beauty before they were all supplanted by plastic. Last year he was surprised to see Dufferin Grove playground still standing. He came to the park to talk about his project, and to show some of his images of playgrounds already gone. The photos are so interesting and evocative that rink staff asked him if he'd be willing to mount a display at the rinkhouse, He agreed, and his photos will be on display at the rink clubhouse for two weeks from February 13. The opening corresponds with Friday Night supper: come and enjoy.
The annual bike couriers' BIKE RACES ON ICE.
Saturday February 21, 9 pm to 11 pm:
This tournament will once again have the initial elimination rounds on the hockey side only, followed by a two-rink final that can be very exciting, and occasionally a bit hair-raising, if there's a collision – the bike tires have many little studs in them. This event is just as much fun inside the rink house, with a corner set up as a pit-stop bike repair station, and lots of unusual bikes (and unusual cyclists).
Toronto playgrounds: a CELOS display: at the rink clubhouse during February.
On February 3 there was a small public meeting about Dufferin Grove playground at St.Mary's School, called by City Councillor Adam Giambrone. The city's consultant put up some slides. The councillor said this was just the beginning of community conversations, about changes to (or replacement of) the playground. CELOS has mounted a photo display on the north wall of the rink clubhouse to contribute to the discussion. All other material is welcome! Happily, there seems to be no rush – plenty of time for people to think and talk together. Kids too (of course).
WEEKLY EVENTS
Saturday morning Kids' Dance with Eroca
In Eroca's classes, kids move their bodies and use their imaginations. It's a fun way to start off the weekend. These classes are FREE. To register, email Eroca at erocanicols@hotmail.com or leave a message at 416 392-0913.
Ages:
10am-10:30am Ages 5 and under Dance
10:45am- 11:30am Ages 9-12 year olds Dance
11:35am-12:20pm Ages 6-8 year olds Dance
12:30pm-2pm Open Beginner-Skating Games with Eroca
Free, drop-in, no registration needed: A great chance for kids who are learning to skate, to practice their skills while a having at fun at the same time. Parents are welcome to join in too. (Important note: The skating games should not be treated as childcare, parents are still responsible for their kids.)
Drop-in learn-to-skate, Wednesdays, Fridays and Saturdays
Skating classes are not as common as they used to be at City facilities, but lots of people are learning to skate in the old way, with a chair or a friend or a fence to cling to at first. It's nice to get a few pointers from a good skater sometimes, and so there's an assigned rink helper at Dufferin Rink as a resource on Wednesdays from 4.30 -6.30, Fridays 4-7, and Saturdays 10 to 1. The helper can be spotted because of the orange fluorescent vest – just go up to that skater and ask for help. Sometimes they go inside to warm up for a few minutes – if there's no helper on the ice, ask at the snack bar, and they'll be glad to come out and help.
Friday Night Supper, 6 to 7.30 pm
Friday Night Supper is never the same from one week to the next. Chilis Relenos, Vegan Gnocchi with wine-tomato sauce, wild boar stew with couscous and oven-roasted tomato sauce, apple galette with pear sauce – cooked by Anna, or Mary, or Jenny. The meals are cheap and tasty, much of the materials come from the Thursday farmers' market and all the money raised this way goes back into the park. So come to the rink hungry, and eat with your skates on.
WINTER CAMPFIRES
In winter there are lots of birthday-and-skating parties, at the rink-side campfire near the smaller bake-oven. The rink house can't be booked for birthday parties – it's open for everybody, not permitted out privately – and even the campfire circle is not closed to drop-ins when there's a party. Even so, a campfire-and-skating party seems to work very well for celebrations. To book a campfire by the rink, or at the two other park campfire sites, speak to the recreation staff at the rink house, or e-mail staff@dufferinpark.ca.
GENERAL RINK INFORMATION
Rink clubhouse: open Monday to Sunday: 9:00am - 9:00pm
Zamboni Café: Monday-Sunday 10:00am - 8:30pm
Shinny hockey: same hours as the rink clubhouse except Sundays. There is a (strictly enforced) age schedule. From rink staff: "If you ever see the wrong age group on the shinny ice, do us a favour and notify the rink staff right away."
Pleasure-skating: always freely available. After 9:00pm, skating is unsupervised. Then it's like skating on a pond: it's mostly shinny hockey, and people are responsible for their own use of the rink.
The large rink lights turn off after 11:00pm, and then the rink is locked.
Parking: One good place to park is at Dufferin Mall across the street. After 5 pm. there's lots of parking across from St.Mary's School at the north end of the park too.
Rink contacts: 416 392-0913 or staff@dufferinpark.ca. The rink phone message will tell you the current ice skating conditions.
IN THE EVENT OF SNOW, IF RINK USERS HELP STAFF IN CLEARING THE ICE, THE RINK OPENS FASTER. THERE ARE LOTS OF SHOVELS, OR BRING YOURS FROM HOME.
CITYRINKS.CA WEBSITE
This is a website run by CELOS, giving information about all 49 municipal outdoor ice rinks, plus Harbourfront Rink. The site has maps, hours, schedules, phone numbers, ratings, and stormy-weather updates. It also has blogs about the individual rinks, with contributions from skaters. For information or comments: mail@cityrinks.ca.
Toronto has more outdoor compressor-cooled ice rinks than any city in the world. It's the free outdoor-ice-skating capital of Canada! It makes sense to run these rinks better, and to get the word out to skaters sooner. Until the City's information sources improve, cityrinks.ca is available. Response time to a rink user e-mail varies from half an hour to two days, and there's as much follow-up as the rink user asks for.
OUTDOOR RINK MEETING WITH COUNCILLOR JANET DAVIS: she says yes, but no date yet.
The cityrinks.ca website has posted a letter that CELOS sent recently to Councillor Janet Davis. She's the new head of City Council's "Community Development and Recreation Committee", which oversees the outdoor rinks (among many other things). The letter outlined some rink issues that need to be addressed, and asked Councillor Davis for a meeting. She didn't respond at first, but after many rink users e-mailed her, backing the cityrinks.ca request, she agreed to meet. She said she couldn't meet at a rink – not enough time. (Councillor Davis is also on the Executive Committee, a kind of cabinet for the Mayor.) No meeting time has been set yet, either. This is a difficult world where the councillors have no time to attend to the rinks whose oversight is one of their (many) tasks. They are swamped. What is the alternative?
On January 12, City Councillor Denzil Minnan-Wong proposed to Council's Community Development and Recreation Committee that the city's outdoor rinks be opened two weeks earlier next winter. This is something rink friends have been requesting for ten years, so it was time to make a deputation, in favour.
IS DUFFERIN GROVE PARK MANAGED BY A "CIVIC COMMITTEE"?
On February 7, John Barber wrote a piece in the Globe called "Let local groups manage their own parks, without a tangle of bureaucracy." The poster child is Dufferin Grove, which, he writes, "a determined civic committee has rescued from bureaucratic control."
Where is this "civic committee"? There actually isn't one. Committees slide into bureaucracy much too fast. The liveliness of Dufferin Grove began under a different regime, in the 1990s, when Recreation staff were encouraged to talk to park users and community centre users in the day-to-day, and to act on what they heard. After the forced municipal amalgamation in 1997, and the resulting patchwork of parks and recreation cultures, that kind of collaboration began to atrophy for lack of support. At Dufferin Grove, park friends were told there was no budget for a year-round recreation staff person anymore, and so there was a "goodbye to the park as we know it" party on February 18, 2001. This was not a protest meeting but a celebration of the park.
The party was so well attended, and so many people came to a follow-up meeting with their ideas, that the staff cuts were postponed.
The following year, pressure to "harmonize" Dufferin Grove with all the other parks built again. Phone calls were not returned and, with another round of staff restructurings, the connection between park friends and recreation management became very fragile. But by then park friend Emily Visser had started a park web site and a neighbourhood news e-list. In May 2002, then-Recreation-Director Don Boyle brought his recreation manager, James Dann, to a special community pizza supper around the ovens. He was astonished to see the hillside around the oven covered with people. Etobicoke parks, where he came from, are not like that, he said.
There was not enough bake-oven pizza to go around that day, but it was good news otherwise. Manager James Dann was given the green light to resume collaborating with park friends. Over the next few years he and his recreation supervisor Tino DeCastro gave steady support to the park's recreation staff as they worked with park friends to establish the zamboni kitchen, Friday Night suppers, a skate rental program, a volunteer gardener program, and other improvements too numerous to count (including giving staff support for the farmers' market).
Then came the next wave of restructuring, with new management systems again. Campfires were temporarily suspended, and community building projects, from the composting toilet to the youth garden to the rink-house access steps, were stopped. Silos were strengthened to the point where on-site Recreation staff were ordered not to speak directly to the zamboni staff during the rink season. New policies about bake ovens, farmers' markets, gardens, and campfires were developed in far-off meeting rooms. Park friends were not welcome at those meetings.
Even through that time, the old pattern of collaboration stayed intact. Park friends wrote letters and called City Councillor Adam Giambrone. No programs were lost, and collaboration didn't die out.
The definition of a park friend is "anyone who is a friend to the park." By now there are so many park friends, who have so many points of connection with the recreation staff. That's why the park is lively. It's not a membership club, there's no committee running things – who has enough spare time to run a park? City staff run it.
AN OPEN LETTER TO ACTING GENERAL MANAGER BRENDA PATTERSON: GOOD NEWS, THE GOLD IS HIDDEN UNDER YOUR OWN DESK!
Click on image to enlarge it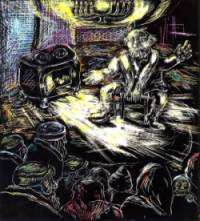 Dear Brenda: do you know the old folk tale about a man who goes out into the world to hunt for a buried box of gold, and after many travels he returns to find it under his own stove? That story may be true for you as well. You've been hired to fix what's not working at Parks, Forestry and Recreation. I'm guessing you're faced with a mountain of choices – a lonely job! There's a rumour that you're working on a "potential transfer plan for all recreation supervisors" across the city. But those are the supervisors who have the most links to our neighbourhoods. They also have the closest links to the almost 10,000 part-time recreation workers who run most of the people- programs in your community centres and your parks. Are you sure you want to erase those links right at this moment? Wiping the slate clean on that scale gets rid of the good as well as the troublesome!
The "park friends" in various neighbourhoods, the non-city agency partners, and the many diversely talented part-time rec staff, are the "gold" under your desk. They have knowledge, good will, and shared experience, on offer all over the city. They need their familiar recreation supervisors to support their contributions. All they're waiting for, is for you to give the sign that their contributions are welcome, and that the recreation supervisors at last have your ear.
You'll be impressed with the "gold" you find there.
CITY HALL: EVERYBODY'S SWAMPED
When the different cities that now make up Toronto were forced to amalgamate in 1997, they started on a program of "harmonizing" their services. Although that sounds musical, it isn't. Globe columnist John Barber recently described it differently for Parks and Recreation: "…it began with a long round of tortuous policy-making designed to 'harmonize' the existing, human-scale patchwork. The result was a hideous tangle of rules and regulations encasing surprise fee hikes…." Last year, the attempt to raise fees dramatically and reduce the number of free programs failed. General Manager Brenda Librecz left, and so did Recreation Director Don Boyle. Then a few w+eeks ago, Parks Director Paul Ronan was suddenly fired by acting General Manager Brenda Patterson. Nobody seems to know why.
Meantime, the councillors are struggling to carry out their task of exercising oversight. Our little research group CELOS, which collaborated with on-site rink staff to publish a booklet on the city's 49 outdoor rinks last year, tried for over a year to present their findings to the councillors, without being able to get a slot on the agenda.
Now Councillor Janet Davis, who blew the whistle about the surprise fee hikes last year, has been made chair of the committee in charge of recreation programs. CELOS (which continues to monitor the outdoor rinks), sent her reports and asked to meet with her. At first there was no response at all. Then – after many e-mails from rink friends all over the city – she agreed to meet. But she couldn't make time until the very end of the rink season, and she couldn't meet on site at one of the 49 rinks. No time.
Councillor Davis is also on the Executive Committee, which is now like the Mayor's cabinet, so it's no wonder she's busy. She says she'll meet: but will she be too run off her feet to listen? We'll report back here.
Song bird nesting boxes for the park
Some years ago, long-time park friend Pat MacKay donated several hundred dollars to make some nesting boxes for the park. Gene Threndyle (who built the marsh fountain in the Garrison Hollow on the west side of the park, and who helped plant many of the other native-species gardens in the park), says he'd like to begin. He writes: "we need to find a knowledgeable local birder who knows what kind of birds we might reasonably hope to attract to the park and what kind of a box to build for them". If you are that person, please talk to the staff, or e-mail them at staff@dufferinpark.ca, and they'll pass it along.
Response from park friend Chang Norman Liu:
I was reading your latest newsletter and came across Gene Threndyle's call for experienced local birders who might be able to give advice on the right species of birds to attract to Dufferin Grove and the types of boxes they would need.
If you're having trouble finding a knowledgeable local birder, you might try contacting the Toronto Ornithological Club. Their membership is diverse and includes birders from across the Greater Toronto Area, some of whom are experts who might be interested in advising you. Here is the link to their website: www.torontobirding.ca/index.php
Neighbourhood announcement: THE GROVE COMMUNITY SCHOOL open house
Friday Feb.20, 7- 9 pm, and Wednesday Feb.25 7- 9 p.m. At Alexander Muir/Gladstone Ave. Public School (108 Gladstone Ave.)
From Max Wallace: "Join us to learn about the West End's exciting new alternative elementary school focussed on social justice, environmentalism and community activism. This innovative new school, committed to equity and diversity, will provide students with a rich and unique experiential education. Opening in September 2009 JK to Grade 3. Attendance at one of the Open Houses is mandatory for those wishing to register a child at the Grove. Registration forms will be available at the meeting and will soon be available at http://www.thegrovecommunityschool.ca."
National Post published a related article on February 27, 2009 Enrollment dropping, Toronto schools think outside the box
Dufferin Grove staff on the road: Thorncliffe Park winter festival February 15
The mid-and-high-rise housing development called Thorncliffe Park in Don Mills was built in the 1970s for 12,000 people. It now houses 30,000 people in the same space. Many of them are children, whose parents are newcomers working hard to get established. In 2001, the area's main park (R.V.Burgess park) lost its playground structure to the City's CSA project (see p. ). There's no budget allocated for a new structure until sometime between 2013 and 2017. Until then, the parents have to find other ways to make fun for their children. They invited Dufferin Grove to be their "sister park." So three Dufferin Grove staff – Anna Bekerman, Jenny Cook and Lea Ambros – are going up to contribute a winter cooking fire to the Thorncliffe Park winter festival.
DUFFERIN GROVE FARMERS' MARKET: IN THE RINKHOUSE, THURSDAY 3 – 7
This year-round market is in its crowded period, inside the changerooms and also packed into the zamboni garage. But oh my, is it ever full of good smells and beautiful foodstuffs! The market has storage vegetables, augmented by wintertime-only imported organic produce (only the market's own farmers are allowed to import). There is meat – beef, pork, venison, chicken, lamb, and (often) Georgian Bay fish. There's bread and cake, olive oil and cheese, sheep's milk and yoghurt, mushrooms, honey, perogies and sauerkraut. And at the zamboni café: Mary Syklwester's best winter soup.
Credits:
Newsletter prepared by: Jutta Mason

Illustrations: Jane LowBeer

Published by: CELOS

Web sites: Henrik Bechmann, Aseel Al Najim celos.ca, cityrinks.ca

Park phone: 416 392-0913

Park web site: www.dufferinpark.ca

E-mail: mail@dufferinpark.ca