Dufferin Grove Park Newsletter
Comments? editor@dufferinpark.ca
February 2014 newsletter
Events in February
February is the last month for good outdoor skating (March is often a mush), so it seems like everybody has decided to have their skating event this month, before it's too late.
Every Friday: Supper in the Rinkhouse, from 6 (ish) to 7.30
There is always soup, a vegetarian and a vegan entrée, a salad, and dessert. Although the money all goes back directly to the City now, prices listed are still only a suggested donation. If you can't spare the cash, donate at some other time – nobody goes away hungry! The menu is linked on the dufferinpark.ca home page by Friday noon.
Saturday February 1: Celebrate winter cycling at the Coldest Day of the Year Ride 
From Cycle Toronto (cycleto.ca): On Sat, Feb 1 at 12:15pm, ride with us from Queen's Park (at Hoskin Ave.) to Dufferin Grove Park, where we'll have a small campfire set up next to the skating rink! Bring your skates and a reusable mug for our campfire hot chocolate, or bring a thermos with your own hot drink.
BIXI Special: Don't have a bike available for the ride? No problem! All BIXI bikes will be given free extra usage time from 12pm to 4pm. There is a BIXI dock at Queen's Park where you can check your BIXI in before the ride.
February 7 and 8: The 9th annual The Women of Winter Outdoor Shinny Tournament
From the organizer, Deirdre Norman: "Fun and feisty tournament is a community event for all level of players." To find out more: hockeywitchtoronto@yahoo.ca
The tourney starts on Friday Feb 7, 7:00-10:00pm, then runs on Saturday Feb 8, 10:00am-7:00pm .
Friday Night Supper will be a one-dish meal – smaller than usual, but still on.
Saturday February 15: 2014 Andrew Cash and Jonah Schein annual skating party – 2 to 4 pm
From M.P. Andrew Cash: "I am pleased to invite you and your family to our annual skating party at Dufferin Grove Park. Join me and my family, along with our Member of Provincial Parliament, Jonah Schein, for an afternoon of free family fun. Come by to say hi, enjoy some hot chocolate and cookies, listen to some music by the campfire, and skate with your neighbours! We look forward to seeing you there!"
Saturday Feb.22, 7 to 10 p.m.: 13th annual Dufferin Rink Icycle: Bike races on the rink
Here's a good description from a 2011 National Post article written by journalist/shinny player Peter Kuitenbrouwer: "On Saturday hundreds of spectators will gather at the outdoor rink in Dufferin Grove Park to cheer competitors at a race that defies logic, to the many who store their bikes in November and bring them out again in April....The competitors include Jim Kuz, a.k.a. "The Ice Bear," Alberto De Ciccio, "The Ice Emperor," and several dozen others, many of whom hone their winter biking skills as couriers, battling ice, wind, snow and police on the cold streets of Toronto....
I bike over to Roncesvalles Avenue, to the cave of The Ice Bear, who lives in a walkup apartment nestled amid the Polish delis. Mr. Kuz is a longtime courier — "17 winters," he says proudly. I find him in the living room, wearing a kind of pillbox cycling hat from Creative Couriers, where he worked in London, England. He has spread newspaper on the floor to protect it from his aluminum-frame Fuji racing bike. He points out its features: clipless pedals, a stout, short wheelbase, and a high bottom bracket. But what stands out are the tires, customized for ice cycling with hundreds of tiny wood screws. On Saturday, he will wear cycling shoes, winter bike tights, heavy-duty bicycle overshorts from Mountain Equipment Co-op, cross-country skiing socks, a Spyder giant slalom ski sweater with "armour" sewn into it, winter cycling gloves, a balaclava, cycling helmet, and $6 construction safety glasses."
Everyone welcome: it's quite a (free) show.
Sunday February 23, 1 to 4 p.m. Puppets on Ice
From the organizers: "Puppets On Ice is a celebration of winter in a Clay & Paper Theatre kind of way... There will be a great selection of waltzes: everything in 1-2-3, 1-2-3,1-2-3, to help you glide around the rink. We have invited as our special guests, esteemed members of the Bloody Awful Band, braving the weather (barring rain!) with brass and bass drum."
Also: from February 2 to February 17: All are welcome to join in to help construct, paint and decorate wearable puppets for all to wear, use and play with at the event.   
Free, no experience necessary.
Workshop Information:
in the Dufferin Grove Park Rink House: Sundays February 9 & 16 from 9:00am - 11:00am Mondays February 3, 10 & 17 from 2:30 - 5:30pm
at the Clay & Paper Theatre studio, 35 Strachan Ave. (@ Ordnance St., 3 blocks south of King St. W.) Sundays, February 2, 9 & 16 from 1:00 - 6:00pm More information: www.clayandpapertheatre.org, clayandpaper@sympatico.ca, 416.708.3332
Mystery Garage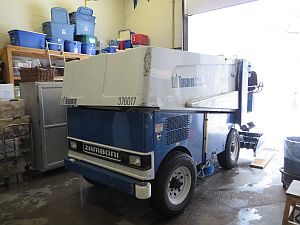 Mystery building project: a second zamboni garage for Dufferin Grove Park? During January a rumour started going around that a second zamboni garage would be added at Dufferin Rink. Dufferin Rink already has one of the biggest zamboni garages of any outdoor rink in the city, which is why it's been useful as a storage space as well. Eleven years ago we even received city funds to build a "zamboni kitchen" in an unused alcove on the north side of the garage.
Many people are mystified why the park would need a second garage. The west end's general supervisor of parks, Peter White, when asked, confirmed that the city was considering adding another garage, "not unlike the one at Wallace."
The Wallace Rink zamboni garage is a metal shed lined inside with sprayed-on insulation, heated 24-7 by two 4800 watt garage heaters. The general supervisor says it's too early to say more – about the cost of such a garage or the reasons for it. Without information, the rumours continue, leading to speculations such as:
Rumour #1. "A second garage is needed because of the farmers' market." For six hours each Thursday, three months a year (i.e. during the rink season), the zamboni has to be parked outside so that the farmers' market can use the garage. During cold snaps the zamboni's motor sometimes won't start after the market. The solution is either a block heater for the zamboni engine or a second heated garage. (Test question: which is the thriftier alternative?)
Rumour #2. "No more shared-use." Maybe some zamboni drivers don't like sharing their garage, no matter how big it is, with refrigerators for kitchen supplies, puppets hung high up in the rafters, and stacks of folding tables. If that were true, it would be a repeat of the "Zamboni crisis" in 2004, when city inspectors declared the garage off limits to anyone but the zamboni and the zamboni drivers, and ordered the zamboni kitchen removed. But the kitchen wasn't torn out after all, because city management decided to support the idea of making shared use of city buildings. (Test question: has the pendulum swung back?)
Rumour #3. "It's an election year and so there's extra money around, which needs to be spent or the funding will be lost." This is the strangest rumour yet. (Test question: if there's extra tax money around, can there be public discussion of how best to make use of such funds?)
As it stands, there are two double-pad outdoor rinks elsewhere in the city that have no real garage (High Park uses a tent with straw bales and Greenwood has a chain link cage surrounded by tarps). The "flying squad" zambonis downtown (used for single-pad rinks) don't have a garage either. Why Dufferin Rink should have two is a puzzle. Hopefully there will be some answers soon, before commitments are made.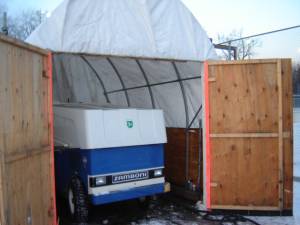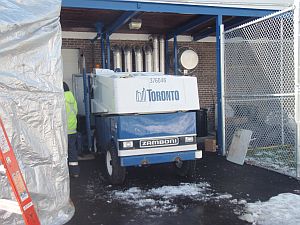 Helmet update
Helmet update: #1. pleasure-skating.
The January newsletter was mostly about helmets. Follow-up calls to other cities across Canada turned up the information that Toronto and Halifax are the only cities that require helmets to be worn for pleasure-skating at Municipal outdoor rinks. (Halifax has only one outdoor rink.) In Calgary, Edmonton, Regina, Winnipeg, Ottawa, Montreal, and Fredericton, helmets are recommended for pleasure-skating at outdoor rinks – which means that if kids are wearing a bike helmet, or a snowboard helmet, or the hood of their snowsuit, they're not turned away.
But in Toronto (with one important exception) children under six are required to wear a hockey helmet approved by the Canadian Standards Association (CSA) – no U.S. or European helmet certification accepted. The exception: Harbourfront's Natrel Rink, not run by the City, has no helmet requirement for pleasure-skaters of any age.
The head of a helmet advocacy institute in Washington DC sent us links to a page from the U.S. Federal Government's Consumer Product Safety Commission (CPSC) website. They've posted a table that lists the different kinds of helmets and what they're designed for. Hockey helmets are designated as "Team sport helmets...designed to protect against multiple head impacts typically occurring in the sport (e.g., ball, puck, or stick impacts; player contact; etc.), and, generally, can continue to be used after such impacts." There is no certified pleasure-skating helmet category in either Canada or the U.S., so the CPSC recommends certified bike helmets for pleasure-skating.
In other words, requiring hockey helmets for pleasure-skating only makes sense where the little pleasure-skaters will be sharing the ice with hockey players who may be shooting pucks at them, or hitting their heads with sticks, or body-checking them. But for a fall on a hard surface like ice or a sidewalk, bike helmets are just as protective as hockey helmets – that is, neither can prevent an unlucky concussion, but both will keep a goose egg or a gash to a reasonable size.
The supervisor of the city's leisure and instructional skate programs in Etobicoke has agreed to meet in early February. We'll swap information about the requirement for little kids in Toronto to wear hockey helmets when they go pleasure-skating. He says he'll bring along a recreation staff who is a helmet specialist. Watch the newsletter for follow-up.
Helmet Update: #2. Shinny hockey.
Toronto (with 51 city-run outdoor rinks) and Mississauga (with three city-run outdoor rinks) were the only cities we could find where helmets are mandatory for outdoor shinny hockey. Calgary has 5 city-run rinks plus upwards of 190 community-run outdoor rinks, Edmonton has 5 city-run rinks plus over 20 run by community groups, Regina has 42 city-run rinks, Winnipeg has 40 city-run rinks plus upwards of 60 run by community groups, Ottawa has just over 250 community-run rinks, Montreal has just under 250 city-run rinks, and Fredericton has 8 city-run rinks. (Halifax has no outdoor hockey rinks.) All of these rinks, including those that are supervised at times, either recommend helmets for shinny hockey or have no signs up at all.
Helmet update #3. Response from Jim Hart, general manager of Parks, Forestry and Recreation.
On January 9, we sent Mr.Hart a copy of the "Special Helmets issue" with a cover letter asking him to revisit the helmet rules now, welcoming the wide-ranging rink-user input that was missing the first time. By the time this newsletter went to print (Jan.30), he had not answered.
Then on January 31, this response arrived.
Helmet update #4: A Calgary group called RestoreCSA has filed a Request for Investigation with the relevant departments of NAFTA signatory governments and the designated Investigating Authorities of the NAFTA Secretariat. They say that the CSA's monopoly on hockey helmet certification in Canada "appears to be in violation of multiple sections of the North American Free Trade Agreement (NAFTA)."
Helmet update #5: cross-country data on shinny-related head injuries or lawsuits
Without exception, none of the cities we contacted had based their helmet decisions (including mandatory helmet use for indoor skating and shinny hockey) on any actual injury data that they could pass on to us. Not on any lawsuit counts either. Just guesswork.
A shinny waiver letter, from the Town of Banff in Alberta.
The town requires full hockey equipment to be worn for indoor shinny hockey, but obviously they don't think that's enough. This is what you have to sign to be allowed to play shinny:
"ACKNOWLEDGEMENT OF RISK: I am aware that playing or practicing to play/participate in any sport can be a dangerous activity involving MANY RISKS OF INJURY. I understand that the dangers and risks of playing or practicing to play/participate in shinny hockey include, but are not limited to, death, serious neck and spinal injuries which may result in complete or partial paralysis, brain damage, serious injury to virtually all internal organs, serious injury to virtually all bones, joints, ligaments, muscles, tendons and other aspects of the muscular skeletal system, and serious injury or impairment to other aspects of my body, general health and well being. I understand that the dangers and risks of playing or practicing to play/participate in shinny hockey may result not only in serious injury, but in a serious impairment of my future abilities to earn a living, to engage in other business, social and recreational activities, and generally to enjoy life."
Editor's note: Maybe oil painting would be a better free-time activity, or chess....
Dufferin Grove Park staff with disabilities
Dufferin Grove Park has three city staff with disabilities that require one or more particular accommodations under the "Accessibility for Ontarians with Disabilities Act" (AODA). What that means is that a guy who's cooking Friday Night Supper might need help lifting heavy pots. Or a woman who's trying to follow a set of instructions for keeping things orderly in the rink house might need extra oversight from colleagues when she loses the thread.
The park has received a lot of gifts from the talents of these staff. The disabled staff, and sometimes their friends and families, have been extra-involved with the other park staff to help make things work. The challenges that come with a disability can be a struggle for everyone on the staff, disabled or not. When a difficulty is worked out, the accomplishment feels like a shared triumph.
The Disabilities Act aims to support shared triumphs of this sort. It's an uphill struggle, though. A recent editorial in the Toronto Star said that the reporting requirements in the Act – for businesses and institutions to demonstrate that they are carrying out the law – are not close to being met (70% are not reporting, and until very recently no one at the Ministry of Economic Development, Trade and Employment was following up). The Act was passed in 2005, but the deadlines for getting the ducks in order are really just arriving now. The City of Toronto has a published plan for supporting employees with disabilities, but the management support hasn't always worked out on the ground (at Dufferin Grove, for example). In particular, disabled workers can ask to collaborate in a written accommodation plan individual to them, but there seems to be some blockage in getting such plans made. At Dufferin Grove, requests made half a year ago or longer are still in some kind of limbo.
At a Disability Issues Committee meeting on January 24, it was unclear whether anyone is keeping track of how many such employee accommodation plans actually exist. We asked Councillor Adam Vaughan's office (he is the chair of the disability issues committee) but his staff said they needed to do more research. There was no response at all from the media office.
At the Disability Issues Committee meeting, Barbara Shulman, director of Human Resources was unable to estimate how many employees with disabilities there actually are at the city. A 2011 survey asked staff whether they considered themselves to have a disability. But the response rate to the survey overall was so low that the information was not considered reliable. Moreover, no part-time staff were included in the survey.
Another round of surveying is coming up soon. Hopefully, this round will included the 8000 part-time staff that work for the city's Recreation division. Recreation programs have such a broad range of activities that they're one obvious gateway for employees with disabilities to contribute their talents – as paid workers, not just clients.
A little Dufferin Rink history from the Toronto Archives
In 1955 the City of Toronto ran six permanent outdoor artificial ice rinks (High Park, Earlscourt, Alexandra, Greenwood, Eglinton, and Dufferin) and 4 portable (?) artificial ice rinks (Rosedale, Ramsden, Queen Alexandra School, and Kew). The average annual operating cost of the portable rinks was $4000, permanent was $5000.[Ed.note: in 2014, the Globe says it costs $6 million to run 51 outdoor rinks.] They charged kids 35 cents to skate in 1955 (adults 60 cents). Attendance at Dufferin Grove on Sunday Dec.11 1955 was 800. (High Park, Eglinton and Earlscourt were higher at 962, 958, and 861). January attendance was a bit lower. There was a request to provide concessions at Earlscourt and Dufferin rinks. But the request was denied – "no food at rinks!"
A Toronto Star editorial Jan3 1958: "If Sardines Skated They'd Choose Toronto."
"Skating is not much fun when people have to wait in line outside for half an hour or more, and then go on an intolerably crowded ice surface…It is true that the parks department operates 58 natural ice rinks for skating and 23 for hockey - or will do so, if and when there is enough frost. For all the freezing weather we get here most winters, the department might as well spare the trouble and expense, and get on with the job of multiplying the number of artificial ice rinks."
And they did. By 1978, the city had 21 of these rinks. "With the exception of City Hall rink, which commences operation on the last Saturday of October and carries on until April, the artificial ice rinks are operated from November 15 until the first Sunday in March. Hours are 9 a.m. to 10.30 p.m. except 10 a.m. to 10.30 p.m. Sundays."
Dufferin Grove Farmers' Market: every Thursday 3 to 7 p.m. in the rinkhouse
From market manager Anne Freeman: "On Saturday February 1, the 4th annual Ontario Organic Awards will be presented at the Guelph Organic Conference. We are delighted to announce that some of our Dufferin vendors are nominees: Woolerdale Farm has been nominated in the category of Horticultural Producer or CSA, and both Kind Organics and Plan B Organic Farm have been nominated in the Innovation category. We're proud to work with such a great team of local organic producers!"
Anne also says that there's an important petition to sign: "On December 9, 2013 Bill C-18, the "Agricultural Growth Act" was introduced in Parliament. In short, this agriculture omnibus bill amends several federal agricultural laws, and would give multinational companies greater power and control over Canada's seed industry. The National Farmers Union is working to oppose Bill C-18, but needs support. If we collect at least 25 signature, we can ask our local MP to present them in the House of Commons. Please sign the petition (at the rink house) against this OMINOUS OMNIBUS bill! There's loads of information on the issues involved at: www.nfu.ca/issue/stop-bill-c-18/"
Credits:
Newsletter prepared by: Jutta Mason

Illustrations: Jane LowBeer

Published by: CELOS

Web sites: Aseel Al Najim celos.ca, cityrinks.ca

Park phone: 416 392-0913

Park web site: www.dufferinpark.ca

E-mail: mail@dufferinpark.ca