Departments
posted December 30, 2006
EDITORIAL: RINK CROWDING
Almost fifty years ago, on January 3 1958, the Toronto Star ran an editorial called: "If Sardines Skated They'd Choose Toronto." It said: "Skating is not much fun when people have to wait in line outside for half an hour or more, and then go on an intolerably crowded ice surface..."
There's no waiting in line outside Dufferin Rink yet, but for the first time this December, the rink staff considered it. Why was the rink so crowded?
There are several reasons: first, two other double-pad rinks nearby, Wallace and Harry Gairey Rinks, were recently rebuilt. Although there are 8 months to do construction when the rinks are not running, the work didn't begin until fall. Then there was a lack of inter-departmental collaboration, compounded by absent City managerial staff during holidays. So the two rinks were unfinished, and stayed closed, long after the beginning of the three-month rink season. They were closed right through most – or all – of the school holidays. There were many days when no construction took place. The buck didn't stop anywhere. So more skaters came to Dufferin Rink.
The second reason why so many people come here is that although there are 49 other compressor-cooled outdoor rinks in Toronto, many of them are not that enjoyable. The simple things that make Dufferin Rink pleasant – reliable ice maintenance, cheap, wholesome food, lots of places to sit, the fire in the wood stove, and kids' books to read there; capable, knowledgeable staff who work together with rink users – are in short supply at many other city rinks. So people come to Dufferin Rink from all over the city, and eventually the rink gets too crowded.
There are several remedies for the crowding. One is for rink users to let City management know that they have to do better when carrying out building projects. Our park researchers will write a report for the City Councillors on the Parks Committee, describing what went wrong at Wallace and Harry Gairey Rinks, and we'll follow up to see what the councillors do in response.
The second thing is to keep trying to "take the show on the road." Dufferin Rink staff sometimes go to other rinks when they're not working here, talking to rink staff, giving them our new rink handbook, offering to collaborate. This is a dicey thing to do, since the Parks department is run enough like the military to raise issues of insubordination, if a lower-rank staff objects to the way a rink is run. So giving the other rinks a boost won't work unless rink users at those rinks also get involved.
Back in the 1950s, when the Star wrote its "sardines on skates" editorial, a much-loved commissioner of Parks named Tommy Thompson got his staff to put up signs in all the parks: "Please walk on the grass." The right sign to make the outdoor rinks better would be "Please talk to staff when you don't like something." Canadians famously don't like to complain, but the City staff (see the contact list in "Night-time noise at the rink") , and City Councillors, need to hear – from lots of people – how their rinks could be better. The compressor-cooled rinks that the city built over the years work very well in the warmer winters we're having. They deserve to be better run, so that people can enjoy the rink in their own neighbourhood, and not be forced to travel far to this one.
| | |
| --- | --- |
| | |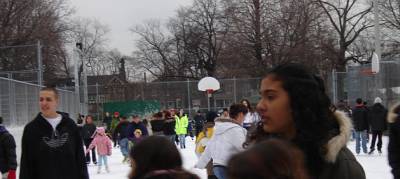 posted December 30, 2006
FOOD IN THE PARK
Friday Night Suppers have resumed (6 to 7.30 p.m. on Fridays at the rink house, $6 for the main plate, between $2-$3 each for soup, salad, dessert, no reservations necessary). Also, seven days a week, the "Zamboni Café" snack bar will be serving substantial winter soups, farmers' market perogies, park oven bread, organic hot dogs, mini-pizzas, and various sweets including park cookies. On weekends there's more.
The price list at the Zamboni café reflects how much money is needed to pay for the materials that went into the food, plus a bit extra for other park uses, which counts as your park donation. But if your grocery money is tight, and you and your kids are hungry after skating, even the cheap snack bar food may be too much for your wallet.
If you're hungry, but you can't pay as much for the snack bar food, pay less. Park staff also like to do trades – if you can do something for the park (help shovel after a snowstorm, wash dishes, sort tools in the tool cupboard, break up wooden skids for the bread ovens) the park staff will tell you that your money won't work at the snack bar, and you have to eat for free. That goes for kids too.
On the other hand, if you find the food very cheap and good and think it should cost more, pay more. Every penny goes to the park.
posted December 30, 2006
FARMERS' MARKET EVERY THURSDAY 3 PM TO 7 PM, IN THE RINKHOUSE AND THE ZAMBONI GARAGE
The year-round organic farmers' market is a squash for skaters, but rink staff put a lot of extra benches out by the rink for skate changing, and there's a campfire to get warm by. Market customers, please be considerate of skaters – it's an odd mix of rink uses.