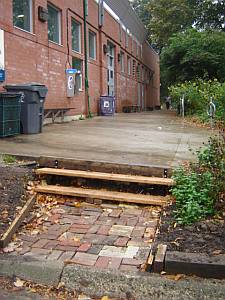 posted December 30, 2006
THE MISSING STAIRS
When people come to Dufferin Rink from the west, the access from the sidewalk up to the front door of the rink clubhouse is an uphill grade with no stairs, so smooth that people lose their footing as soon as there's any freezing or snow. For some years, rink friends have been asking parks staff to build a little stairway from the sidewalk up to where rink door access path levels out, and this year the Parks manager said yes. But then it didn't happen after all. So rink friends bought a two-stair riser from Home Depot and installed it as a temporary access until the City builds a permanent stairway.
However on Friday Dec.22, rink users arrived to find the stairs gone and the area surrounded by an orange danger fence, with danger tape for good measure. After some inquiry, the removal was traced to the Parks manager: "I arranged for appropriate City staff to inspect the stairs you installed and they are deemed unsafe, a trip hazard, and do not comply with code. Code and legal liability issues lie with City staff to ensure the park is safe and MUST be followed."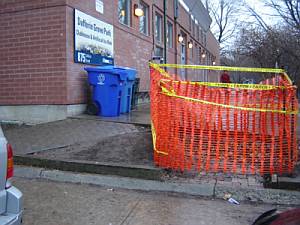 Within a few hours, there were seven pages of rink user signatures on a petition to City Councillor Adam Giambrone, asking the City to install the kind of stairs they like better, NOW, not next year or the year after. So many rink users have had a fall or a scare on the existing slippery access paths, everyone wanted to sign.
But by then all the parks staff – the Parks supervisor, the Parks manager, and her bosses all the way up the line – were on holidays. So a meeting is scheduled for Jan.2, to find out what code was being violated, and how the city carpenters can make a temporary stair for this winter, that will keep rink users from falling. Watch the orange danger fence (now doing double duty as a bulletin board) for an update.