Dufferin Grove Park Newsletter
Comments? editor@dufferinpark.ca
Volume 11, Nr.4, May 2010
SATURDAY MAY 1: A PERFECT EXCUSE FOR A PARK REUNION
May 1 is a special day at Dufferin Grove, a celebrate-the-park sequel to the recent park troubles that got us into the news again. (See Dufferin Grove is in trouble/ Media for the various articles.) It's a kind of park reunion.
The many letters that park users wrote to the ombudsman, and to others, did not yet get Tino back (Tino DeCastro, the recreation supervisor who helped make so many things work well). But they did get the attention of City Hall. And since May 1 is a citywide "Jane Jacobs walk" day, it seemed like a good time to follow up. There are two "Jane's walks" in Dufferin Grove that day, 11 to 1 and 4 to 6. Plus there's pizza-making at the oven from 12 to 2, and a campfire with good farmers' market food from 5 to 7. Isabel Peres, the park's first campfire cook, has agreed to come back and cook Guatemalan dobladas at the campfire beginning in late morning. (Isabel is in the little 1994 park movie that's linked on the dufferinpark website.)
So May 1 is a good day to have a picnic or toss a frisbee, enjoy the various park show-and-tell stations, and catch up on the news (lots). Recreation manager Costanza Allevato and her staff will be there, wanting to chat about how to work with (instead of against) park users. Help them out with your advice, invite old friends, look behind the scenes of what makes a park lively, see the "policy-expo" postings, play your guitar. Be a happy and well-fed straggler at the campfire when the sun gets low – all on Mayday.
May 15 and 16: Fifth annual community clothing swap
When former park neighbour Bruce Whittaker started this event, he wrote: "Clean your closet of those clothes that are perfectly fine but never get worn, and do your part for the environment through swap rather than purchase. Find some really groovy clothes, support those in need, and meet your neighbours." It was a hit. For the fifth year now, park friend Silvie Varone and park staff Eroca Nicols are putting together the annual clothing swap, following Bruce's model. They write: "The rules: 10 items (washed and on hangers) will get you 10 tickets in return. You can bring more but you will get a maximum of 10 tickets. You can bring less and will get tickets equal to the number of items. Saturday May 15th from 10-2pm is the drop off, Sunday May 16th from 10-2 pm is the exchange of tickets for clothing. Whatever is left goes to Goodwill. For more information, call Eroca at the park: 416 392-0913 or email mail@dufferinpark.ca."
Norwegian Constitution Day parade and picnic, Sunday May 16th: 12 noon to 3 p.m.
This is the fifth year of this event, started by park neighbour (and Norwegian) Arne Nes. Location: centre of the park, near the playground. Wonderful costumes.
FRIDAY NIGHT SUPPERS IN MAY: These community suppers are every Friday in good weather: 6 to 7.30 pm, by the bake ovens.
There is always a vegetarian or vegan entrée, a meat entrée, a side dish, a salad, and dessert. Most of the groceries are bought at the organic farmers' market on Thursday, and most of the cooking is done in the outdoor wood-fired bake-ovens. It's delicious food, and conforms largely to the 100-mile "locavore" boundary. There's a suggested donation, all of which goes back into the park, and to pay for the groceries. But if you can't spare the cash, donate at some other time – nobody goes away hungry! (Of course, if you feel like donating more than the suggested amount, that's fine too.) City policies don't cover such suppers, but for now they are permitted to continue. To see the menu on the website on Friday afternoons: click here.
Community SOCCER and CRICKET times
For about seven years, recreation staff have programmed the soccer field for open (non-league) community soccer and cricket from Saturday 2pm to Sunday night, beginning in May when the grass is in. Neighbourhood people were able to set up times (at no charge) with recreation staff by calling the park clubhouse at 416 392-0913 or emailing staff@dufferinpark.ca. This may no longer be possible – watch for updates.
Queer West Soccer
Description: Pick up soccer in the West End. Anyone can come along, regardless of if you're a pro or totally new. This is totally non-competitive and just for fun! We also encourage those who don't want to play. You can be the cheering section!
4-6pm every Sunday.
Community BALL-HOCKEY times
It may no longer be possible for people to set up informal drop-in (non-league) game times with recreation staff by e-mailing staff@dufferinpark.ca or calling the park clubhouse at 416 392-0913. Watch for updates.
DUFFERIN GROVE WADING POOL SUSPENSE
Local parks are places where people can become familiar with their neighbours, maybe even find friends. Parks - the "public commons" - can become community centres without walls, especially if they're well-located where paths cross between various neighbourhood destinations.
Dufferin Grove Park has been a handy shortcut to the mall ever since 1957. Before that it was a shortcut to the racetrack that used to be where the mall is (see the new history display posted on the wading pool shed). In 1954, the racetrack's owner, Fred Orpen, donated $10,000 to build a wading pool in the park. In summer that little pool becomes one of the social centres of the park and the whole neighbourhood.
The wading pool is one part of a triad of attractions for children and their caregivers. The playground and the adventure playground-sandpit are the two other parts. The playground cafe supports all three, with the help of the community-built cob courtyard. Many parents say that they stay all day and still struggle with their kids to get them to leave at the end – the kids are having too good of a time.
What makes the whole lovely scene work is the part-time recreation staff who oversee the wading pool, the sandpit, and the food served at the cafe. The staff have to be good at keeping a lot of balls in the air. So former Recreation supervisor Tino DeCastro made sure that some of the playground/wading pool staff are mothers who know the scene and know the users.
At the beginning of May there was a sudden summons for wading pool staff to report to a Parkdale Community Centre and get their paperwork ticked off. It was such short notice that only Marina, Leslie, and Heidrun could go. When they got there, they were told that this summer they could do only one thing, i.e. wading pools, full time or not at all, no integration with other park activities. (Management of wading pools was centralized three years ago, along with so much else, and aquatics is that section's exclusive focus.) The Dufferin Grove staff were also told that they may be assigned to other wading pools instead, at the discretion of the central aquatics co-ordinators. Marina was told that she had the wrong kind of wading pool certification, since she went to an EMS (i.e. the city's ambulance service) course, which is not recognized by the Lifesaving Society. So she might not be allowed to work at wading pools this summer at all. The park staff described the scene as distressing, confusing, and insulting. What to do?
Costanza Allevato, one of the city's recreation managers, who has been assigned the task of developing a "community engagement framework," was away, so we couldn't ask her. Gary Sanger, the aquatics supervisor in charge of West Toronto, was away too. Dave Hains, the new recreation supervisor for this area, said he'd have to check into what happened, since aquatics is a separate operation, not under him. Dave's boss Kelvin Seow called around to various other staff to find out more. By the end of the day Heidrun, Leslie and Marina were told they wouldn't be moved to other wading pools after all. Everything else about the Dufferin Grove wading pool is still up in the air. More information will be posted as it comes in.
CAMPFIRES
During spring and summer, there are two public campfire locations – central and south. The central fire circle is beside the path in the middle of the park, and the south fire circle is by the path beside the cob courtyard. The park's recreation staff book the cooking fire times. They also teach fire safety training and are available to help start/end the fire. They can be reached at 416-392-0913 or e-mail staff@dufferinpark.ca.
From park program staff Matt Leithold: "it's important to keep in mind that this is a recreation program that you are participating in, and not a permit or rental arrangement. Campfires started being held in Dufferin Grove about fifteen years ago as a means of building community in the neighbourhood, and also as a way of making the park a safer place after dark. This is the spirit in which we continue to have them."
CELOS provides and maintains grills, a cast-iron stand (to cook more than marshmallows or hot dogs on a stick) and pots and pans for campfires. There's a suggested donation of $10 for upkeep. Park staff will give access to water, and lend out pails, and a shovel, but people have to bring their own wood.
Campfire rules have not been changed. Watch for updates.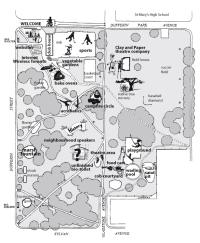 "JANE'S WALK" STATIONS
Park Clubhouse/Rinkhouse and outdoor "policy gallery"
Park friend: Jutta Mason. How the rink house was renovated (joint efforts by park users and City staff) from a 3-months-a-year rink building to a year-round staging area for park activities. The zamboni cafe will have snacks, coffee and tea.
The rink-boards policy gallery: Is there life after policy? Photos and stories about the Parks code restrictions that made people slip and fall on the rink path, the mandatory helmet policy for shinny hockey that cut youth participation, the occupational health and safety legislation that almost scuttled the kitchen, and other policies. Cavan Young's ten-minute film "Citizen Z" will be playing beside the zamboni kitchen (in the garage).
Web access and park web sites
Park friends: Gabe Sawhney from Wireless Toronto (the park is a wifi site), Henrik Bechmann from the CELOS database project, Aseel Al Najim from the dufferinpark.ca, cityrinks.ca and celos.ca websites
Food and native-species gardens
Park friends: Anna Bekerman, Rachel Weston, Reema Tarzi, Catherine Cameron, and Gene Threndyle. Postings: history of the gardens, and community garden policy.
Bake ovens
Park staff or CELOS workers: Pia Perez and Matt Leithold. Bread and pizza-making. Postings: History of the ovens, excerpts from the draft February 2009 bake oven policy.
Basketball court
Postings: sports permit policy
Park fieldhouse
Park friend: David Anderson, Clay and Paper Theatre. Stories and papier mache.
Campfire (main circle)
Park friend: Isabel Perez, making dobladas. Isabel was the park's first campfire cook. Postings: Campfire policy.
Park history table
Park friend: Michael Monastyrskyj. Photos, old newspaper excerpts, stories
Speakers' Series table
Park friend: Rohan Walters, "neighborhood granny flats" designs from his 2008 talk.
Cob courtyard and bio-toilet
Park friend: Georgie Donais. Postings: history and legislation.
Outdoor performance area
Park friends: Sarah Cormier, Kate Cayley. Postings: performance permits.
The built-in-1984 playground, wading pool, adventure playground, playground cafe
Park friends: Lily Weston, Leslie Lindsay, Marina Deluca-Howard. Postings: playground and wading pool audits and manufacturers' standards, costs.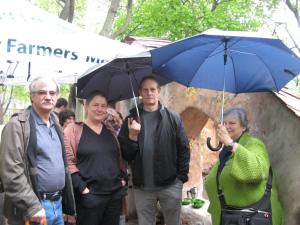 What happened on May 1
The map in the newsletter was designed for CELOS by Heidrun Gabel-Koepff (she's also a part-time park program staff). It shows the "JANE'S WALK" STATIONS. But on May 1, there were heavy clouds in the morning. The Morris dancers came at 10.45, and they got to dance a little before it began to rain. The 11 a.m. "Jane's Walk" participants consisted of a handful of hardy park friends and some city staff. By the time the walkers got to the playground, many sought cover in the playground rain shelter. A group of musicians called "North of Queen" were singing old folk songs in the shelter already, so they were joined by some enthusiastic company.
Umbrellas came out. Park friend Pat MacKay undertook to talk seriously to City Recreation manager Costanza Allevato about why Toronto needs lively parks. Pat has been a friend of the park since 1996, when a small Dufferin Grove group (including some rascally park kids and the park's ice-cream-cart man) got an award from the Toronto Community Foundation. Pat passed us a note at the ceremony, saying she was willing to help us if we ever needed it. We did need it, and she did help. She gave us so much good counsel and match-making, that for a few years we nicknamed her the park's "fairy godmother."
As Pat was telling this bit of history to Costanza, they were joined by two park neighbours who explained why they are unhappy with what goes on at the park. Pat had to leave after a while, but then former newspaper columnist Michele Landsberg and her daughter Jenny Lewis – both of them Dufferin Grove enthusiasts – joined the conversation. So it happened that for half an hour or more, the two dissenting park neighbours sat under umbrellas at a picnic table, with Costanza (who is working on developing the City's "community engagement framework") and Michele Landsberg and some others, debating park styles. Should a park be serene and green, without the kind of hubbub that comes with a farmers' market or campfires or an adventure playground? Should it be more like a graceful English garden, without native species plantings or vegetable patches, or pizza dough spilled on the grass? Was the building of the cob courtyard playground cafe blatantly illegal, and the bio-toilet even worse? Should local park decisions be made by a properly-elected council of long-time park neighbours, rather than by any kind of less formal canvas of park users?
Eventually the conversation regrouped with new arrivals. The city's Director of Parks, Andy Koropeski, moved from station to station, and was later joined by Recreation Director Malcolm Bromley. The showers stopped by 2 pm, and at 4 pm the second "Jane's walk," in brilliant sunshine, had many more participants – and more conversation. At 5.30 pm, when the park staff brought down the supper soup and bread to the campfire circle, and the tired "park station" guides sat down on the logs to eat, the whole long day of show-and-tell faded away. The park reverted to being an everyday neighbourhood commons, decorated with cherry blossoms and people. some May 1 park pictures
FOOD IN THE PARK
The playground café at the outdoor cob kitchen
The playground café will be open in May on any weekend that's sunny and warm. On those days there will be coffee, juices and pop, Mary Sylwester's wonderful soup, muffins and park cookies, hot dogs and maybe vegan burgers, salads, and other surprises. Cost: same idea as for Friday Night Supper.
PICNICS
City policy requires a permit for a picnic involving more than 25 people, for which there is a designated picnic area at the south side of the park, midway between the playground and Dufferin Street. For picnics smaller than that, just set up anywhere that's not right inside high-use areas like the playground or the sports field. The park has quite a few picnic tables, not in very good shape but usable. If you need to move a table or two, that's fine (park staff can lend you a dolly). Just be gentle so the tables don't get even more banged up.
PIZZA-MAKING: Sundays re-start on Sunday May 2, 1 to 3pm, Tuesdays re-start on June 1, 12 to 2pm (weather permitting)
Make your own, at the park ovens. It works the same as last year. $2.50 per pizza as a donation. You get a lump of dough, some tomato sauce, and cheese, and you can pick toppings out of the park gardens when they're ready. If you plan to bring more than 9 friends, please call ahead and warn the park staff to prepare extra dough. If your group is a birthday party, you can arrange for extra staffing and pizza on Sundays, from 12 to 1 or 3 to 4. Extra staff for a party means a donation of $60, plus the $2.50 cost for pizza materials. Schools, daycares and other groups can come on Tuesdays. If you can't afford the donation, let the staff know. These pizza times are a recreation program, and nobody is turned away. (And yes, you can bring your own ingredients.)
For any group, it's important to remember that the ovens are in public space. If a park visitor is curious about how the ovens work, or someone is homeless and hungry, they are welcomed. More information: staff@dufferinpark.ca, or 416-392-0913.
PROPOSED POLICIES FOR PARK BAKE OVEN USE
Somewhere, in a room at the Etobicoke Civic Centre, there's a Parks staff person trying to write a bake oven policy. Or maybe several Parks staff people. None of the park cooks or bakers know who they are. Parks staff have been working on various drafts of this policy since 2007. During that time, they have never yet asked to talk to any of the city's oven-bakers (staff or volunteers). This is a problem, since the draft rules coming out of this far-away room don't fit well with how park ovens are used.
The latest draft, dated February 2009, says many remarkable things. Among them: "the bake oven shall be used only for the purposes of producing baked goods. (E.g., bread, cakes, pies)" – so no cooking of Friday Night Supper (according to this policy). "Bake oven may be operated between the hours of 10 AM and 10 PM only, unless otherwise posted." So no baking for the farmers' market, since the ovens have to be lit at 5 a.m. to bake the bread. And no using of the bake oven if it's raining. (Yes, really.)
This is a disabling policy, and it's part of the "Policy Park" expo, posted in the park during May and June. An election year is a good time to take up these kinds of public space issues with staff and candidates. Watch for updates, on celos.ca, or stapled up on the back of the bake oven.
AN ACCESSIBLE SWING, A FRIENDLY PARK
Last July, park friend Max Wallace offered to donate an accessible swing suitable for older children who need additional support. But instead, the swing was put in by the City, in November. As soon as the weather warmed up in April, the line-ups began – all the kids want to go on that swing! Hopefully it will also draw in kids who need it, and the news of its existence will get around. Park friends, please put the word out in the community: the swing is here, and so is some extra support for special–needs children and their tired parents. The same goes for summer work: special-needs youth, the park needs your talents! If you or a family member are in that situation, call the park at 416 392-0913 and talk to Mayssan.
DUFFERIN GROVE PARK GARDENING
As usual, everyone is invited to learn and share gardening skills during the drop-in gardening times, held between once and twice a week from spring to fall. This year, program staff Rachel Weston will work with volunteers to add some new native plants, and Leslie Lindsay and Heidrun Koepff will join Anna Bekerman in coordinating the volunteers for the vegetable gardens. Locate your green thumb! To get weekly messages about gardening times and activities, send an email to gardens@dufferinpark.ca or call the park at 416-392-0913.
A "COMMUNITY ENGAGEMENT FRAMEWORK"
The hundreds of community letters about recent park troubles got the attention of Parks, Forestry and Recreation general manager Brenda Patterson and Recreation director Malcolm Bromley. They directed North York's recreation manager Costanza Allevato to create a "community engagement framework." At an introductory meeting at Dufferin Grove Park in March, Costanza got an earful about the importance of making better use of front-line program staff to support neighbourhood efforts in parks everywhere. She also heard about the unintended effects of one-size-fits-all permit policies. The associated paperwork and fees shut down small-scale events set up by neighbours. Costanza was asked: "can such small local initiatives be seen as partnerships instead of permits? Would that word-change allow the program staff to support the gifts of local park users rather than charging them a permit fee for their contributions?"
After the meeting, Costanza forwarded a draft version of a "partnership policy" developed by a 'program standards officer' downtown. The policy has three pages of questions like "what is your group's mission statement?... what skills will be developed?.... what cultural group is this for?" etc., and it seems to be written with agencies in mind. It's hard to imagine how it could be made to fit with loose groups of citizens at Dufferin Grove or elsewhere, who want to make some music or set up a drop-in women's ball-hockey game for the summer. Also, all requests for "partnerships" would have to go through one central officer – an unworkable bottleneck. Back to the drawing board.
Costanza Allevato was at the park on May 1,and she talked to park users then, to find out what they think. There's a follow-up meeting with park program staff on May 12. Watch the newsletter for updates.
May 1 - July 1 "POLICY PARK" EXHIBITION
During May and June, Dufferin Grove Park will be a bit like a book you can read. That's because the CELOS regulatory database project turned up so much remarkable (and daunting) information about policies and laws affecting parks. All the information is on the celos.ca website, but it seems fitting to put it out where park users are, as close as possible to where it matters. So during May and June, some of the surfaces in the park that can be used as bulletin boards (e,g, the sides of sheds, the hockey boards, the playground fencing, the back of the oven) will have policy excerpts, stories and pictures on them. Did you know that if you call up six friends to play a game of frisbee, that counts as a planned sports activity and therefore requires a permit? The by-law is not often enforced but the by-law officers can give people tickets. The playground swings that were re-installed (with Councillor Giambrone's help) after they were removed last year, are on a list to be removed again (posted in the playground). Photography (even of your own kids) is not allowed in the rink or the playground area without special permission from city staff. And so on. Have a look, and talk about it – all these rules raise some interesting questions.
DUFFERIN GROVE FARMERS' MARKET: EVERY THURSDAY 3 – 7 PM
In May, the farmers' market goes back outside, with less crowding and no more bottlenecks. Market manager Anne Freeman sends out a weekly e-mail to market list subscribers every Wednesday. To sign up for the market news, visit the market page. That way you won't miss the news of the first asparagus, or the first strawberries, or the first corn, all local and in season.
Credits:
Newsletter prepared by: Jutta Mason

Illustrations: Jane LowBeer

Published by: CELOS

Web sites: Henrik Bechmann, Aseel Al Najim celos.ca, cityrinks.ca

Park phone: 416 392-0913

Park web site: www.dufferinpark.ca

E-mail: mail@dufferinpark.ca

Newsletter sponsored by: Edward Cayley