posted October 18, 2006
(click to open)
Quick Page Table of Contents
Friends of Dufferin Grove Park Newsletter

Volume 7 Number 10, October 2006
Comments? editor@dufferinpark.ca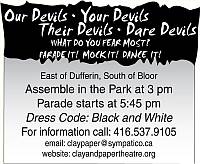 posted October 18, 2006
Park Events in October
posted October 18, 2006
NIGHT OF DREAD Saturday October 28, 5.30 to 9pm.
The seventh annual community parade and celebration. Assemble from 3 p.m. on, parade leaves the park at 5.45 pm. Black and white dress code. (I.e. don't come as Batman unless you really have to). Organized by Clay and Paper Theatre, with David Anderson as the parade master.
This is the annual parade that everyone gets to be in. Between 800 and a thousand people gather by the rink and basketball court and then parade along Bloor, south down to College, and then back to the park. There are performances and bonfires at the park, wonderful bake-oven food (from 3.30 on), and music.
This year, there's also a new attraction: tarot readings. Deirdre Norman, convenor of The Women of Winter Outdoor Shinny Hockey Tournament, is a professional Tarot consultant. She'll be raising money for the next tournament by offering mini-Tarot reads at the Night of Dread. $10.00 for 10 minutes. Deirdre calls this "Night of Dread plays Shinny," and she says: "When the veil is thinnest and spirits walk the earth, see what the cards have to tell you!"
For more information, or to help make masks, wear a giant puppet, or bang a drum, call 416 537-9105, or visit www.clayandpapertheatre.org, or e-mail claypaper@sympatico.ca.
posted October 18, 2006
PUREWAWA FESTIVAL Sunday October 29, 12 noon to 7 pm
Check out the Information poster and the festival map (both PDF).
From organizer Chie Yamano:
"There will be a colourful mix of music, art and performance for every one of all ages! Clowns, aerial performers and more circus fun! There will also be healthy food, information booths, creative activities and a range of informative workshops designed to foster healthy families, communities and creativity!

At the peak of the festival will be the candle ceremony of HOPE where as a community, we focus our intention towards manifesting a peaceful future for generations to come. We urge you to participate in this ceremony, which is planned to take place at 5:00 pm. Candles will be offered for purchase on the day, in support of the ceremony. All proceeds generated from the sales of these candles will be donated to this year's selected charity, JAPAN-HEART. Japan-Heart is an organization, led by one doctor, Hideto Yoshioka, who is dedicated to providing life-saving medical care to under-privileged children living in remote villages in Myanmar. We have chosen Japan-Heart for this year's charity, as it is a small organization that is actively saving lives one child at a time. Money donated goes directly to the source, as little is needed for administration."
Artists participating:
Jerome Godboo on Blues harp/
Rachelle Elie, Clown Comedy, A Girl In The Sky Productions, Aerial Performance/
Richard Underhill on Sax, Samba Allegua, LIVE Brazillian percussion/
Shugamai Johnson, Vocalist, Telefunk Sound System, LIVE electronic breaks and beats/
Yoshi & Chie, LIVE Sitar and Digeridoo/ Tomolennon, LIVE painting/ Djs: Lex, Task & Violet/
+ more
LOCAL COMMUNITY EVENTS IN OCTOBER
posted October 18, 2006
WALLACE EMERSON BIKE SITE COMMUNITY MEETING
Saturday October 21st, 12 noon to 4 p.m
All Community members and interested Parties are welcome!!! At the new Wallace BMX track, west end of Wallace-Emerson Park.
12:00 noon: Address Community Concerns with regards to the Recreational Use of a Public Park. Basketball, Bocce, Soccer, Bikes and just hanging around
1:00: BMX demonstration and explanation of the sport
2:00: Competition with prizes
3:00: Sign up for BMX clinic. Draw and Prizes
There will be lots of bike riders there: the Toronto BMX Riders Alliance, The Ontario Cycling Association, the Community Bike Network, BikeShare, the Bicycle Dealer of Toronto, the Toronto Police Service, Toronto EMS and others.
Some staff from Dufferin Grove will go, since they got friendly with BMX riders using the skateboard park this summer. Some folks may have noticed that a few kids recently built themselves a little track with a few jumps in the south section of the Dufferin Grove adventure playground. That's old-style play, kids not just parked in front of a computer screen!
If you come have a look at how the Wallace Rink rebuild is proceeding.
posted October 18, 2006
YIMBY (yes in my back yard), OR WHY YES? Saturday Oct.28 11am to 5 pm.
Gladstone Hotel, 2nd floor, everyone welcome, free admission.
A one-day gathering of Neighbourhood Groups and Citizens Organizations from across the GTA. [see gladstone hotel web page]
From organizer Magda Olszanowski:
"As Toronto continues to densify and our neighbourhoods get larger and more complex, how does the citizen express hope, dreams and new ideas for the city? Through the neighbourhood group!!! The focus of this festival is on positive change. The upcoming election brings galvanized energy and ideas to municipal politics. As much as neighbourhoods get unfairly labeled as NIMBY, we know YIMBYs to be the instruments of some of the best urban policy and ideas.

On the "Eve" of the municipal election, 30 associations are setting up shop at the Gladstone Hotel in order to share strategies, network, educate "hope-to-be" Councilors and MPPs and talk to YOU about the issues that concern all of us across the GTA."

Can anyone come to the event? Yes the event is family-friendly and open to all who want to learn more about these associations (or even start their own!!!!)
How can my neighbourhood group sign up? Registration is still open on Saturday morning from 10am-11am, please e-mail magda@gladstonehotel.com and let us know you will be attending. Neighbourhood Groups pay $25+tax to have a table and display your group's issues and strategies.
This is who's coming:
Model48,
A Day in the Life,
RISE: Riverdale Initiative for Solar Energy,
Palmerston Area Residents Association,
Bathurst Quay Neighbourhood Association,
Draper Street Residents Association,
several friends of Dufferin Grove Park,
ideaNation,
Gooderham Worts Neighbourhood Association
posted posted October 18, 2006
FARMERS' MARKET NEWS
This year's tasting fair, on October 1, was very well-attended again despite an overcast day and the inevitable shower. All the food was sold out but not until the event was almost over, and the fair raised over $1000 for the market and another $600 for the park. Market manager Anne Freeman is buying some long market tents with those funds, because some of the farmers are willing to stay outside long the front wall (with heaters!), since that makes more room for new vendors when the market moves back in for the winter.
At the beginning of November Anne is going to a farmers' market conference in New Orleans, where the food supply has been precarious for a while. She'll post an account of her experiences on the market web site when she gets back.
DUFFERIN GROVE FARMERS' MARKET EVERY THURSDAY YEAR-ROUND, 3-7PM
posted October 16, 2006
Park Gardens Put to Bed
The wet summer and cool fall slowed down the park tomatoes, but the 31 new trees planted by City Forestry seemed very happy about all that moisture. Park staff Jenny Cook is the garden coordinator, and she's now working with 8 high school students from Inglenook High School to get all the gardens ready for winter.
The Parks maintenance crew is helping too. This year they will convert three more garden sections back to lawn. These gardens are left over from the heyday of volunteer gardener Arie Kamp's park gardening activities. Arie used to come to the park at four a.m. and work until dusk. He collected seeds from all the best flowerbeds in the city, and planted them at the park. Every time we turned around, he had added another flowerbed.
Now that he's eighty, Arie has cut back, doing mainly morning-glories at the park (yes, all those beautiful sky-blue flowers semi-hiding the bake-oven were planted by Arie), as well as some private gardens in the neighbourhood. He still rides his bike!
Although no one can keep the hours that Arie put into the park gardens, and therefore most of his gardens are being re-converted to lawn, Arie's traces will be in the park for a long time. Many of the seeds he planted were self-seeding biennials, and now not only the other park flowerbeds but also every crack in the rinkhouse walkways sprouts Arie's cosmos and black-eyed susans and morning glories. Arie gave the park a lot of gifts, and they're gifts to last.
To replace the gardens that are about to be grassed over, the City Parks horticulture section is collaborating with Foodshare to create a youth garden at the southwest edge of the park near Dufferin Street. This is meant to be a teaching garden full of unusual vegetables and flowers reflecting other world cuisines. Such a garden will fulfil two of the recent mandates of Parks, Forestry and Recreation – to promote community gardens, and to promote youth activities. Beyond that, the unusual plantings should add a lively bit of interest to a corner of the park that is mainly just a thoroughfare for people going to and from the mall.
Foodshare workers had hoped to lay down some compost and straw in this 10 meter by 15 meter area before the winter. However, some park neighbours have protested the loss of green space (grass), as they see it. So no more work will be done until there is a public garden information meeting in March.
posted October 16, 2006
WORRIED PARK NEIGHBOURS
On Friday October 13, every mailbox in the neighbourhood had a broadsheet from park neighbour Carol Seljak and the "Bloor Dufferin Residents' Committee Ltd.," containing many warnings about the park playground composting toilet project.
Four days earlier, Ms.Seljak and a small group of other park neighbours took action to halt work on the new Foodshare youth garden, a 10 by 15 meter plot at the southwest edge of the park near Dufferin Street. They said then, and afterwards in letters to the mayor and many other officials, that any additional park garden was a shrinking of the park's green space.
Change can be hard. Even though Dufferin Grove Park was a horticultural showplace back in the thirties, later on, the park was pretty standard -- grass, big trees, sports and swing sets. Now there are still all those things, but new little trees have been planted, there are four community-garden areas, there are the ovens, the dancers, the theatre, the adventure playground, the picnics of so many diverse groups, the campfires at night, the soccer players stopping for prayers, the busy farmers' market. At times it may seem that the park will gradually fill right up and overflow. That can lead to anxiety, as it seems to have in the case of these worried neighbours.
Hopefully, their worrying will turn out to be unnecessary. It may well be that the Foodshare youth garden becomes a wonderful teaching garden in an otherwise little-used corner of the park, a place where shoppers crossing from the mall can linger and enjoy the display. It may be that the composting toilet works as well as the national-parks toilets do, and the project will inspire other communities to contribute to small-scale waste diversion. And it may be that the on-site park staff here continue to get City support and recognition for their considerable talents, and so non-staff can ease off on the unpaid work.
posted October 18, 2006
COMPOST TOILET MISINFORMATION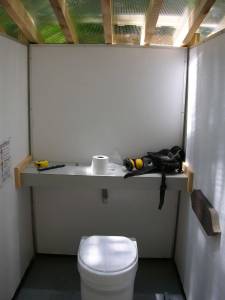 Here are some important corrections to Carol Seljak's flyer about the compost toilet being built beside the playground. For a copy of the original flyer and also for more detailed compost toilet information, see www.dufferinpark.ca, click on "cob courtyard."
The approval is not a secret. The owner of the park, i.e., Parks, Forestry and Recreation approved the project, in collaboration with Buildings and Toronto Public Health. Parks staff have been quite clear about this.
height: the cob structure surrounding the toilet is not fifteen feet tall. Its slanted "green" roof will be 8 feet at its lowest point, 12 feet at its highest. There is only one building, not many.
the description of the compost process is not accurate. The accurate description has been posted on the park web site since last June (see the link on the home page at www.dufferinpark.ca)
Where such toilets are currently used: not only in remote areas, but along busy highways, and there's one in downtown Vancouver. Edmonton is about to add some.
Cost of a plumbed toilet: Toilet hookup in the park playground is not "readily available." A playground washroom would cost close to $100,000, and the earliest the park would get one is in 2012. The money is not there, but the kids are there. This compost toilet will cost the City less than $10,000.
Responsibility for upkeep and repairs: No mystery – it's the City of Toronto Parks, Forestry and Recreation. But friends of the park will most likely help, as they have for years. There's a lot of interest in an environmentally-sound toilet that doesn't add to the sewage sludge Toronto sends to Michigan, or to St.Thomas.
Handwashing facilities near the toilet – not missing from the plan. Available at the cob courtyard across the path, well within public health boundaries.
Complete details of the proposal were sent to the complainants in August, and posted on the dufferinpark.ca website at the same time. The complainants refused to talk directly with either Georgie Donais or the park manager about the project.
"Illegality" of the project: The Building Code specifically allows composting toilets. Ms. Seljak's other references are too vague – citation numbers are lacking
Regarding Ms.Seljaks' description of "so-called public meetings" that were "stacked" and "farcical," without proper notice, and a general conspiracy to maintain secrecy about the project – although Ms.Seljak didn't come, almost 100 other park users did come to discuss this project. Notice of the meeting was given with posters all over the park, a central posting on the park web site, a story on the front page of the Park Newsletter, and hundreds of leaflets handed out at the farmers' market. There were also 350 flyers delivered in the neighbourhood through Councillor Adam Giambrone's office.
Excerpts from project lead Georgie Donais' letter to all the councillors whom Ms.Seljak e-mailed with her assertions:
"this flyer creates the impression that there is some kind of conspiracy by some people in the neighourhood to maintain secrecy about local community projects. Nothing could be further from the truth. We believe this community has one of the most, if not *the* most active communications efforts anywhere in the city:

There is a monthly newsletter which is printed and distributed to 300-600 people per month
The park website (www.dufferinpark.ca) has recently been getting about 35,000 page requests per month, and contains roughly 2000 pages of information collected over the years about park activity.
There is a weekly email distribution of Farmers' market news to over 400 people
There is an independent community mailing list that has over 300 members
There is a weekly farmers' market, a weekly Friday night supper, converging around the playground during the summer, and around the rink during the winter, which actively promote community discussions
The staff of the park are fully informed about all activities, and spend much of their time answering questions to anyone who asks
There are always posters and flyers posted around the park regarding any significant activity.
Individuals working on projects often have extensive email lists
ALL project activities are convivial events at the park, and people are always encouraged to engage in discussions and ask questions on site

All of these mechanisms were brought into play in keeping the neighbourhood informed about the ongoing composting toilet project. In addition we prepared extensive information material which is posted at the physical project site in the park, and also in the rinkhouse.

We would add that Ms. Seljak's claim that Councillor Giambrone did not circulate flyers in the neighbourhood to announce a September meeting about the Composting Toilet Project is simply false. He did."
posted October 16, 2006
A FRIENDLY VISIT FROM SUPT.RUTH WHITE, FOURTEEN DIVISION POLICE:
For years and years, park friends have been trying to invite the head of Fourteen Division to visit the park and find out a bit more about it. Three superintendents in a row couldn't make it, but on September 13, the most recent superintendent – in this position since last May – not only visited the park, but stayed for lunch. Superintendent Ruth White brought an inspector with her and they walked all around the park, talked to the staff, ate soup, park bread, and cookies, and watched the farmers setting up for market (she came on a Thursday).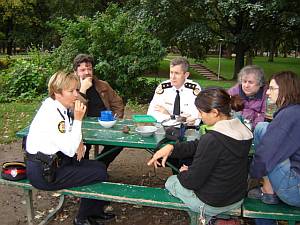 When she arrived at the park, Supt. White pointed out that the bake-oven and the gardens nearby obstruct sight lines for police, and might not be a good idea. However, when she heard about the way the oven attracts people to the park, and thereby helps to mingle the various park users, making them more familiar with each other (including some of the "jailbirds" who come to the park from time to time), Supt. White said she could see how that would actually promote safety.
Later on, Supt. White spoke to the park staff about their concerns regarding the frequent police practice of asking park youth for i.d., simply because they are in the park, not because of any specific search. The staff said they are concerned about civil liberties. But the superintendent was very firm in her position – she tells her officers to collect as many youth names and addresses as they can, so that they can map who uses the park, in case of crimes later. This is part of a new program that has police checking for truancy and internet blogs as well.
Requesting identification and information in this way is not everyone's idea of civil liberties. Canadian law specifically says that police can only require identification if they have reason to believe a crime has been committed. In this case police say they are only asking, not requiring. However, the distinction may be lost on the youth.
Supt.White seems to be a straight-shooter who speaks her mind. She already changed her mind once, about the ovens and gardens being dangerous blocks of police sight lines. Maybe – if she's invited to have a conversation with park users – she might alter her position on random i.d.'s of youth in the park as well. If you want to take part in such a conversation, e-mail police@dufferinpark.ca, or leave your name and phone number with the park staff at 416 392-0913, and you'll get on the list to be notified when a time is set.
posted October 18, 2006
A DAY IN COURT
Park staff Mayssan Shuja, Amy Withers, Corey Chivers, Anna Galati, ex-staff Daniel Cayley and park friend Jutta Mason went to court in the middle of October to follow up on a big problem at the rink. Last rink season, several "rink rat" youth caused so much trouble and grief in and around the rink house, damaging property and intimidating other rink users, that after weeks of second and third chances and negotiation, the police were called. They searched these youth and one of them was arrested and charged with possession of a concealed weapon (a large knife).
One of the rink staff had been subpoenaed as a witness for this trial. The other staff who came along had all dealt with the youth a lot, and all were very concerned about him, feeling he needs attention and help to change from a very bad direction. But none of the rink staff got to say anything in court. In fact, the whole business was carried out between the Crown – who did not ever ask to speak to any park staff – and the youth's lawyer, in a side room away from the courtroom. The lawyer said that the case was weak, since the youth had admitted to police that he carried the knife "for self-defence." That's illegal, but the lawyer said the youth should have been offered a lawyer before he said anything: "maybe he was carrying the knife to peel apples." The Crown lawyer agreed that the case was weak. So it was settled between them that the youth would have to work twenty hours doing community service (supervised by the lawyer), and everyone was told to go home. Case closed.
Two months of destructive behaviour by a youth at Dufferin Rink, vandalism of park property and rink staff property, intimidating other rink users, non-compliance with a ban from being in the park, carrying a concealed knife, leading to arrest: the court-ordered penalty is 20 hours of community service at a location of the youth's own choosing.
Dufferin Rink staff are puzzled that there's so much talk about the need to connect the justice system with the community. The staff had heard that Youth Court is supposed to be a bit less formal than the more rigid adult courts, a bit more open to talk and real negotiation including all the parties, but the evidence was not there. The reality in this case was that the community affected by this young guy's behaviour seemed to have no standing at all.
Now the rink staff know that this winter, if they are worried about another kid like this one, they'd better find a different way to deal with the problem. The courts downtown won't help. Perhaps rink staff and park friends together will be able to work out a more local forum, if there's a youth in trouble.
There is a little-used provision in the new Youth Justice Act that could allow local police to help with this directly, but police are disinclined to use it because they feel they might be sued. Do any park friends know more about this? If so, please talk to the rink staff: all good ideas appreciated!
posted October 18, 2006
DUFFERIN RINK NEWS – HELP FROM COUNCILLOR GIAMBRONE
Dufferin Rink will open one week before most City outdoor rinks – on Dec.2. That means lots of crowds, but staff will try hard to make it work, especially for the opening-week crowds on the shinny hockey side. Most other outdoor rinks will open on Dec.9 (it was traditionally Nov.15).
Last year's rink season had some troubles, leading to a February meeting about running the rink with a board of management. Further exploration showed that such management boards, being creatures of the municipality with very limited independence (but with even more paperwork required) would not solve the problems of ice maintenance, management, and outdated job descriptions. So rink friends will keep on trying to work with the City for well-run outdoor rinks.
At the public meeting, Director Don Boyle spoke of cutting the entire park budget back drastically. Councillor Adam Giambrone promised than that he would not allow this to happen, and he was as good as his word. He persuaded Mr.Boyle not to shrink the park. The park budget has stayed at around $164,000, just a little more than the salary of one Parks and Recreation director. It costs considerably more to run the park, but the difference is made up with all the food-related fundraising, which last year added almost $130,000 to the resources available to run this fourteen-acre "community centre without walls." The total is still less than half the cost of operating a community centre with walls.
Councillor Giambrone also supported the new Parks manager, Sandy Straw, to get funds for paving the path where the zamboni travels between the pleasure-skating and the hockey side of the rink. This paving will be done before the end of October, and will solve many of the safety (and mud!) concerns raised last season.
A new rink program this year is an hour of open shinny time on Wednesdays (10 to 11 pm) restricted to beginner shinny players. A rink staff person will be on the ice, helping new enthusiasts for the sport to play as they learn. This year the rink will also sponsor some more youth league play between City rinks.
Councillor Giambrone is brokering a meeting between on-site rink staff, some long-time rink friends, ice maintenance staff, and the new City Rinks manager Kevin Bowser (from Etobicoke). This will be an attempt to get past the troubles of last year, and make a fresh start for a fine rink season to come.
For lots more detailed information about this rink and many other outdoor rinks, go to city rinks, Or call Dufferin Rink staff at 416 392-0913.
Credits
This newsletter was sponsored by Scooter Girl Toys
Newsletter prepared by: Jutta Mason

Illustrations: Jane LowBeer

Web Site: Henrik Bechmann

Park photographer: Wallie Seto

Park phone: 416 392-0913

Web address: www.dufferinpark.ca

E-mail: dufferinpark@dufferinpark.ca

Dog walker liaison: Judy Simutis

Fall park part-time staff: Anna Bekerman, Ted Carlisle, Corey Chivers, Jenny Cook, Claire Freeman-Fawcett, Anna Galati, Sandy Gribbin, Zio Hersch, Eroca Nicols, Mayssan Shuja, Mary Sylwester, Dan Watson, Amy Withers.