Dufferin Grove Park Newsletter
Comments? editor@dufferinpark.ca
Volume 9, Nr.9, September 2008
EVENTS IN THE PARK
Annual MORRIS DANCERS' gathering.
Sunday August 31, 3pm - 5 pm
Dufferin Grove recreation staff have once again been able to persuade the Morris dancers to finish their annual Labour Day weekend dancing at Dufferin Grove Park. Morris dancers date back from farm labourers' resistance to early industrial conditions in Great Britain in the eighteenth century. The dancers often wear bells strapped to their legs; some are in blackface (this refers to a miners' disguise, not an attempt to change race); some dance with swords. It's very energetic, and exhilarating to watch. Groups from other parts of Ontario, NY State, sometimes even Britain, have been coming to this park for years on the Sunday of Labour Day weekend, after they give free dance performances in public outdoor spaces all over the city. The groups wrap up their day by dancing for one another to show off their latest dances, and they eat masses of fresh park bread and herb butter and samosas, and make pizza. The jets from the CNE air show often thunder overhead. The squire this year is Abby Heidebrecht, taking over from John "Parky" Parkinson, who has been the squire for many years.
Dufferin Grove's SPEAKERS' SERIES #5:
Friday, September 5, 2008
San Francisco activist, and Critical Mass co-founder Chris Carlson will be speaking about his new book "Nowtopia - How Pirate Radio Programmers and Outlaw Cyclists and Vacant Lot Gardeners are Creating Community"
Time: 7.30 pm near the bake oven, or in the Rink House in case of rain. From organizer Andrew Munger: "Chris is a very engaging speaker and will be discussing issues of interest to our community." From park friend and California ex-pat Matt Price: "Chris is an awesome force -- it's great to have him coming here, people should really be excited about him. He's also the force behind Processed World, for those of you who remember that, and a huge raft of other stuff in San Francisco."
Twentieth annual Dufferin Grove NEIGHBOURHOOD LAWN SALE AND HAVELOCK STREET FAIR
Saturday Sept. 13, 10 a.m., noon, after-lunch, and six pm.
10 a.m. Clean out your basement and join the Lawn Sale on the east side of the park in the morning, and try not to buy too many things from your neighbours! Kids' toys and clothes always go well.
Noon: Hot Dog Lunch near 157 Havelock St., courtesy of City Councillor Adam Giambrone.
After lunch: Kids Games in the afternoon organized by local parents.
6 pm: Potluck Dinner with Cakewalk over by the park ovens. Pizza-making for the kids too, with Dufferin Grove staff ($2 per pizza).
Grove Community School FALL FAMILY JAMBOREE.
Sunday, September 21st, 1- 5pm From organizers Joe Jacobs and Sarah Elliott: "To celebrate the continued development of west end Toronto's progressive new alternative, public elementary school, the Grove Community School is welcoming families and children to join them in the park for delicious roasted corn on the cob along with musical performances, yoga, giant puppets, stilt walking and other hands-on art activities and educational workshops.
Scheduled musical guests include Laura Repo, Alex Lukashevsky, Jim Creeggan (of Barenaked Ladies) and friends, Sho Mo and the Monkey Bunch, and Dave Wall (of Bourbon Tabernacle Choir) and friends.
The Grove Community School is in the feasibility stage of development with the Toronto District School Board, with the intention of starting the school in September 2009 at a location near the Dufferin Grove neighbourhood. The school will be focused on environmentalism, social justice, community activism and arts infusion. For more information, visit the website, http://www.thegrovecommunityschool.ca"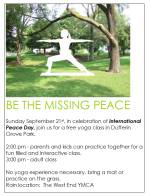 YOGA FOR INTERNATIONAL PEACE DAY
Sunday Sept.21, 2pm and 3pm From organizer John Veiga: "Join us for a free yoga class in Dufferin Grove Park.
2:00 pm - parents and kids can practice together for a fun filled and interactive class.
3:00 pm - adult class. No yoga experience necessary, bring a mat or practice on the grass. Rain location: The West End YMCA.
I am hoping to assemble as many teachers as I can, representing as many different studios as possible to come out and teach a few poses each. An opportunity to come together as a community, working to weave a garland of poses into a 'Mala of Peace.'"
PLAYGROUND NEWS
The culture of "throwaway playgrounds"
In the summer of 2000, the Toronto school boards tore out 172 playgrounds. Around the same time, other freestanding provincially-funded daycares removed many of their best structures. And the City pf Toronto Parks department began a $6 million "playground safety project" that resulted in the removal and replacement of 49 park playground structures and the removal of swings, climbers, and other play pieces in hundreds of other park playgrounds. Many parents objected, saying that the new plastic playgrounds and replacement pieces were dull and dumbed down. Playground use went down.
All these changes were laid at the door of the Canadian Standards Association (CSA), a manufacturers' group that puts out voluntary "standards" for playground structures every few years. But the CSA denied that their standards had ever been meant to apply to existing structures – only to new equipment. Since then the CSA has updated its standards twice, most recently in 2007. This latest edition again specified: "The Children's Playspaces and Equipment standard is not retroactive and is intended to be applied only to new playspaces equipment and to additions and replacement parts of existing playspaces and equipment."
However, the Parks planning section recently notified Councillor Adam Giambrone "we have determined that the senior play structure at Dufferin Grove is to be replaced with equipment that meets the CSA guidelines for playgrounds. The main issues being that the existing equipment does not meet the standard and potentially expose users to risk and the City to liability in the event of an injury."
But it turns out that playground injury claims against the City have been few and low in cost. Through a Freedom of Information request in 2005, CELOS discovered that between 1998 (the first year data were available) and 2004, there were only four park playground injury claims against the City, adding up to $11,460. The City has compiled no information sheet on park playground injury claims to the present, but is willing to search for that information for CELOS for a fee of $160. When so many playgrounds are scheduled to come down for reasons of possible liability, City Risk staff might think of publishing their own summary of playground injury information, instead of making us pay for it with playground cookie money. But – as the Count used to say on Sesame Street – who's counting?
The fact is, Dufferin Grove's 25-year-old wooden play structure is the last remaining example of an excellent type of playground, and it's still in good shape. More recently-installed pieces are breaking sooner. The four-way teeter-totter, only ten years old, had one of its sections break off this spring; one of the parents had to make a new wooden seat for the two-way teeter-totter. Perhaps the lower quality of more recent play equipment is the reason why planners now consider even 15-year-old playgrounds ready for the dump. But how many good playgrounds will be added to the trash heap before the pendulum swings the other way?
Community playground ideas – accessible to all the kids
On August 22, there was a Speakers' Series panel about playgrounds. With over a hundred playground pictures from playgrounds all over the city and in Europe, it was more like a photo exhibit than a meeting, but many people there had ideas about what works. Playground parent Ann Shaddock proposed that, rather than tear down the much-loved wooden structure, the City should keep it, fix the few small maintenance issues, and use the new playground funds to add a new section to the playground in the northwest corner. That corner is still empty after a slide was removed eight years ago.
Playground parent Pamela Andrews couldn't come to the meeting, but she wrote to the neighborhood e-mail list asking for a more accessible playground. She described her five year old son, who has cerebral palsy, "sitting on the sidelines watching – it's so sad. But he's just getting too big for me to carry him around to all the playground equipment (and I'm 6 months pregnant). He really wants to play and it breaks my heart." Pamela wrote that her little boy particularly loves the swing, "but is no longer able to go in one (too big for the baby swing, can't balance on an adult swing)."
So playground parents Catherine Cameron and Silvie Varone have put together a proposal to move the northwest playground fence slightly and to add a new, accessible section similar in size to the new playground area that was recently installed at Trinity- Bellwoods Park. That area has an oval rubber surface that is soft but smooth enough for wheelchairs. Since the special $20,000 sand surface in the Dufferin Grove playground budget would make the existing playground inaccessible, these parents suggested leaving the current playground surface as it is and putting rubber surfacing under as good a mixed-use play structure as the equipment budget ($25,000) can afford, including at least one accessible swing. Playground parent Dave Howard has made a drawing of the playground to show where this new section could fit, without the need to tear down the existing equipment.
There will be lots of opportunity for playground users to talk about this proposal and about other ideas, as the children play. The picture-boards will be up every weekend and can be added to as people like. The bulletin boards will add more information as it comes in. Councillor Giambrone has said he will be calling a public meeting to discuss the plans. Collaboration with the experts – playground users – is the key.
STORY: THE TIDY BURGLARS or, why the rink house lights stay on at night
People's lights should be turned off at night, and so should the lights at the rink house. But: a dark rink house sometimes invites break-ins. Early one morning in the middle of August, there was a small hole in the window of the back door, and it was evident that there had been a break-in – the park computer's hard drive was missing. The screen and printer were still in their places and the wires disconnected from the computer had been neatly put back. Both the back door and the double doors inside the rink house had been opened, and on the floor was the only bit of mess – a thick piece of wire bent into a shape that could snag crash bars on doors and so pull the doors open.
The window got fixed, but the next morning there was another small hole in the door-window and the building had been broken into again! This time a few cookies were missing (but the container lid was replaced), plus the change cup in the snack bar was empty. There might have been $3 in there. Otherwise, no mess.
From then on the staff left the lights on at night and padlocked the doors, just to make it obvious that there was no point in breaking the window again.Notice to burglars: if you're breaking in because you need money to buy food, staff will be happy to give you free food. Just ask. You can swap for small kitchen chores: a win-win. No need to tell the staff you're a burglar – no questions asked.
FOOD IN THE PARK
PIZZA DAYS: Sundays, 1 pm to 3 pm. (weather permitting). From recreation staff Amy Withers Eckert: For the first time in more than 6 years we have raised the cost from $2 to $2.50 per pizza as the requested donation (you get a lump of dough, some tomato sauce, and cheese, and you can pick toppings from the park gardens when they're growing there). If you plan to bring a big group (more than 9 people altogether) please call ahead to warn the staff 416-392-0913 or email staff@dufferinpark.ca."
Pizza times for School Groups/ Daycares/ Groups: Groups can make special bookings on Tuesdays from 1-2pm or 2-3pm. It costs $60 for staffing, plus the regular $2.50 per pizza. Birthday parties with pizza: You can book an hour on Sundays before or after the public pizza times (i.e. birthday party bookings are at 12pm or 3 pm on Sundays). It costs $60 for staffing, plus the regular $2.50 per pizza. If you can't afford that, park staff will work out a trade with you. To book: contact staff at 416-392-0913 or email staff@dufferinpark.ca.
FRIDAY NIGHT SUPPER by the oven, 6 p.m This is also a weekly fundraiser for park programs. All the surplus goes to adding more programming at the playground in the summer. A win-win! General information: Everyone welcome. No reservations are necessary. Park cooks use ingredients from the Thursday farmers' market. Prices: By donation. Suggested donations (to cover cost of materials plus park program fundraising): soup $2, main dish $6 (choice of meat or vegetarian/vegan), salad $2, dessert $2 - $3 depending. Cooks this year (taking turns) are Mary Sylwester, Anna Bekerman, Claire Freeman-Fawcett, Anna Galati, Andrea McCoy and Yo Utano. Supper is served until 7.30 p.m.
REQUEST FOR DRY WOOD FOR THE PARK OVENS: The park bakers need more wood, they don't want to use skids anymore. Carpenters with wood scraps, consider trading your scraps for bread! Call 416 392-0913, or e-mail staff@dufferinpark.ca.
CAMPFIRES
There are two small-group campfire locations – centre path and south path. The centre path fire circle is in the middle of the park, and the south path fire circle is beside the cob courtyard. The park's recreation staff book the cooking fire times. They also give fire safety training and are available to help start/end your fire. You can reach them at 416-392-0913 or email staff@dufferinpark.ca. CELOS regularly maintains and provides grills, a cast-iron stand (if you want to cook more than marshmallows or hot dogs on a stick), pots and pans for campfire permits. Suggested donation of $10 for upkeep. Park staff will give you water, pails, and a shovel. You have to bring your own wood and be quiet and respectful of park neighbours.
COURTS FOLLOW-UP PROJECT
At neighbourhood meetings and in e-mail discussion groups in this neighbourhood, crime and the justice system are a frequent topic. It's common for people to say that the justice system is just a "revolving door" which fails to address neighbourhood concerns. Many people find it hard to understand how courts work, or how a bail hearing deals with someone who was arrested in the neighbourhood – how courts decide who can be released, what the bail conditions are, and what happens next.
CELOS, the little research organization that began at Dufferin Grove Park, has been following the occasional case through court for about ten years now. Then last February, neighbourhood resident Michael Monastyrskyj began following 14 local arrests in more detail, going to every court appearance at Old City Hall. (In this case, neighbourhood means roughly the area bordered by Dundas to the south, Christie to the east, Davenport to the north, and Dundas West to the west.) Michael has been regularly discussing his observations with Belinda Cole (a CELOS researcher who has a law degree although she is not a lawyer), and with Jutta Mason. Both Jutta and Belinda have gone to court occasionally as well. Michael has also been posting accounts of the cases (with proper attention to privacy rights and publication bans) on the celos.ca web site.
The arrests made in the neighbourhood carried charges ranging from assault (often fighting), to arson, to sexual assault, to selling illegal drugs, to bike theft, to possession of a gun, to manufacturing and selling wine illegally, to murder. Some cases have been dropped and some suspects are still in jail awaiting disclosure of the evidence against them (some without a lawyer), four months after their arrests. One 21-year-old man was released for insufficient evidence to convict him of possession of an illegal handgun, and was then killed in a gunfight in Scarborough two weeks later. We had spoken with his grandmother and listened to his father in court during the first arrest, and then read of his death in the newspaper.
On of the main inspirations for this project is the Norwegian criminologist Nils Christie (who's been to the park), and who has written on the importance of conflict follow-up in building strong communities. Following neighbors who are in trouble into court brings out a more detailed picture than any news account, of the troubles that people encounter or create. It's engaging and fascinating and very thought-provoking: that's why court proceedings are public in a democracy. Michael is willing to take anyone from the neighbourhood along with him when he goes to court: to contact him, e-mail mail@campbellpark.ca or leave a message for him with Dufferin Grove staff at 416 392-0913.
Beginning in October, Michael will be writing a monthly account of a case he is following, in this newsletter.
PARK GARDEN NEWS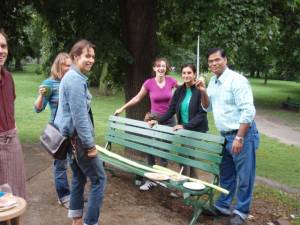 Every Saturday afternoon at 2 p.m. all summer long it's been gardening time at the park gardens. Anna Bekerman is the recreation staff community garden coordinator, and she's had a wonderful lot of gardeners this year. Here's the group: Vidash, Shah, Tammy, Klaudia, Elizabeth, Strychnol, Ferenc and Maricela and their four kids Flora, Lucas, Jasmin, and Iris; Jacki, Ed, Henrich, Michael, Andrew, Chris, and Tatiana. Gardening experience from all over the world joined up to provide fresh vegetables for pizza days and Friday Night suppers – that's really local food!
Gardening get-togethers will continue at 2 pm every Saturday in September. Anne wants to collect seeds for next year, and spread the excellent ready-compost, and she's thinking about cold frames for this winter: donations of old windows are welcome! (Anna is also one of the park bakers and she's willing to trade for bread.)
Sometime this fall (to be announced) there will be a work bee to re-do the first community flowerbed (near the smaller bake oven). All gardeners are welcome to help – experienced and brand new.
Volunteer gardener Shah Mohiuddin grew some five-foot-long squashes in the children's garden this year. (See the photos on the garden page of the dufferinpark.ca web site.) The squash plant grew right up into the cherry tree. These squashes tastes a lot like zucchini, and Shah brought over a delicious curry that his wife made with them. He brought the recipe too, and the park cooks made it for Friday Night Supper. Here's how it was made: "Ingredients: onion, chopped garlic, turmeric, curry powder, chili powder, salt, coriander leaves, and squash chopped into ¾ inch pieces. Fry the onion and garlic and when they become brown, add all the spices and a bit of water and mix them well. Add the squash and cook, stirring, for 8 10 minutes." Shrimp can be added too.
DUFFERIN GROVE FARMERS' MARKET, EVERY THURSDAY 3 TO 7 PM
Market manager Anne Freeman sends out weekly market news e-mails to a list that's grown to over five hundred people. It's mostly information from farmers, about what they plant to bring, but sometimes Anne send messages of here own. Here's one of her comments: "This week I spent some time tending to the (generally neglected) garden I plant at my folks' home in the country. Harvest time is sweet, but along with the successes there are a good measure of failures, and I always come back with questions for the farmers. What to do about squash bugs? Favourite green manures? Is it too late for my late-planted pak choi to make it? There's nothing like growing your own to make you appreciate how much knowledge goes into producing top-notch organic produce. Luckily the farmers are very patient, as I'm already thinking of more questions to add to the list...." To get on Anne's market news list, go to the market page of dufferinpark.ca and follow the prompts.
Credits:
Newsletter prepared by: Jutta Mason

Illustrations: Jane LowBeer

Published by: CELOS

Web site: Henrik Bechmann, Aseel Al Najim

Park phone: 416 392-0913

Park web site: www.dufferinpark.ca

E-mail: mail@dufferinpark.ca
September Newsletter sponsored by: Scooter Girl Toys