Dufferin Grove Park Newsletter
Comments? editor@dufferinpark.ca
Volume 11, Nr.7, September 2010
EVENTS IN SEPTEMBER
Sunday Sept 5th, 3-5 pm: Annual MORRIS DANCERS' gathering
Toronto Morris dancers will once again finish their annual Labour Day weekend dancing (which they do in public squares all over the city) by picnicking at Dufferin Grove Park. Morris dancing dates back to farm labourers' resistance to early industrial conditions in Great Britain in the eighteenth century. The dancers often wear bells strapped to their legs; some are in blackface (this refers to a miners' disguise, not an attempt to change race); some dance with swords. It's very energetic, and exhilarating to watch. Groups from other parts of Ontario, NY State, sometimes even Britain, have been coming to this park for years on the Sunday of Labour Day weekend, after they give their free dance performances in other public outdoor spaces. At Dufferin Grove these groups dance for one another to show off their latest dances, and they eat masses of fresh park bread and herb butter and samosas, and make pizza at the bake oven.
Everyone is welcome to come and watch the dances.
Thursday Sept 9th – UKRAINIAN MUSIC/ART EXHIBITION: "Organic streetscape projekt!"
Presents Ukrainian outdoors art and music at the farmers' market. From the organizers: "This is an independently student-run multimedia collaboration of Ukrainian and Canadian artists and musicians to blow open the discussion on Ukrainian identity in the two countries. Includes Lviv-based Ukrainian folk band LUDY DOBRI -- a Lviv-based nu-folk band that collects and interprets traditional music from across Ukraine according to their eclectic tastes. Since the band came together 5 years ago, it has seen over 20 musicians from diverse musical and geographical backgrounds, but the aim has remained the same: to reinvigorate folk culture at home and abroad by breaking the formal boundaries that subdue it.
You can see Ludy Dobri perform as well as view some artwork at Dufferin Grove Park on Sep. 9th."
Sept 12th 1 – 5 pm. Abrigo Twentieth Anniversary celebration: Fall Fair
From the organizers: "Abrigo Centre is a charitable, not for profit organization located inside Dufferin Mall. We serve over 4000 individuals annually in Toronto. We provide a variety of services including family counselling, youth outreach, counselling and support for survivors of woman abuse, community development and employment services. For more information check out www.abrigo.ca."
From 1 pm to 5 pm. We will have face painting, children's activities and entertainment.  We have local artists coming to showcase their talents with singing, dancing and playing. We will be offering food such as hotdogs, popcorn, cotton candy, sno kones, pizza and charging a nominal fee to reduce the expense."
Saturday September 18: The Annual Havelock Street (and Neighbours!) Street Fest
From the organizers:
10 am: Lawn Sale on the stretch of Dufferin Grove Park along Havelock St. This year we are going (partly) Car-Free!
12 noon to 10pm: Havelock St. will be closed from Hepbourne to Bloor. Residents are kindly asked to park elsewhere for that period.
2 pm: Bike and Scooter Parade
3 pm: Dog Beauty and Talent Contest
4 pm: Road Hockey
6 pm: Potluck and Cake Walk at Dufferin Grove Park near the park oven. Throughout the day there will be face painting, a S'mores Station, and the Havelock Street Horticultural Showdown. Later in the evening, we'll be learning the Cupid Shuffle courtesy of Havelock Street resident Vivienne Scott, an internationally renowned Line Dance instructor! For more information or to volunteer, please contact Marit at 416-538-6468. EVERYONE WELCOME
Sunday September 19th Art Jazz in the valley: The Eric Dolphy Memorial BBQ
From the organizers: "The Association of Improvising musicians of Toronto (AIMToronto) is a non-profit community group of musicians in Toronto that have been going since 2003.  We're having our third annual picnic at Dufferin Grove Park, featuring music and dance performances by some of Toronto's strongest creators.
There will be full sets of composed and improvised music interspersed with performances by random groupings of musicians and dancers.
Eric Dolphy was one of the founding fathers of New Jazz in the mid/late 20th century. The name of this event is also the name of a composition by the late Frank Zappa; possibly a surrealist comment on the absence of public honour bestowed on the masters of North America's only indigenous  Art music.
We are not only celebrating ourselves as a community but also the strength and resiliency of our music. Everyone welcome!"
Saturday September 25: Native Child and Family Services
Will be presenting their annual "Honouring our Children" POW WOW. Sunrise and 12 –5 pm.
This event is a very popular, very colourful occasion with many craft vendors, two big tipis, drummers, dancers in beautiful costumes, free food and a big "give-away" of donated goods at the end. The day begins at sunrise with a fire ceremony in the fire circle, lit by an elder. Then there is a pause while the soccer field is set up with tipis, vendors and information tables, a stage, and food areas. The grand entry of the dancers is at noon, and the give-away is at about 4 p.m. Drumming and circle dancing, all afternoon, everyone welcome.
FAQs: FREQUENTLY ASKED QUESTIONS ABOUT THE PARK
1. Dufferin Grove Park is run by volunteers, right?
Wrong. The park is run by City of Toronto Parks, Forestry, and Recreation staff. Litter-picking and grass maintenance are done by Parks workers. Repairs, like broken waterpipes and loose basketball backboards, are carried out by Tech Services workers. Broken and dangling tree branches are sawed off by Forestry workers. Almost everything else is done by Recreation'' workers, all of them part-time city staff. There's far too much work to do in a lively public space like Dufferin Grove, to ask people to do it for free. That's one thing taxes are for – to pay people to do the work that benefits our public spaces.
Most parks, unless they have a wading pool or an outdoor rink, don't have any part-time Recreation workers. With the help of former Recreation supervisor Tino DeCastro, Ward 18 parks developed somewhat differently. He encouraged his staff to work very closely with park users. The result was that a number of Ward 18 parks have become "community centres without walls." Having recreation "program staff" in such parks costs more in wages than having unstaffed parks. But community centres in buildings are far more expensive. And the fact that parks have no walls, except for little buildings like the rink clubhouse, means that everybody gets to see what's going on. So more people get good ideas about fun things to do in parks, from watching other park users. Those activities create a social space where neighbours can meet, and maybe make friends. It can come full circle -- some of those friends may even include the park's program staff, who can help make things happen.
Helping to remove blocks to neighbourhood initiatives in parks, and supporting the resulting community centres without walls, is lots of work. But it's good work, often with exciting results, and that's one reason why – despite very low part-time city wages – such interesting people come to work at Dufferin Grove and at the other Ward 18 parks. The energy and good humour and inventiveness of the park program staff leads many park users to think they're seeing public-spirited volunteers. But actually they're seeing public-spirited city staff.
2. So where does CELOS come in?
CELOS stands for "The Centre for Local Research into Public Space." It started at Dufferin Grove in 2000, but has made friends all over the city by now. Its mandate is to find out what works in public spaces and pass the stories along. That includes making sure the stories are not fairy tales, such as "Dufferin Grove Park is run by volunteers." Doing research on what works includes practical research. So CELOS is involved in running the food programs at Ward 18 parks. Now that we know that good food works well in parks, it's time for CELOS to hand over more of the backup to city staff. On September 20, Dufferin Grove program staff and CELOS are meeting with general manager Brenda Patterson to discuss the details.
3. What happened to Tino DeCastro?
Tino was one of the many recreation supervisors who was moved to a different location as part of a general management staffing policy. Tino was also removed from most direct contact with park/community centre users, to dealing with building-caretaker issues. He's still there, and has helped to solve some long-term building maintenance problems. With support from his manager, Tino has continued to make himself useful to Ward 18 parks as well. He'll be at the September 20 meeting with the general manager, contributing his long experience in collaborating with park users and in fostering the talents of front-line staff.
4. Whatever happened to the bio-toilet?
It's been stalled since the last election. Too much broken-telephone under the previous Parks management made progress impossible. However, a recent CELOS project of following up Stimulus Fund playground replacements meant we visited parks all over the city. Many sizeable parks have no public toilets at all! Chemical toilets sometimes take their place, but most park users avoid them, preferring the bushes. That reopened the question for CELOS: could modern, clean, industrial-size composting toilets help make parks more user-friendly without breaking the city budget?
Local architect/building designer Rohan Walters was willing to work on a new feasibility study (i.e. detailed schematic plans, also involving engineer consultants) with builder Georgie Donais. The Parks Capital Projects section was willing to give them a contract for such a study. Done! The work has begun, and it will involve lots of community learning and discussion. Bonnie Burgess, who lives near Dufferin Grove, had many detailed objections the last time around. A request has gone to her to share those objections now, so that they can be useful to the study. In mid-September, Rohan and Georgie will begin to post bio-toilet material on the green-shed bulletin board near near the playground. All contributions are welcome! It should be an interesting study, also involving many inevitable puns. More fun than last time.....
5. Is the park in trouble?
It's hard to know. The current management style is focused on more policies and less local control. This is partly due to management's anxiety about parks and public space in general – the Parks, Forestry and Recreation budget is unsustainable, mostly but not only due to the wages-and-salaries arrangements. CELOS research suggests that fewer one-size-fits-all policies and more local control would help, citywide. The issues are complicated, and we're trying to apply the "governing the commons" work of Nobel Prize-winning economist Elinor Ostrom see (celos.ca/Elinor Ostrom) to work out solutions. Whether there is support for new ways of thinking depends partly on the results of the municipal election.
EDITORIAL: The October 25 city ELECTION: who to vote for in Ward 18?
There are eight candidates in this ward, including two former councillor's assistants, Ana Bailao (to Mario Silva, from 1994 – 2003) and Kevin Beaulieu (to Adam Giambrone, from 2003-2010). The other candidates are Doug Carroll, Frank DeJong, Abdirazak Elmi, Nha Le, Joe MacDonald, Kirk Russell, and Hema Vyas.
Lots of people are asking each other "who are you going to vote for?" When I'm asked, I say "I don't know yet." I want to find out more about which candidates are interested in the traditionally female, keeper-of-the-keys virtues of frugality and preserving -- i.e. in maximizing "what's in the pantry."
The way to find out what the candidates intend to do is to ask. But not everybody can handle the talking-on-top-of-each other requirements of all-candidates meetings. So we've set up an election section on the celos.ca website. We ask some park-related questions and we'll post the candidates' responses.
The questions are on the principle of "If you take care of the little things, the big things will take care of themselves." That's an old piece of folk wisdom, and it does NOT cover all that a big city needs. Nevertheless -- in the case of Toronto City Councillors -- if the councillors don't know how to take care of the little things, i.e. the detailed problems that come up in their own wards (and it's not easy), the big things will be in lots of trouble. So the details are a good place to begin.
The first round of questions is about the city's park-related capital budget, using the tricky case of the MacGregor Park field house Stimulus-funded renovations as the concrete example. Some of the candidates have already sent in responses (posted) about their general allegiance to local consultations. I'll be posting interviews with the individual candidates, about the details of how they plan to make such consultations work well for everybody (not easy!)
The second round of questions will be about the city's operating budget for parks and community centres. The detailed example is yet to be chosen. The answers the candidates give can be found at celos.ca, scroll down to the candidate photos. Hopefully, reading these responses will help to clarify for some readers what box to mark with the pencil, at the voting booth.
CAMPFIRES, FRIDAY NIGHT SUPPER, PIZZA DAYS
In September, the park slows down, but not much. The campfire program continues (campfire users are the evening "eyes on the park"). Friday Night Supper continues, unless it's pouring rain, and Sunday pizza days continue (but not Tuesdays and Wednesdays). The garden club goes into harvesting and garden clean-up mode (everyone welcome, novice or experienced). The food cart is set up at the playground on warm weekends. The sandpit water and shovels are all out, and if it's hot on weekends, the wading pool sprinklers get turned on. Program staff are around the park and happy to help.
The joys and sorrows of PARK BIRTHDAY PARTIES AND PICNICS
Picnics and other gatherings of family and friends make a park lively and pleasant to be in. Recently, CELOS researchers have been visiting many parks in all parts of the city (to find out about the use of the Stimulus funds). On sunny days in the summer, it was often worrying to see how empty of people many of the parks were.
Picnics can bring people back. For that, you need some basics, though – tables and drinking fountains and washrooms. Many Toronto parks have none of those things, and as we've found out, there's no room in a 2010 budget of $370 million (operating and capital) to add them, either.
Dufferin Grove Park has 28 picnic tables, down from 45 in 2007 but still a lot better than the 1 - 4 tables in similar-size neighbourhood parks in Etobicoke or Scarborough. The park also has washrooms and water and an interesting playground, so on weekends it's a popular birthday party spot. People sometimes borrow the park dolly to move picnic tables closer together, and if they forgot something, they just buy it at the cob cafe. They may bring a little tent for babies to nap in. Often there are clusters of balloons and streamers on the trees, and happy birthday signs. Other park users have the fun of watching the goofy antics in egg-and-spoon or sack-races, or an all-ages soccer game, or blind-folded children banging at pińatas. The smells of frying chicken or hamburgers hang in the air.
Almost all these things are against the city's park bylaws. What's not allowed: moving tables; picnics of over 25 without a permit; attaching anything to the trees, including balloons, streamers, and pińatas; barbeques; tents; putting up signs or notices without a permit; and playing sports without a permit. (All these bylaws can be found on the city website or on the celos.ca/database.)
Most of the time those rules don't make much sense, and they're ignored by the park's program staff. But sometimes the point of the prohibitions becomes a little clearer. The problem arises when picnickers get confused about the difference between private and public space. Smoky barbeques beside the wading pool or the playground – no fun for the park users. A birthday party that sets up right by the cob cafe or right at the edge of the public wading pool –confusing for park users who suddenly feel like uninvited guests at the party. Streamers from tree to tree to tree, that seem to suggest staking out part of the park for private use "STAY OUT." Four or five of the scarce picnic tables taken away from the public wading pool area to serve as the staging area for a single birthday party – not fair.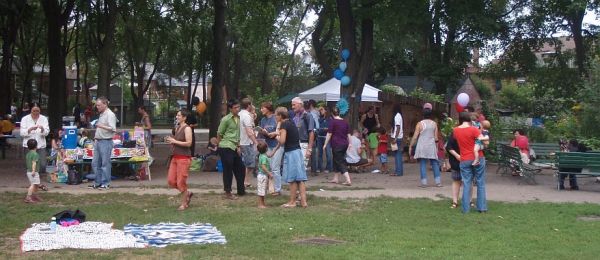 So the park's program staff have resolved to remind park users more firmly – "remember that a park is public. Set up your picnic slightly out of the way, and very far away if you're going to barbecue. Stow the streamers, and minimize the balloons. Never set up right by much-used space like the wading pool or the playground. Return picnic tables after you're done. A park has no walls, so everybody can see you. Make sure they're watching with enjoyment."
GARDENING AT THE PARK
From Rachel Weston, garden program support staff: "It's the season for harvesting and enjoying the fruits of our labours (and the roots and flowers and leaves too). So it's time for a little garden-inspired fiesta on Sunday September 19 - with some tasty treats and some herbal teas made with ingredients that we will glean from the gardens around the park. The festivities will commence at 3 pm but interested gardeners can come beforehand to get their hands a bit dirty if they'd like. New garden helpers are always welcome - Sundays 1-3 pm.
A special thank you to Katheryne Schulz and Janet Teibo who donated some porcupine and fountain grasses to us which we have planted in the beds in front of the rink house. Thanks also to the volunteers who helped out with the transplanting and dividing - it was a big project but well worth it."
DUFFERIN RINK OPENS NOVEMBER 20
This year, fourteen city rinks will open two weeks earlier than the rest. Dufferin Rink is one of them. Parks managers have promised that this year they will schedule staff to flood at night instead of during sunny days, so even if the temperatures are above normal in November, all fourteen rinks ought to open on time. Last season only Dufferin Rink and City Hall Rink opened when they were supposed to, because only those two rinks had night-time floods (Dufferin Rink with volunteers). When the sun isn't up, the first ice holds, and the ice builds up fast. Then... let the skating begin! (And the woodstove, and the hot chocolate, and the shinny hockey, and the $2 skate rentals, and the rink-side campfires -- the joys of winter.)
NEIGHBOURHOOD EVENTS
SUNDAY SEPTEMBER 26, 1- 5 pm: CLEAN TRAIN COALITION "GO ELECTRIC" MUSIC EVENT, SORAUREN PARK
From the organizers: "Local musicians will perform throughout the afternoon, with keynote speakers taking the stage at 3 pm. Charity BBQ, kids' games. Bring your own chair. Rain or shine, join a growing number of Torontonians who understand that electrified transit on the Georgetown corridor is the only sustainable option we have. Let's build it once. Let's build it right."
The groups working against the Ontario government's massive downtown-diesel plan have had some significant successes in de-railing the original intention, and they may be coming into the home stretch. Last year's Sorauren party was very lively. The nearness of the municipal election can only intensify the electric atmosphere at this event – should be fun.
DUFFERIN GROVE FARMERS' MARKET, EVERY THURSDAY 3 TO 7 PM
Excerpts from market manager Anne Freeman's weekly market news (Sept.2): "September has arrived, and it may be even more bountiful than this year's superb August.  We wanted to mark this starting/ending point with something special, so Andrew Akiwenzie, with a little help from his family and good friend Alli Harris, will be bringing us a Georgian Bay Fish Fry this week!  Delicious fish, fries and market coleslaw--just add your own favourite mental image of the big blue lake to go with it....from Sosnickis: "TONS of sweet, juicy WATERMELONS, PEPPERS a plenty, HEIRLOOMS & BASIL, EGGPLANTS, ZUCS, fresh, huge heavy heads of purple and green CABBAGES, COOKING ONIONS, fresh dug Wednesday yellow & red POTATOES, still huge bunches of KALE (by the time we stop harvesting the original patch, the fall patch will be ready) and SWEET CORN. Lots of corn still - another whole patch not yet mature. I'm officially hitting the church hall kitchen to freeze corn next week. I think that's it? Ohhh, and I've been digging around in the sweet potato patch - they are sizing up and look fantastic. Almost forgot-- fresh bunches of CARROTS with tops & LEEKS too. I even found a baby cottontail bunny nest in the carrot patch. Sooo cute! Our new puppy sniffed it out. Wouldn't let him hurt them..."
To sign up for Anne's weekly market news: dufferinpark.ca/markets
Credits:
Newsletter prepared by: Jutta Mason

Illustrations: Jane LowBeer

Published by: CELOS

Web sites: Henrik Bechmann, Aseel Al Najim celos.ca, cityrinks.ca

Park phone: 416 392-0913

Park web site: www.dufferinpark.ca

E-mail: mail@dufferinpark.ca

September Newsletter sponsored by: Edward Cayley