News 2007
From the December 2007 Newsletter
WINTER CAMPFIRES
Most Sundays there will be a campfire with hot chocolate beside the rink, to keep warm by when it's too full in the rink house. There will also be a campfire on many market days, for skaters to warm up when the rink house is full of market-goers. Birthday skating parties can book campfires (since no party can book the inside of the rinkhouse – too crowded). Get in touch with rink staff (staff@dufferinpark.ca, or 416 392-0913, or talk to them in person) at least 48 hours before you want your campfire – that's the rule since last year's tightening.
And of course there's always the woodstove inside, with books and magazines on the shelf and the windowsill, for people who want a warm break from skating.
Campfire News:
Important Notice:
posted January 30, 2007
CAMPFIRE PERMISSION HAS BEEN RE-INSTATED
Staff and friends worked for many days to get back the campfire permission that was removed on Jan.26. You can read the thread of conversation about this issue so far or email staff@dufferinpark.ca if you want to receive email updates. Also see Campfire Protest Letters for some community response. The campfire protest letters were so interesting that they form the basis of a new campfire handbook that has now gone out to the mayor and councillors, and is available at Dufferin Rink.
posted May 01, 2007
Jane's Campfire Walk
Saturday May 5th
Noon to 2 p.m. - meet at the East exit of Lansdowne TTC Station (Emerson Ave.).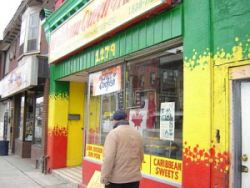 Last year Mayor Miller declared May 4 to be Jane Jacobs Day in Toronto (that was her birthday). The next day (May 5) is the first occasion of what Jane's friends hope will be an annual day of neighbourhood walks to mark her love of cities and of the many ordinary people who make them lively.
In this neighbourhood, the walk is called "Jane's campfire walk." It starts at noon at Susan Tibaldi Park (just north of Bloor, on the subway lands behind Duffy's Tavern, visible from the Emerson Ave exit of the Lansdowne TTC station). Park campfire staff Anna Bekerman and Amy Withers will be cooking fritters made with wild greens and farmers' market eggs over the campfire there, and artist/activist Dyan Marie will talk about how the area is changing. The walk will go to the site of the new railpath park to pick some more wild greens and get a sneak peak at the sculptures that John Dickson has prepared for the site. The walk then moves on to the heritage buildingsand theTower Automotive building in the Sterling Ave. light industrial area that will soon house a very large new movie studio.
Along Sterling Avenue the zoning is "light industrial," which ranges from the large Moloney Electric Company to warehouses for fish and for marble slabs, to small units making kitchen cabinets, to a place called Sanctuary, a well-equipped cabinet-making shop for homeless people who want to have meaningful work.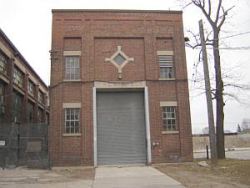 Historic Hydro-electric Builing
The second campfire will be waiting at MacGregor Park, with more tasty food. Artist-in-residence Kristen Fahrig will talk about (and show) what she's doing there with kids. Then the walk will follow Dundas (with its wonderful mix of old and new, oddly-angled buildings) over to Gladstone.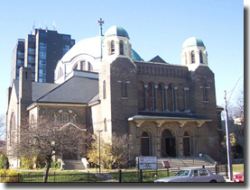 St Anne's Church
Brockton triangle resident Emily Visser has some fascinating stories to tell about that stretch of the oldest street in this neighbourhood. Walking north on Gladstone, Kim Malcomson will be at St.Anne's Church to tell a little about it. From there the walk ends at Dufferin Grove Park, at the third campfire near the cob courtyard, with Anna and Amy cooking the final course, and toasting forks for people who want to cook their own hot dogs or toast marshmallows.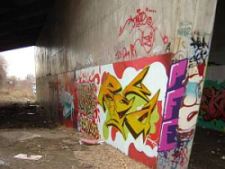 Graffiti under the Dundas Bridge
This walk has multiple options for shortcuts, or dawdling and catching up (for parents with little kids). For people with good walking shoes, there will also be a chance for a detour with railpath enthusiast Bruce Ward and park staff Corey Chivers along the proposed rail path park site to get a close look at the grand graffiti show on the multiple piers underneath the Dundas streetcar bridge.
If walking the entire thing isn't for you and you would like to join up with the walk somewhere along the way, you can see the main stops on the map below.
There are lots of other "Jane's walks" in the city that day too: see www.janeswalk.net/
See the route map below for the locations of some of the points of interest.
---
For the Jane's walk website, including other walk locations, see www.janeswalk.net.
Other Links:
posted February 03, 2007
COOKING FIRES SUSPENDED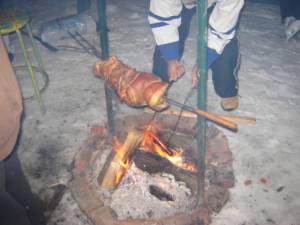 Back in 1993, the friends of the park got their first cooking fire permit. Isabel Perez cooked tortillas with the kids who came to the park. That worked so well that the following year the City added a fire permit beside the rink house. Some youth who were in a gang called the 'Latinos Americanos' helped cook soup and hot chocolate there. It worked so well attracting families back to the rink that the cooking fires have gone on ever since. People began to arrange cooking-fire times for birthdays and school outings and family reunions, and since most of those occasions were in the evenings, the park got safer, from having more people in it after dark ("eyes on the park").
Dufferin Rink staff have recently begun to "take the show on the road" in a few places, collaborating with Rec staff at other parks to see if what they developed at Dufferin can be adapted to other neighbourhoods. In January there were two wonderful events at Wallace Rink and Campbell Rink, each including a DJ, good food, a skate rental van, and a campfire.