Special Events In August
posted August 2, 2006
The Toronto Humanist movement – WORKSHOP
Saturday August 5th (2-4pm) in the rink house:
"Being an activist in the real world." [website: www.humanistmovement.ca]
posted August 2, 2006; updated August 10, 2006
"All Caps" open-air FREE CONCERT
Saturday August 12, 2-7 p.m. In the Garrison Creek hollow by Dufferin Street.
Organized by Ryan McLaren. There will be eight youth bands, playing a great variety of music, from rock to jazz to punk music (family friendly). The Toronto Public Space Committee will have a table there, and so will "Who Runs this Town." That's Dave Meslin's group, which organized the "Toronto Idol" candidate-for-City Council contest. We've invited the winner, and any other candidates for the upcoming municipal election this year, to stroll around during the concert and talk to young people about the issues.
See the website - www.allcaps.ca
The bands:
Neil Haverty - www.myspace.com/neilhaverty
Proof of Ghosts - www.myspace.com/proofofghosts
The Diableros - www.myspace.com/thediableros
I Can Put My Arm Back On, You Can't - www.myspace.com/icpmaboyc
Mantler - www.myspace.com/mantler
Stop Die Resuscitate - www.myspace.com/stopdieresuscitate
The Lolo Project - www.myspace.com/peterproject


See a story about this in the Toronto Star: Under-age and under-served
posted August 2, 2006
Clay and Paper Theatre SUMMER PERFORMANCES:
Camões, the One-Eyed Poet of Portugal.
Wednesday to Sunday, July 21 to August 13, 7:30 p.m.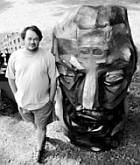 Camões, the One-Eyed Poet of Portugal is the fourth show in Clay and Paper Theatre's program called "Building Local Stories", following The Resurrection of Fornax, The Ballad of Garrison Creek, and Gold all of which were written by Larry Lewis and directed by David Anderson.
From director David Anderson: "On the northwest corner of College and Crawford stands a sculpture of Luis Vas de Camões. Many local Torontonians know that statue, but few who are not Portuguese know that he is the national poet of a nation of poets, the greatest and most beloved poet of Portugal. We hope to correct this omission. Narrated by the one-eyed adventurer, soldier and poet himself, Luis de Camões in Dufferin Grove Park will sing the praises of the Portuguese who have come to our community. It will fill the air with the songs of the Fado. Gigantones and Cabecudos (giant puppets and big head puppets) will recall and connect the Portuguese parade tradition with ours. This is a collaboration between David Anderson, Nuno Cristo, Aida Jordao, Mark Keetch and Larry Lewis."
The Bairrada Churrasqueira (at College and Rusholme) send their cook up after the show to grill delicious Portuguese sardines, served with corn bread, at the cob courtyard. Pay by donation (all proceeds go to Clay and Paper Theatre). They also give lessons in how to eat the sardines (peel them off the bone, bit by bit).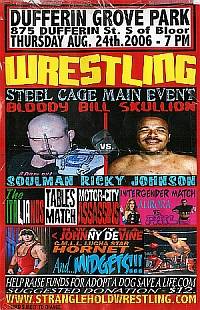 posted August 2, 2006
Something brand new at Dufferin Grove: WRESTLING SHOW.
Thursday August 24, 7 – 9 p.m. On the rink.
There will be various wrestling acts, such as the Italianos versus Motor City Assassins, Magnus the Punisher versus Big Daddy Hammer, and many others. There are also midget wrestlers (Farmer Pete versus El Tigre) and lady wrestlers (Ladies' Champ LuFisto versus Sexxxy Eddie). The finale may involve quite a bit of ketchup. This is a fund-raiser for a dog-adoption shelter called "adopt a dog - save a life." By donation.
This is a chance for Dufferin Grove to get even more diverse than it already is. For that one evening, the skateboarders will have to yield their place to the wrestlers, on the pleasure-skating side of the rink.
Produced by www.strangleholdwrestling.com.
posted August 2, 2006
FRIDAY NIGHT DJ DANCE
Friday August 25, 7 to 9 p.m.
with DJ and park staff Ted Carlisle. On the grass beside the basketball court. Eroca Nicols will teach a traditional dance of some kind and after that Ted will spin all sorts of other music too.
posted August 2, 2006
CHILDREN'S THEATRE
Friday August 25 and Saturday August 26, 8:30pm
A new theatre company called the "Maboroschi Orchestra" presents shadow puppet show, The Man with the Wolf in his Belly. 8.30 p.m. by the playground gazebo. Livia Berius and Stuart Wiber are both recent graduates of the National Theatre School in Montreal. They're touring this show, adapted from a story by German Saravanja, to various parks this summer (including our sister park, MacGregor). Dufferin Grove is their last stop. The show lasts half an hour and then kids are welcome to come backstage and see how shadow puppets work. Admission is free and donations are welcome.
posted August 2, 2006
DANCE
Sunday September 3, 4 p.m. on the basketball court
The annual get-together of the Morris Dancers. Organized by John Parkinson. On the basketball court. This event is a party for all the various Toronto Morris Dancing groups, plus some out of town groups. It's always held on Labour Day weekend. The groups come together at Dufferin Grove after they've danced all over the city. They have an "ale" inside the rink house along with pizza at the oven and lots of park oven bread and herb butter. The point of the get-together is so that groups can show off their latest dances to one another. They welcome anyone else who wants to watch, and they are generous about sharing their food. They're not allowed to share the ale, though.