A gift goes to fixing and painting park picnic tables and benches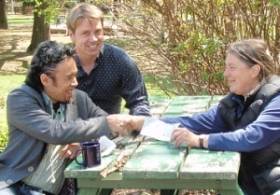 Bruce Whitaker and Rodney Litigio, who have a company called Buyingblock.com, came by the park at the beginning of May, to donate a check for $500 for much-needed paint and wooden slats to repair the picnic tables and benches at Dufferin Grove Park. Last winter they donated kids' skates to the Dufferin Rink skate rental program. In Parkdale they've paid for additional basketball hoops in a community centre, and sponsored a soccer team in Roncesvalles.
Bruce (who used to live right at the edge of the park) and Rodney started Buyingblock.com three years ago. Bruce says "we wanted to make it much easier and less costly for a buyer to buy a home and for a home owner to renew services. Services include mortgages, real estate, inspection, home insurance, life insurance, legal, energy audit, moving and phone/internet/cable. Not only do we provide the services but act as a concierge to ensure the whole experience goes smoothly. For every buyer we offer some kind of donation to the neighborhood where the buyer lives. For every Dufferin Grove resident who transacts with them, we will also be donating a tree to the park." That's a pretty inspiring way to do business.