(click to open)
Quick Page Table of Contents
2005 News Compilation
posted December 22, 2005
The Holiday Farmers' Markets:
Thursday Dec. 22 And Thursday Dec.29, 3 TO 7 P.M., Inside the Rinkhouse and Zamboni Garage
The Dufferin Grove farmers' market runs year-round, but the holiday markets are a bit special. The farmers still have lots of their own local harvest, and throughout the winter they're allowed to import organic produce from California too. Almost twenty vendors sell organic produce, organic meats, baked goods, tea, and chocolate. There's lots of prepared food as well (including the perogies we sell at the zamboni café, made by the Ukrainian relatives of market vendors Ben and Jessie Sosnicki). Leave yourself extra time when you go there because it's also a place where neighbours run into each other and news is exchanged. To get on the weekly market news e-list, contact market manager Anne Freeman (leave her a message at the park or e-mail her at market@dufferinpark.ca).
The Christmas market on December 22 is a good place to buy food presents for your favourite people. Here is a list for the twelve days of Christmas. It doesn't include a partridge in a pear tree, but lots of other things just as surprising:
A little jar of organic mushroom pesto from Fun Guy Farms, made by mushroom growers Bruno Pretto and Paula Vosni. They make all their own mushroom spreads, and then they import one extra: Italian truffle butter in tiny jars, for $10.
A package of honey comb and a beeswax candle from bee-man Ionel Alecu.
A box of artistic French-style specialty cookies Raymonde's Little Organic Kitchen, decorated with her signature pressed violets.
Maria Solakofski's Guerilla Gourmet "kickin'" vegan Christmas fruitcake, wrapped in muslin, aged with dark Jamaican rum.
Forbes Wild Foods' Christmas baskets, with dried chanterelles, maple syrup, wild fruit jellies, and lots of other unusual foods.
If you want to make your own last-minute Christmas food gift, you can buy some of Plan B Organics' or Greenfields' excellent organic lemons and make Moroccan Preserved Lemons (salt, best-quality lemons, takes 10 minutes, looks like a jar of sunshine, keeps for two years as a most delicious condiment, method posted at the rink house). [ed. see recipe]
A bag of solar-roasted Cacao beans, just brought back by Michael Sacco from his Chocosol friends in Oaxaca, Mexico (Michael says "cacao beans were used as currency in one of the richest and most interesting civilizations of all time, that of Mesoamerica.")
A bag of Kate Williamson's Best Friend Organic Pet treats: Apple Cinnamon Sniffs, Cheese Chews, Cranberry Rollovers, Peanut Butter Puppy Pleasers, Tuna Tail Waggers. Kate makes all these treats herself and her stand is often surrounded by love-struck dogs.
A jar of Colette Murphy's "Earthly Paradise" soothing herbal skin cream, made with the herbs Colette grows at Plan B Organics farm.
A bottle of Angelos Kapelaris' own olive oil, which he brings over twice a year from his olive groves in Greece.
A can of <b>Beate Macklin's</b> herb tea blend, with flowers as well as leaves.
A jar of Melvin Laidlaw's spicy hemp pesto, Jamaican-style.
Besides that, the market will have lots of good plain food at a reasonable price, to stock the neighborhood pantries for Christmas, Hanukkah, and New Year's. Surely these farmers and vendors are some of the park's best friends - what a privilege to have them come here.
---
posted Sepetember 6, 2005, from the September Newsletter (bottom), updated Sept 27, 2005.
FARMERS' MARKET TASTING FAIR, Sunday October 2, 2005
Back in the second year of our market, in the fall, we celebrated the market with a "tasting fair." Various Toronto chefs cooked some delicious small item with each farmer's produce. The fair was very popular but also quite a bit of work, so we didn't repeat it the following year. Now that the market is soon beginning its fourth year, it's time to celebrate again. On Sunday October 2, from 1 to 4 p.m., we'll have the second-ever tasting fair, $2 per item (each one tastier than the next). The only difference this time is that the food will be prepared by various renowned good cooks from this neighbourhood and from the farms – some chefs and some ordinary folks with an uncommonly deft touch with food. The tasting fair will be where the farmers' market is held, or inside the rink house if it rains. So far there are over twenty cooks!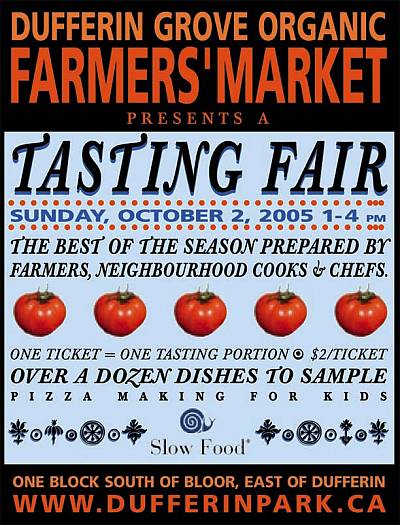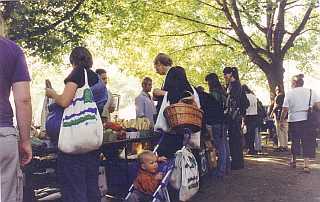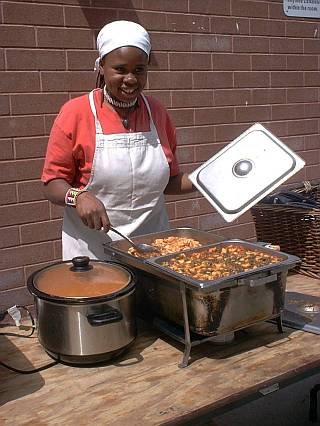 Bianca (staff) at market
photo by Wallie Seto
---
posted Sepetember 6, 2005
Farmer's Market Tasting Fair - 2003
Here is the notice we posted about this delicious affair.
Sunday October 19, 2003, 1 pm to 4 pm near the ovens (or in the rink house if it rains). Return for Pumpkin lantern sailing and marshmallow roast at the wading pool at 6.30 P.M. Chefs and all our regular farmers will be paired at this special event: every table will offer some utterly delicious food item ($2 each) featuring one or more of the ingredients that farmer produces. Those market vendors who are bakers or caterers will offer $2 portions of their best dishes or baked goods. For children, there will also be pizza-making at the oven in case the special foods are a little too adventuresome. In addition, there will be little pumpkins to carve at the pumpkin-table, to get ready for the special event of the evening: a candle-light pumpkin-sailing on the wading pool (and a bonfire with marshmallows), weather permitting.
---
posted August 12, 2005 from the August Newsletter
A (SHORT) FARMERS' MARKET CRISIS
On Thursday August the 4th, a city by-law enforcement officer came to the park. He was shocked to see the farmers parking on the grass inside the park (beside their stands) and gave them a warning. The next week, he said, he would be back at market time, and would give them each a $105 ticket if he saw them even driving up to unload.
The officer then went down to the wading pool and said the food cart was illegal, the cob courtyard was probably illegal, and when he found out we have campfires in the park, he said that was illegal too. He also said that there had been a complaint about the food cart. Someone had reported that it was run by an (unnamed) private individual.
The by-law enforcement officer wasn't much interested in our explanations. He described all that he saw to his supervisor on his cell phone, and told the park staff that his supervisor was "hopping mad" at what he was hearing.
The officer summoned a public health inspector from another district, on an emergency basis. The inspector arrived and walked all around with the park with our staff person Mayssan. Then he wrote "unwarranted complaint" on his inspection form and left. The by-law enforcement officer left too, saying he'd be back.
The friends of the park have received a lot of support from park managers over the years. We called West Region manager James Dann, and described the situation. It seemed clear that the problem here was a misunderstanding – the by-law enforcement officer had not heard of a park like ours, and assumed that we were getting away with murder.
James called the by-law enforcement supervisor and reassured him. He confirmed that we have had regular contact with Public Health, and the friends of the park work in close collaboration with Parks and Recreation. It emerged that the main problem with the farmers' market was the lack of a farmers' market permit. (Since there are only two markets in Toronto parks, such permits are not a standard item.) So James arranged for an official city permit. That means the by-law enforcement officer will not come back next week and fine each farmer $105 after all.
This is another example of the problem with centralized structure (management by function). Officials come from elsewhere in the city and find us confusing. They make a panic and the whole business takes so much of everyone's time. We've asked for a meeting to discuss the real world of farmers' markets, with City managers. We also hope that the Parks, Forestry and Recreation general manager, Brenda Librecz, will find a way to have our park administered locally, not centrally (see "Open Letter").
The by-law enforcement officer who came to our park seemed just as appalled by what he saw here as the '''City's Health and Safety rink inspectors''' were in December 2003, when they said that ours was the worst rink they had ever seen. You have to wonder: what would their ideal park look like?
For more stories of the effects of the City Parks and Recreation Department's centralized "functional" management approach, see Jutta's Parks Restructuring Diary.
---
posted March 19, 2005
Small Farmers Petition for Chicken Quota Exemption
From Lorenz of Greenfields Organic Farm to the Friends of Dufferin Grove Park, March 15, 2005:
Here is a bit of info re the petition we'll be asking people to sign at the market this week [ed. March 17, 2005] to ask the Ontario government to reconsider an exemption for small farmers re. the chicken quota.

Presently CFO [ed. Chicken Farmers of Ontario (formerly the Ontario Broiler Products Marketing Board)] has a rule about min purchase of 14,000 units of quota ($900,000) !!!! The EFA (Ecological Farmers Association) and NFU (National Farmers Association) has recently submitted a request to the CFO for a quota exemptions up to 2000 birds, which has not been granted.

With the Greenbelt having become reality it is more urgent than ever to preserve small family farms close to urban centres and allow them to direct market a diversity of products from their mixed farm operations. This creates access to nutritious, fresh, safe and sustainable food to urban dwellers while giving farmers a fighting chance to stay in business. Eggs and meat from chickens that are kept in small numbers and allowed to free range are a prime example of such a system!

For more information please see the following web sites:

www.freyshatchery.com/fact_sheet-petition.pdf (or a copy on the dufferin park site)

greenfieldsfarm.ca/news/000086.html

We hope that many of you will sign the petition and as many as possible will write letters to their members of parliament. As several small farm organizations are presently fighting to have the system changed letters to politicians and petitions are very timely especially from the consumers point.

thanks, Lorenz

Greenfields Organic Farm
10715 Guelph Line
Campbellville ON L0P 1B0 CANADA
TEL 905 854 5458 FAX 905 854 4383
---
posted January 25, 2005
THE THURSDAY RINK HOUSE FARMERS' MARKET: 3.30 TO 7 P.M. -- The Winter Period
The Dufferin Grove Park farmers' market is now deep in its winter period, so it's all held inside, in the change room area and also in the zamboni garage (on Thursdays, the zamboni is banished outside, to the basketball court). The food that's sold at the market is mainly certified organic, and it's very good food. Food with the "certified organic" label is now a big global business. You can find any kind of food in any season, that's got the organic label. But for many market customers, the "organic" part is no more important than the "local" part.
At our market, the same farmers who sell their own produce in the summer are allowed to import long-distance fruits and vegetables in the winter. They still sell their own root vegetables too, and of course the meat and baked goods vendors are not dependent on the seasons in the same way - they sell their own products year-round.
Importing high-quality organic produce from the California mega-farms helps the farmers from our market get through the winter, but everyone will be glad when the local growing season gets going again. The joy of local food is that the market customers get to know the people who grew it (and cooked it, in the case of prepared foods). What's more, the customers know the terrain where the farms are. The farmers can tell us even more: for example Ted Thorpe says the reason his carrots are so sweet is because his farm near Guelph has a little microclimate where the frost comes later. So he can take the gamble of digging the carrots up very late, before the ground is frozen but when it's already so cold that the carrots have become sweet from staying in the field so long. There's no test-tube mystery to those carrots, but there's a story, right from the grower.
Even where raw materials come from a distance, the preparation is nearby. The park bakers get their hard-wheat flour delivered from the prairies, but the loaves are mixed and risen in the park. The fire to bake them is right there too (the wood the bakers burn in the park ovens comes from trees that are cut down in the neighbourhood, or skid wood that park friend and carpenter Alan Carlisle brings us from Downtown Lumber on Ossington). The hands that shaped the bread are the same hands that put it in the bag for you and hand it over, and if you want to know more, you just ask the bakers (park staff Dan Malloy, Matt Leitold, Lea Ambros, Amy Withers, and soon, Gabriella Mihalik).
The market food, the prices, what's for sale in any given week - all this comes with so many stories. If farmer Ute Zell can't easily catch the wild boar because a boar is a wily fellow who keeps his distance (and he gets to be outside), that means you often can't get wild boar sausages. But when Ute's husband Tom does catch the boar, and their neighbouring butcher turns it into roasts and sausages, the price is fair and it makes sense (if you know the story). And when you eat the sausages, you know that it was worth the wait.
In some circles organic and small-scale "artisan" foods are thought of as elitist, marketed for people with money to burn. But the people who buy food at our park farmers' market are neither rich nor snobbish. We're ordinary people, living in a big city, in tricky environmental times. There are some farmers, growing fine, plain food, living nearby. They come to the market because they want to sell their food and they really like to know the people who they grow for. What luck, for us.
---
Pictures from last winter's 2003-2004 winter market...
| | |
| --- | --- |
| | |
| | |
| | Our Market Manager, Anne Freeman, 2004 |