(click to open)
Quick Page Table of Contents
Neighbourhood Safety
Sometimes there's a run of thefts, robberies or other untoward events in a neighbourhood that may be caused by the same person(s). This page is an attempt to present such experiences as a reminder for people to keep a lookout. To add material (or provide follow-up/ commentary/ good advice), e-mail safety@dufferinpark.ca.
To subscribe to Toronto Police Service mailing lists, see lists.torontopolice.on.ca.

Police Town Hall Meeting
Thursday October 25, 2007, Bloor Collegiate Institute
7:00pm to 8:30pm
Chief William Blair will speak. An opportunity to talk about local issues, presumably Bloor Lansdowne, possibly police relations with the park.
Here's the flyer.
Older Neighbourhood safety stories
posted on August 29, 2007
City News Story About Swarming Arrests
14 Teens Face 198 Charges In Park Swarming Robbery Ring

By: CityNews.ca Staff
Published: Wednesday August 29, 2007
Source: CityNews.ca

"These were cowardly acts of violence performed in a wolfpack style, on powerless, unsuspecting citizens of Toronto." That's how Det. Colin Greenaway describes the 14 teens allegedly involved in a series of park swarmings that held many residents of the west end in fear this summer.

Cops first heard about the attacks in July and issued a public warning earlier this month, after as many as 27 victims were violently beaten and robbed of anything they were carrying as they walked in the Bloor and Dufferin area. Most of the attacks took place in the evening in parks like Christie Pits. But some also happened in the subway, in bank ATM vestibules and even on the street. When police dispatched undercover officers to the green spaces where the majority of the offences occurred, they arrested a few members of what they're calling a new gang named the "Grown Man Business". And that's when the crime spree began to unravel.

But during its height, it was both vicious and brutal. "It didn't matter if they were male or female they were targeted," accuses Det. Leslie Hildred. "It didn't matter if they were compliant - they were assaulted." Some victims suffered broken bones, while others were severely beaten. The robbers took anything of value, including money, cell phones, MP3 players, even I.D.s. Most of the goods were found at local flea markets across Toronto.

Sandra Eccles' 16-year-old son Julian came to know the sting of the alleged predators when he and a group of friends found a pool at Christie Pits Park they'd planned to go swimming in was closed. The group saw nine teens ride by on bicycles and had a funny feeling. But when they turned to leave, the gang came after them.

"They came back on foot over to them and surrounded them," she explains. "They then started demanding that they hand over everything that they had." One of his friends was punched in the stomach, but her son only realized how close he came to being seriously injured or worse after the ordeal was over. "They held a metal object to my son's head. He didn't feel it, but one of his friends said that it was a gun that was held to his head."

All the accused are between 16 and 17 years of age. They're facing a total of 198 charges for 15 robberies. They remain in custody and cops are urging any other victims who might not have reported a robbery to come forward.
posted on August 29, 2007
Fourteen Arrested in Park Swarming Case
Puzzling news about "swarming" robberies: in the media stories about the arrests made on August 28, Dufferin Grove Park is mentioned first. But police told City Councillor Adam Giambrone last week that only ONE of the attacks took place at Dufferin Grove. All the rest were at Christie Pits.
Dufferin Grove staff are trying to go to the bail hearings so they can see who was arrested. That way, if any of them come to the park, the staff can report them for breach of bail conditions. If anyone knows more about these events, please let us know. ....416-392-0913 or staff@dufferinpark.ca.
14 arrested in park swarmings

By: CURTIS RUSH, STAFF REPORTER
Published: August 29, 2007
Source: TheStar.com

Police have arrested 14 people in connection with a series of alleged swarming robberies in the city's west end over the past several weeks.

Toronto Police will hold a news conference this afternoon to provide details of the arrests of the 14, who are all young offenders.

Over the past few weeks, a group of youths have been confronting victims and robbing them of their valuables, including cash, i-Pods, laptops and cellphones.

These robberies occurred mainly in Dufferin Grove Park and Christie Pits Park.
posted August 22, 2007
More park swarming information
Re: Police warn of group swarmings in Toronto parks
This is the reply I got just now about the robberies at the parks, from Councillor Giambrone's office:
"14 Division reports that these crimes are being committed by a group of 7 to 15 male black youths. The robberies typically occur at night, after 10 pm. The police are aware of one incident at Dufferin Grove, all the other incidents occurred at either Christie Pitts or Bickford Park. The police have set up surveillance and night-time patrols at all three parks. Please don't hesitate to pass this information along so as many people as possible are fully informed."
The more people who go to the parks, the less robberies will happen there. The dog walkers are a big help because their dogs bring them into the park at all hours. Dufferin Grove staff have asked me to pass along the following message: If you see anything questionable happening, let the Dufferin Grove staff know right away, so that they can memorize the faces. (People are more reluctant to commit robberies where they have a chance of being recognized.) Park cell: 416 896-8942. (24 hours).
Jutta
---
Re: Police warn of group swarmings in Toronto parks, from the dufferingrovefriends email list service:
Hi all,
My friend who lives on Gladstone between Bloor and the park was parking his car last Wednesday night at approx 10 pm after seeing a movie. He saw a man stumbling out of the park who had been beaten during a 'swarming'. The man's face was bloodied and swollen and he was visibly shaken from the experience. My understanding is that he had been sitting in the park with his laptop and was then attacked by a group of 6 or 7 who stole his laptop. I think he may have resisted at first which led to the beating. My friend stayed with the man until he the police arrived, whose very adamant advice was to avoid being outside alone past 10 pm.
I hate to be the bearer of such horrible and upsetting news but wanted everyone to know.
Kostemo
posted August 17, 2007
Police Warn Of Park Swarmings
Thursday August 16, 2007
CityNews.ca Staff
A man sitting on a park bench enjoying an ice cream on a warm summer night is suddenly attacked by a swarm of young thugs. He's kicked and punched until he's unconscious. That's just one of nine recent accounts of people being assaulted and robbed by a gang of roving hooligans in local parks, most notably in the west end.
One mother relays the disturbing tale of how her 16-year-old son and his friend were preyed upon by the gang.
"My son called me frantic, that he and his friends were, the term he used was "jacked," explains Sandra, who didn't want her last name used. "He and his friends had gone to Christie Pits to go swimming."
"It's sad to see young people turning to crime and thinking they'll get something out of it," she adds. "Basically there's not very much money they got from these kids, they took cell phones and I.D., stuff like that. To what end?"
Police say the attacks take place after sunset and they're warning people to be on guard.
"They blitz-attacked victims and took from them iPods, cell phones, cash," explains Det. Sean Genovy.
Two victims had to be taken to hospital and police believe the gang members range in age from late teens to early 20's. In some attacks, there have been as many as 13 of them.
"Incidences have occurred on Bloor, specifically Christie Pits Park and one or two occurrences in Bickford Park and one in Dufferin Grove Park," reveals Genovy.
---
Anyone with information is asked to contact the 14 Division Major Crime Unit at 416−808−1400, Crime Stoppers anonymously at 416−222−TIPS (8477)
posted December 22, 2006
Bike Thief at the Farmers' Market Dec 21
From Maria:
Beautiful market day on solstice December 21, thank you to all who came to support me and pick up their fruitcakes. Something very unfortunate happened though, which is that my BIKE WAS STOLEN. As many of you may feel about your own bikes, this is my vehicle--this baby has ridden me up to Haliburton. It is a recumbent bicycle, it has a reclining seat and your feet go in the front. You likely have seen it at the market before as I have ridden it there the last three years. Imagine a big backed chair mounted onto a bicycle .The frame is RED and all other details are black. It has small wheels. You would turn your head if you saw someone riding it. It was last seen parked and locked next to the gardens on the main path to the big oven about 6pm, and was gone by 7:30pm when I came out to pack my bags. The bike was locked to itself so they had to pick up the bike and walk with it. There is a bike rack on the back with two bag and a turquoise bell. I have reported this to the police and they have the serial number on record. If you spot this bike please call the police dispatch 416 808 2222, and let me know also. Thank you for keeping your eyes open...Maria 647 831 3377.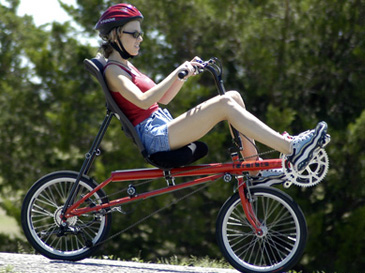 Note: this is not the actual bike. Example from the manufactures' website.
posted February 14th, 2007
COMMUNITY MEETING REGARDING CLOSED CIRCUIT TELEVISION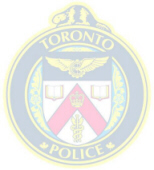 A 30 minute presentation on closed circuit television will be provided followed by an open forum question and answer period.
EVERYONE WELCOME
Tuesday February 20th, 2007
7:00 pm – 9:00 pm
St. Mary's School
66 Dufferin Park Avenue
Cafeteria
Community input is vital!
For information contact:
11 Division 416-808-1119 14 Division 416-808-1500
NOTE: If you cannot attend you may still give your input to Staff Sergeant Frank Besenthal 416-808-1500.
posted January 17th, 2007
Roger's Audit?
From The Webb Family:
This afternoon I was sitting in my kitchen when I saw a man in my back yard. He came into the alcove on the furthest side of the yard from the gate, rummaged around moving some bicycles, and then turned to leave. I stopped him as he came past the front door and asked him what he was doing. He stated he was from Roger's Cable (he was wearing a Roger's hat and badge) and said Roger's is doing 'audits' in the area.
I informed him that I was uncomfortable and upset at him entering my backyard without ringing my doorbell especially since we have not used Roger's products at this house since we moved in 3 ˝ years ago.
My brother is in town and he called Roger's as it disturbed him as well. I thought it was important to verify that the person was indeed a Roger's employee to make a formal complaint about him entering my backyard without my permission. Also, if I discovered that Roger's had no employees in the area I wanted to inform the list-serve of the occurrence in case it was related to petty crime.
I am deeply troubled because Roger's was unable to verify if this man was a Roger's employee or not (they said they would get back to me in the next 24 hours). They were not 'able' to offer me any phone number in which to follow up on the issue, and because I have no accounts at Roger's they were unable to make note of my call. Also, the customer service person I spoke to said that "Roger's employees 'have' to be able to do investigations and audits if an area has 'leakages.'!!!???!!!
I now believe that this WAS a Roger's employee in my back yard, without my permission. I am upset because it seems by making a choice not to have cable television has somehow opened me up to having strangers enter my backyard to investigate that choice, implying that it is so suspect to not to have cable that I must be stealing it.
By writing this e-mail I am hoping to inform others of the occurrence and also seeking advice on who to approach with complaints about this issue. As I am clearly and proudly not a cable customer, I am guessing any complaints I make will not be heard or taken seriously by Rogers.
Michelle Webb
posted Nov.15 2006
Break-in on Havelock, Nov.4 2006
Our home was expertly burgaled (sp?) a few weekends ago. It was on a Saturday morning on Havelock St., south of Dewson. The suspects were two 30ish white males, one of whom was a look-out. This look-out in fact spoke to a curious neighbour, and was able to convince her that he was a friend. They were interested in small technological devices mostly.
Since then, I have heard that a similar break in occurred on Gladstone, north of College, south of the park, with a similar m.o. i.e. a Saturday morning, with 2 men. JS
posted Nov.6 2006
Break-in on Gladstone Nov.4
Just a heads up to Dovercourt Park residents that I had a break in on Saturday afternoon -- middle of the day, somewhere between 11 am and 4 pm.
They came in my basement door window (at the rear of the house), ransacked the house, but only took electronics, alcohol and sugar (leftover halloween candy, ice cream etc.). Police from 14th Division came over and spent four hours dusting for finger prints, looking for DNA samples etc. I was surprised they gave it so much attention. It must have been fairly skinny guys to fit through the window in my basement door. Police said it was likely drug addicts looking for quick cash -- clearly not a professional job, looked pretty desperate.
I live on Gladstone between Shanly and Bloor, on the West side. If anyone saw people carrying a large red hockey bag from a house on Saturday afternoon, let me know. (faint hope!)
A neighbour recently had his car stolen from his driveway -- on Westmoreland just north of Hallam. It was unlocked -- so remember to lock your cars! It was recovered about 6 blocks away, 2 weeks later. G.B.
Bike theft from Shanly, Nov.3
Hi Neighbours. Just another quick heads up, my bicycle was stolen from our front porch on Friday, brazenly during the day. It was locked, but they smashed the lock and took the bike. Be vigilant!
P.D., Shanly at Bartlett
Robbery, Dufferin Park Ave and Gladstone Ave, Oct.27
This was pulled off the Toronto Police Services website, sent by Sheila Pin (Dufferin Grove Residents' Association)
FRIDAY OCT. 27 Robbery (Swarming) - 14 Division
A 15 year old male reports that on October 27, 2006 at about 1030 hours, he was in the area of Dufferin Park Avenue and Gladstone Avenue when he was> approached by three male suspects. The suspects made a demand for cash and> removed the victim's MP3 Player and wallet. The suspects then fled the scene in a vehicle in an unknown direction. No injuries were sustained by the victim. Police are requesting the assistance of the public in identifying the following described persons in connection with this offence.
Description of Suspect #1: Male, black, 16-19 years, 5'8"-5'9", 141-161 lbs, medium build, pockmarked face, brown eyes, black short hair.
Suspect #2: Male, south asian, 16-19 years, 5'6", 141-161 lbs, medium build, brown eyes, short dark brown hair in cornrows.
Suspect #3: Male, black, 16-19 years, 5'5", 125-150 lbs, brown eyes.