posted posted April 15, 2004
History: how the ovens were used for the first 20 years
An oven attracts festivals and community events. This only makes sense. People want to share food on special occasions. If we had built substantial stone barbecues instead of an oven, the festivals would still have come. But an oven is more sheltered from the elements, and in winter we could bake bread and make pizza even when it snows.
People called up and said: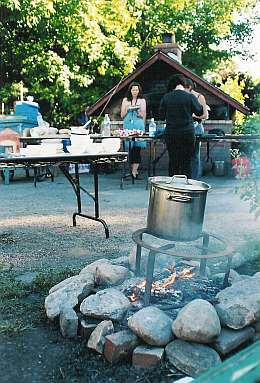 ....six folk-dancing groups get together once a year and there are too many people for a small hall -- could they come and dance outdoors and bring a potluck to augment our bread and pizza?
....A theater company has devised an open-air park performance about the mythology surrounding baking in ancient times, could they get us to bake some bread for opening night?
.....A community Hallowe'en parade needs a destination for the parade to end at -- could they end at the park around a giant bonfire, with fresh bread for the participants?
.....The local city councillor's office wants to host an all-neighbourhood lawn sale, could they put it near the oven and have some pizza available?
The smaller events came even more easily. A nursery school wants to do its annual fundraiser, a daycare wants a picnic of all the parents and kids, a street festival will culminate in a pizza-potluck at the park, a group of friends wants to bake unleavened bread before passover, a city parks tour wants to stop and have lunch at the oven. Even birthday parties, if screened, are a kind of community get-together, with familiar faces as friends from school and, often, their parents, gather around the pizza-making table.
And that's not even counting the school classes which want to make pizza at the park, as part of their play day, or part of a lesson on wheat. There used to be weeks in the spring when there were school outings to the Dufferin Park oven twice a day every weekday. (We finally put a halt to having so many: we were turning into a pizza joint, when we're actually a park.) Some of the children who came to those early school visits told us they'd never been to the park before, even if they lived three blocks away. So the oven brought them into the park. They often said they'd come back with their parents, and sometimes they did.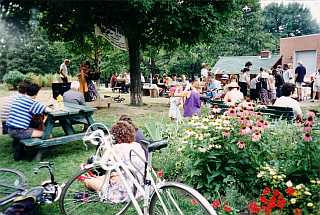 The programs we did offer ourselves around the oven were also proof of the strong desire people have to eat together. Once or twice a week in the summer it was an open oven, when anyone could come and buy a lump of dough and some tomato sauce and cheese, bring their own toppings and make lunch. Often there were seventy or eighty parents and young children coming to make their lunch. Getting your lunch like this takes much longer than ordering a slice from the pizza place up the street. But people told us speed was not the point. Perhaps they'd come to meet their former prenatal class here, all of them now with six-month-old babies, all spread out on three big blankets. Or they'd just arranged to meet one friend and spend an afternoon off work in the sunshine, talking and watching the children run around the park. Or they'd come on their own, new in the neighbourhood, hoping to meet some of their neighbours.
Any way you look at it, the oven brought people into the park.