Basketball Court Shooting, July 11, 2011
When something about guns gets in the news, lots of rumours float around. Here's what happened:
On Monday night (July 11) around 10 pm there was the usual lively scene around the basketball court, with a full-court game and some people hanging around watching at the side. Inside the rink house there was one staff person cleaning and the other one baking muffins for the next day. They both heard a couple of bangs that sounded like firecrackers. Firecrackers have been around a lot since Canada Day, so they didn't think much of it. The muffin-baker was all done, so she left. Moments later, two guys came into the rink house. One of them said, "Help, my friend's been shot." His friend's hand appeared to have been strafed by a bullet and he said he had been shot in the buttock. He sat down, and the staff called the police and administered some first aid. He was then taken away by ambulance.
Although quite a few basketball players at Dufferin Grove have been involved with the courts at some point, they all agree that Dufferin Grove is not a place for guns or fights. That's partly in their own interest, since they want to enjoy the park without feeling like they have to be tense. The basketball players feel possessive about the park's good reputation, and they also feel protective of the park staff. The staff, in turn, have been involved (since 1997) in doing follow-up through the courts when there have been antisocial acts in the parks.
There's no doubt that there will have to be patient community follow-up to this very serious act. Who was this guy who didn't understand the rules? There will no doubt be more-often-than-usual talks with the basketball regulars, to keep this kind of thing from repeating.
Dufferin Grove Park is a big park in a big city. Luckily, this is the first such shooting in the park in over 18 years. Happily, the target was not seriously hurt.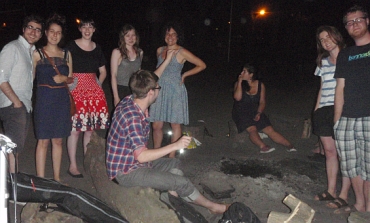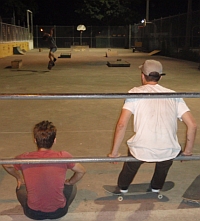 And some other good news -- despite the news reports about the shooting, the next day the park was full of people both in the daytime and at night. There were two campfires, plus a lively three-on-three basketball game at 10.30, plus skateboarders at 10.45. People said -- this could have happened on the subway, or anywhere. The park is not dangerous, it's a great place!