News 2010
From the December 2010 Newsletter: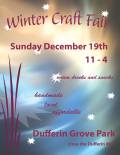 ANNUAL WINTER CRAFT FAIR SUNDAY DECEMBER 19, 11 am to 4 pm.
From organizer Heidrun Gabel-Koepff: "This season's winter craft fair at Dufferin Grove Park will be set up outside the rink building. There will be wonderful hand-made goods this year including woodworking, knitwear, bead work, teddy bears, ceramic bowls, print work, jewellery, book covers, scarves, hemp shopping bags, cosmetic products, cookies, teas and much more.
Local, non-professional crafters bringing great deals to you for the holiday season! There will be hot drinks and food available from the Zamboni Café.
From the October 2010 Newsletter:
ELEVENTH ANNUAL "NIGHT OF DREAD" COMMUNITY PARADE
Saturday October 30, 6 to 9 pm
From organizer David Anderson (director of Clay and Paper Theatre):
Join us for the eleventh annual Night of Dread, Clay & Paper Theatre's invitation to the community to parade our private and collective fears through the darkened streets of Toronto. The hour-long procession returns to Dufferin Grove Park for an evening of ceremonial festivities that compel us to call on, mock and banish the fears that unite and divide us in these tumultuous times. Night of Dread is an unforgettable evening of pageantry, music and masquerade incorporating towering puppets, stilt dancers, fire-spinners and fearful masks in a daring exploration of dread.
This community celebration incorporates international folk and theatrical traditions, drawing inspiration from festivals of death and remembrance around the world. Come dance in the streets with musicians, puppeteers, dancers and stilt walkers; together we'll laugh at our fears, waltz with death, eat the "bread of the dead," and remember those who have gone from our midst.
Clay & Paper has many costumes and puppets available for the public to wear in the parade; come early to the Dufferin Rink clubhouse to avoid disappointment!
4 PM: Parade begins assembling at Dufferin Grove Park
6 PM: Parade departs
Dress Code: Black & White
Pay-What-You-Can (to cover expenses): suggested donation $10
More information: leanne@clayandpapertheatre.org (416) 708-3332 
This event is a partnership with Parks, Forestry and Recreation – park staff will have hearty winter soup and other tasty fall specialties available at the zamboni garage cafe. Hot chocolate too!
From the September 2010 Newsletter:
Thursday Sept 9th – UKRAINIAN MUSIC/ART EXHIBITION: "Organic streetscape projekt!"
Presents Ukrainian outdoors art and music at the farmers' market. From the organizers: "This is an independently student-run multimedia collaboration of Ukrainian and Canadian artists and musicians to blow open the discussion on Ukrainian identity in the two countries. Includes Lviv-based Ukrainian folk band LUDY DOBRI -- a Lviv-based nu-folk band that collects and interprets traditional music from across Ukraine according to their eclectic tastes. Since the band came together 5 years ago, it has seen over 20 musicians from diverse musical and geographical backgrounds, but the aim has remained the same: to reinvigorate folk culture at home and abroad by breaking the formal boundaries that subdue it.
You can see Ludy Dobri perform as well as view some artwork at Dufferin Grove Park on Sep. 9th."
Sunday September 19th Art Jazz in the valley: The Eric Dolphy Memorial BBQ
From the organizers: "The Association of Improvising musicians of Toronto (AIMToronto) is a non-profit community group of musicians in Toronto that have been going since 2003.  We're having our third annual picnic at Dufferin Grove Park, featuring music and dance performances by some of Toronto's strongest creators.
There will be full sets of composed and improvised music interspersed with performances by random groupings of musicians and dancers.
Eric Dolphy was one of the founding fathers of New Jazz in the mid/late 20th century. The name of this event is also the name of a composition by the late Frank Zappa; possibly a surrealist comment on the absence of public honour bestowed on the masters of North America's only indigenous  Art music.
We are not only celebrating ourselves as a community but also the strength and resiliency of our music. Everyone welcome!"
Saturday September 25: Native Child and Family Services
Will be presenting their annual "Honouring our Children" POW WOW. Sunrise and 12 –5 pm.
This event is a very popular, very colourful occasion with many craft vendors, two big tipis, drummers, dancers in beautiful costumes, free food and a big "give-away" of donated goods at the end. The day begins at sunrise with a fire ceremony in the fire circle, lit by an elder. Then there is a pause while the soccer field is set up with tipis, vendors and information tables, a stage, and food areas. The grand entry of the dancers is at noon, and the give-away is at about 4 p.m. Drumming and circle dancing, all afternoon, everyone welcome.
Scottish country dance event on August 26th, 2010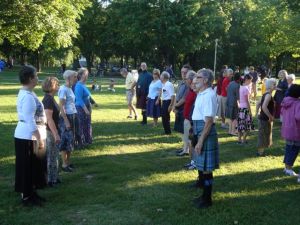 There was an evening of Scottish country dancing in Dufferin Grove Park on the evening of Thursday, August 26 on the grass just east and south of the basketball court. The dancing got underway at 6:30 and continued to sunset. The program of dances can be found on the RSCDS Toronto web site. While most dances were for those familiar with Scottish country dancing including its steps and formations, there were opportunities for audience participation. This was an event to promote Scottish country dancing. All were welcome. You didn't need to be Scottish and you didn't need a partner. The full program of dances can be found here.
Some pictures from the event...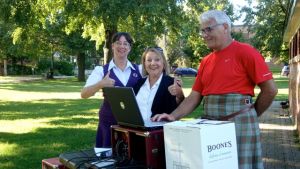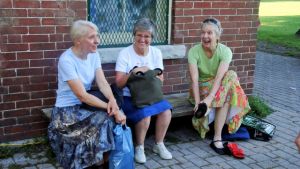 From the July - August 2010 Newsletter:
CLAY AND PAPER THEATRE PRESENTS:
"The Circus of Dark & Light,"
July 16 to August 15, 2010, Wednesday to Sunday, 2:00 PM and 7:00 PM
$10 or Pay-What-You-Can
Location: just west of the field house, near the basketball court. From artistic director David Anderson: ''"This summer Clay & Paper Theatre presents: The Circus of Dark & Light, a subversive comedy featuring puppets, live music, and special appearances by a human cannonball, a pyrophobic firebreather and a truly elegant ersatz elephant.
Welcome to CIRCUS SCAMALOT, currently on tour with Prime Minister Nobody and under the tiny thumb of Little Big Man. Can a bedraggled bunch of clowns, a cowardly ringmaster and a hard-nosed high wire beauty queen band together to break out of oppression, galvanize hope and take control of their own lives? Come join our unlikely heroes and discover how the magic of community can change the world."''
From the June 2010 Newsletter:
Sunday June 20, 2 – 5 pm: Clay & Paper Theatre presents the eighth annual DAY OF DELIGHT.
From director David Anderson: "A celebration of love, courtship and desire in and for." Pay-What-You-Can, $10 suggested. The afternoon will feature:
- musical rhythms of Samba Elegua
- the Bricoteer Puppetry Project's: Great Things Come in Pairs
- Stilt dancing by Zita Nyarady and friends performing: The Sky Dress
- Aerialist arts of Diane Mcgrath and friends presenting: Fantasia
- A dance piece by  Paromita Kar and friends presenting: Detective Lizzard
- Puppetry performance of love swimming between a squid and a whale in: Strangers in the Deep performed by Marc Picanto & Delia Farno.
- Fibre arts installation and modern dance collaboration by Fibre Artists Emily Cook, - Emily Comeau and dance artist Eden Kahill
- A worldly dance of love performed by Rainos Mutamba and Rehana Tejpar in Shadows of Desire
- The Georgian music of love by Darbazi
- A whimsical version of Midsummers Night's Dream starring kitchen appliances
- A giant bicycle puppet parade, Cardboardia
- A silent auction and performances by Clay & Paper Theatre's very own Cyclops: Cycling Oriented Puppet Squad celebrating it's second year of bringing theatre to cyclists and cyclists to the theatre.
''For more info and to volunteer, please contact naomi@clayandpapertheatre.org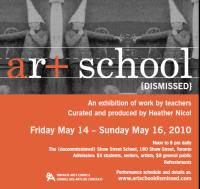 Art School Exhibition
From Friday May 14 to Sunday May 16, noon to 8 pm every day, there's a local art exhibition by artists who are also teachers, in a decommissioned neighbourhood school, curated by park friend Heather Nicol. The school is Shaw Street School, at Shaw and Argyle. There are lots of performances too. Dufferin Grove Park friends Jane and Ker Wells have been practising at the park. For more information: http://www.artschooldismissed.com/
Papier-Mâché Camp at Dufferin Grove Park with artist Erin Robertson for 2 Sessions this year.
Both sessions of the camp are now filled up
Session 1:
For Ages 6 - 11 with Artist Erin Robertson July 19 - 23, 9 - 5 pm $165. includes all art materials & one snack a day
Theme: Storybook. This summer, bring the world of your favourite storybook alive. Make a princess's gown or a knight's armour. Help slay the Dragon of Dufferin Grove Park; or perhaps you'd like to train it? Erin Robertson will guide you in your quest this summer. Read more >>
Session 2:
For Ages 8 - 13 with Artist Erin Robertson July 26 - 30, 9 - 5 pm $165. includes all art materials & one snack a day
Theme: Giant Food. Have you ever wanted to eat at a giant's table and fling cannon-sized peas with a shovel-sized spoon? This summer is your chance. Help set the table and feed the Giant of Dufferin Grove Park guided by his personal chef, Erin Robertson. Read more >>
For either camp, you will learn how to make a wire armature & cover it with papier-mâché. Each morning & afternoon, a couple of hours will be spent on art then during breaks you'll go to the wading pool, playground or pizza oven. Over the 5 days, you will draw, paint and collage to complete your sculpture / wearable creations. On Friday you'll invite your parents to see an outdoor display of your creations.
To Register - contact Lyla Rye for the form and to check on availability: lylarye@sympatico.ca, 416 536 6381
Erin Robertson is a graduate of the Ontario College of Art, and Guelph University, studied at Atelier Gilbert Diabold, Paris, France, York University with incorporated Independent study in Tanzania E.A. Erin has been an instructor at the Ottawa school of Art since 1994 where she teaches all age groups including diploma drawing, portraiture, sculpture and painting. She has facilitated several workshops for Ottawa Carleton School Board, the Ottawa School of Dance, and the Museum of Civilization.
From the February 2010 Newsletter:
Live music in rink clubhouses:
After the grim news came that the Ward 18 recreation supervisor, Tino DeCastro, is to be removed from this area, it seemed like rink users need something to hearten them for the battle ahead. The call went out, to the many musicians who use the Ward 18 rinks: musicians, please come and jam at the rinks for an hour or two, neutralize the bad news with some good tunes! Within two days the following musicians signed on: Marie Perry and Emilyn Stam, Andrew Cash, David Buchbinder, Dave Bidini, Don Kerr, and Alex Lukashevsky, with more coming. If you're a musician and you want to help, get in touch: mail@cityrinks.ca. Or pass on a message via the rink staff. Some musicians will be jamming at Dufferin Rink, some at Wallace Rink, maybe even some at Campbell Rink. Look for them by the big signs that say: IF IT AIN'T BROKE, DON'T FIX IT!
Friday evening snow-lanterns:
On January 30, the coldest night of year (minus 19), Ontario College of Art and Design student Chris Parker brought some friends to the park to build snow lanterns, using the zamboni snow. The lanterns (lit with candles) looked magical and the lantern-builders survived. In fact, Chris wants to return to show others how to build the lanterns (not at minus 19, though). He says that after next Friday Night Supper, if there's snow, he's ready to work with kids or grownups to make more lanterns. Watch for posters at the rink and on the dufferinpark.ca website. There will be a campfire nearby, to warm up and drink hot chocolate.