News 2013
ANNUAL WINTER CRAFT FAIR SUNDAY DECEMBER 15, 11 am to 4 pm.
From organizer Heidrun Gabel-Koepff: "This season's winter craft fair at Dufferin Grove Park will be set up outside the rink building. There will be wonderful hand-made goods this year including woodworking, knitwear, bead work, teddy bears, ceramic bowls, print work, jewellery, book covers, scarves, hemp shopping bags, cosmetic products, cookies, teas and much more.
Local, non-professional crafters bringing great deals to you for the holiday season! There will be hot drinks and food available from the Zamboni Café."
From the August 2013 Newsletter:
Events in the park
Puppet Performance by Clay and Paper Theatre: "Our Last Best Hope" Wednesday to Sunday until Aug.18, 7 pm. Southeast corner of the park near Havelock Street.
Artistic Director David Anderson says that this year the youth employment program that funds the actors was not approved until four weeks before the opening. So making all the costumes and rehearsing was a real scramble,. But they opened on time. From Inside Toronto: "Anderson said he was inspired particularly by the Idle No More movement..... Co-written by Angela Loft, who is First Nations and a Clay and Paper alumnus, Our Last Best Hope opened July 25.... Even though the production tackles some heavy topics, such as the oil industry, Anderson calls it "a very dance-y piece filled with movement and fun."
BirthFire 2013
Friday, May 10th, 2013 7pm at the Main Campfire pit (center path)
This event is organized by Toronto Doula CARE, doulas supporting women and families throughbirth and after.
Birth is a powerful event in our lives. Sometimes it is magnificent, ecstatic and beautiful, but sometimes it doesn't go as we'd hoped, possibly leaving behind some very strong feelings.
Join us around a fire as we let go of all that is unhelpful or disappointing about birth – personal experiences, medical practices or cultural perspectives. Bring to the fire bad advice, upsetting circumstances, poor communication, fears and cultural attitudes towards birth. All messages and representative objects must be burnable, i.e. no plastic.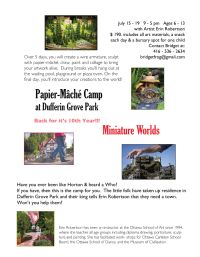 Papier-Mâché Camp at Dufferin Grove Park
Back for it's 10th Year!!!
Theme: Miniature Worlds July 15-19
Description:
Have you ever been like Horton & heard a Who? If you have, then this is the camp for you. The little folk have taken up residence in Dufferin Grove Park and their king tells Erin Robertson that they need a town.
Won't you help them?
Week Breakdown:
Over 5 days, you will create a wire armature, sculpt with papier-mâché, draw, paint and collage to bring your artwork alive. During breaks you'll hang out at the wading pool, playground or pizza oven. On the final day, you'll introduce your creations to the world! Details:
July 15 - 19 9 - 5 pm Ages 6 - 13
with Artist Erin Robertson
$ 190. includes all art materials, a snack each day & a bursary spot for one child
Contact Bridget at:
416 - 536 - 2634
bridgetfrog@gmail.com
Instructor:
Erin Robertson has been an instructor at the Ottawa School of Art since 1994, where she teaches all age groups including diploma drawing, portraiture, sculpture and painting. She has facilitated work- shops for Ottawa Carleton School Board, the Ottawa School of Dance, and the Museum of Civilization.
---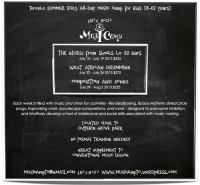 MUSICAMP for KIDS (8-12) 9am-4pm in a private studio close to Dufferin Grove Park (Bloor and Dufferin).
July 15-19 The Blues: From Shouts to 12 Bars 9am-4pm $225
July 22-26 West African Drumming 9am-4pm $275 (co-hosted by Anna Melnikoff and her orchestra of drums!)
July 29-Aug 2 Composition and Song 9am-4pm $225
Each week is filled with fun music activities (like beatboxing and other vocal percussion games, Bobby-McFerrin styled circle songs and an improvising choir, soundwalks and soundscape compositions, end of week performances, and other activities centred on the weekly themes) designed to overcome inhibition and develop a host of intellectual and social skills associated with music making.
We'll also have some crafts (instrument and mask making), backyard games, water fun, Pizza-making Wednesdays in DG and many other park possibilities.
Love of music is expected but formal training is not required. Neither is an instrument. Our intuitive approach to exploring sound, music, composition, the voice, and the weekly themes also functions as a great supplement to conventional music lessons.
Email me (Andrea Kuzmich) MusiCampTO@gmail.com, phone 647-836-4852 or visit MusicCampTo