We retain past notices for public review, to retain a memory of our park activities.
Arts Events in the Park
On this page:
February 2004
Jazz Trio Performs at the Park's Valentines Day Party, Feb 14.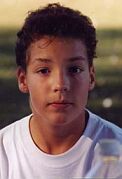 As people came into the rinkhouse on Saturday of the Valentine's day party, they heard jazz, and many said they expected to see "a bunch of old geezers" -- seasoned musicians -- playing the music they heard. Instead, as they rounded the corner in the changeroom, they saw the KAN Jazz Trio, three 13 year old boys. Karl Bechmann (piano),

Alex Toth (electric bass), and Nic Armour (drums) entertained us for much of the afternoon with some classics: Satin Doll and You Dont get Around Much Anymore'' by Duke Ellington, and Stormy Weather made famous by Lena Horne, for example. They played some of their own compositions too.
Many people sat and enjoyed the music, while resting and eating after skating. Some little ones were seen dancing. The band even got some donations in their money bucket from generous onlookers!
In between sets, they had a great time skating.
March 2004
Drums in the Park, March 21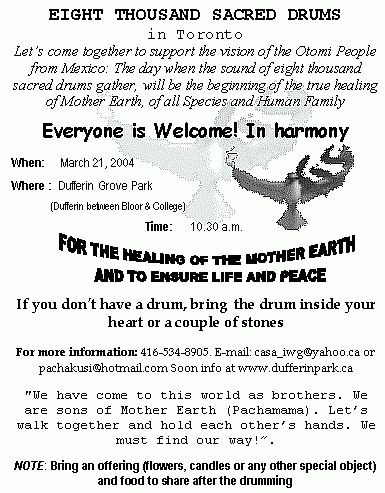 As a Prophecy revealed at the Otomi Ceremonial Centre by the wise Otomi elders to the indigenous peoples and to all of humanity; as a Vision of our Venerable Ancesters, the day when the sound of eight thousand sacred drums gather, will be the beginning of the true healing of Mother Earth, of all Species and Human Family - today totally imbalanced; to be able to co-exist on the way to Sacred Peace, in harmonic connection with the Universe, Mother Nature, Community, Family and our own Heart. It is time to reunite and re-encounter ourselves, the Seeds of the Four Directions, in order to re-activate the cosmic energy, heal historic wounds, heal our Mother Earth, respecting the life, the freedom and the dignity our Peoples...
For more information on the Otomi culture you can look over http://www.redindigena.net/conao And about the sacred drums and the Indigenous University, please visit http://www.universidadindigena.org.
Email:mailto:casa_iwg@yahoo.ca or mailto:pachakusi@hotmail.com
Sunday March 21: Otomi People 8000 Drums Ceremony.
At the fire circle just south of the basketball court. A new park friend, Maria Elena Casa, came to the park to book a spot for her group's contribution to a world-wide indigenous-peoples ceremony at 12 noon on the first day of spring. The call to do this ceremony was issued by the Otomi people in Mexico, and it involves fire and drumming. Various indigenous people will be coming to our park to drum for about one hour in the fire circle. Maria Elena emphasized that anyone is welcome to join in. She says, bring a drum if you have one - or if you don't have a drum, you should bring two stones or just "the drum of your heart." The fire will be started at 10.30 a.m. and the drumming will begin just before noon. There is a potluck afterwards, using the zamboni kitchen.
Sunday March 21, 8 p.m.: the broadcast of Cavan Young's short film about our zamboni and the visit from the inspectors, on CBC's Newsworld.
The film is called Citizen Z. This little 10-minute film turned out very well, with lots of fun around the puppets and wonderful shots of the zamboni. Parents and grandparents and friends of little kids: put on a tape and record this, if the kids in your life like to watch the zamboni at the rink. They can add the video to their big-earth-movers collection. And you can send it to your relatives in far-away countries, to show them how truly peculiar your neighborhood is.
Citizen Z will be broadcast together with three other short films in a series called "Democracy." The other films are equally lively, even gripping. This will be a very good evening of television. And if you miss it, we'll have a public showing of Cavan's segment in the park in May, hopefully accompanied by a live performance by Larry Lewis and friends, of the song Larry composed for the film, called "Ice resurfacer" (a term that works wonderfully with a Cuban beat).
Citizen Z
A film now named Citizen Z was made about Dufferin Grove and its friends (us!) recently (February 2004). It was shown on CBC Newslworld on March 21 8:00pm.
How Citizen Z Was Made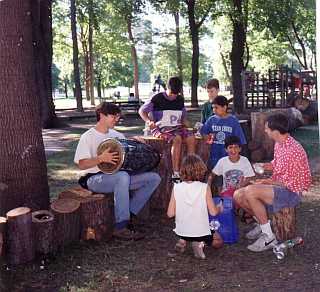 From Cavan Young, the maker of the film:
I'm a friend of Dufferin Grove Park. I play hand drums in the park during the warm weather and enjoy walking through it all year round. I've been in the community for 12 years, back before the bake ovens were built, when Isabel was cooking her campfire tortillas next to the wading pool. I organized Music in the Park over four summers in Dufferin Grove Park, I also acted and played music in Clay and Paper's production of the Ballad of Garrison Creek.

I got the opportunity in January 2004 to submit a proposal to the National Film Board for their Momentum program. The proposal was for a 10 minute documentary on "Democracy-Citizen's Engagement". The issue of the inspectors coming to Dufferin Grove Park on the eve of Christmas and recommending the removal of the puppets and the kitchen was just taking place. All the activities that had been developed and supported over the years including the bread baking and Night of Dread were being threatened. Having watched the community grow in Dufferin Grove Park over the last 10 years I knew it was a relevant story to tell. Active and engaged citizens meet the Rules ('yet again' could be the subtitle). David Anderson and Clay and Paper had created a performance of the puppet expulsion during Puppets on Ice 2, where the pretend inspector played by John Slavik removed the puppets from the children and fed the puppets to a chomping cardboard Zamboni. The premise being that the Zamboni was scared of puppets hanging overhead and was seeking revenge or at least solitude. All this I included in my proposal.

The proposal was selected with three others '''out of 70 total submissions'''. Then I had a week to make it all happen. We were being given 3 days of shooting, then straight into editing. David Anderson and I developed a vague outline of a renaming ceremony for the Zamboni on Valentine's Day to welcome the Zamboni into the community and show that the community has a heart that is big enough to include it. The machine would meet the god puppet from Lilith Unfair and learn it's true nature - to serve the community. Larry Lewis agreed to write an Ice Resurfacer Song and now the challenge was to get it all on tape. Including the unique spirit of Dufferin Grove Park, the bake ovens, farmers market and the friends of the park.

We filmed on two Thursday's and Saturday February 14th. We got a great shot of the park from the roof of Dufferin Park Apartments thanks to superintendent Bruce Mckerracher. What a view! With the complete cooperation of Toronto Parks and Recreation's Brian Green and the Zamboni drivers we got some great shots of the machine in action. Don Boyle was very generous in giving us an interview right in the middle of dealing with the Withrow Park crisis. David Anderson was incredibly flexible with his time right in the middle of grant writing season as he is, and Jutta helped clarify elements of the story that were missing. Daniel Malloy did a great job chopping wood in multiple takes. The NFB crew fell in love with the park and enjoyed shopping at the market on both Thursdays. Gerry Flahive, the producer, said the place reminded him of Montreal, which I took as a compliment......

Over all we did what any film crew is designed to do. We got in the way of the market. We held up the puppet show that Kate and Leah's Theatre company was putting on and generally pissed people off. The editing process has just finished. A lot of great visuals and contextual material was cut but it was all done with the best of intentions. One of the overall goals was that people in Nova Scotia, Nunavut or Nanaimo be able to follow the basic story, it is the National Film Board after all.

I've discovered that 10 minutes is too short to describe a complex story so don't expect it to go deep, but one of the first encouraging comments I heard was from the executive producer at the NFB, Silva Basmajian. 'It's good. It's good!' She said. 'It just needs a beginning, middle and end and then it's going to be really good.' After we had gotten on a little bit further she said: 'Oh, so you've got 3 endings!' and indeed I did. But it was useful to have people who didn't know the park critiquing the story:'There's a kitchen where?' 'The puppets are how big?' 'They use the Zamboni room for What?' It's all done now, I hope you like it and it expands on the continuing history and mythology of our park.

The Lawyers wouldn't let us use the title Citizen Zamboni because Zamboni might get upset. Citizen Zed couldn't be used because ZED tv which is on CBC has a copyright on the letter ZED. So we're calling it Citizen Z. It makes it more friendly to the North American Market. Americans can call it Citizen ZEE and Canadians.... well you get the idea.

It will premiere along with the three other pieces at the Lafontaine-Baldwin lectures this coming Saturday March 13 at the Royal Ontario Museum. Then all four will screen on Sunday March 21 on CBC Newsworld. The time slots have yet to be confirmed.

Gerry Flahive is hoping that "The Ice Resurfacer Song" will be performed at the ACC with a full salsa band and Copa-cabana ice show, during this year's play offs when the Maple Leafs win the Stanley Cup. But I go too far.

By the way there are supposed to be two times for the broadcast Sunday March 21 on CBC Newsworld and neither one has been confirmed but that should happen this week.

cavan.
May 2004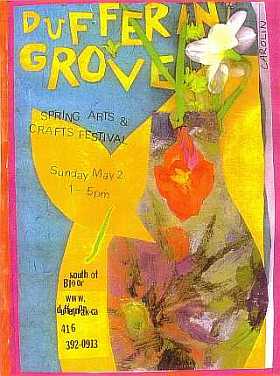 This is maybe a "first annual" festival of excellent arts and crafts, including pottery, fabrics, sculpture, and some of the jewellery makers that have been at the farmers' market "first Thursdays." The soap makers and ointment makers will be there too. This is organized by park friend Carolin Taron, who says it will be a beautiful day with good food and music as well. In the park outside the rink house (where the tasting fair was last fall), or inside the rink house if it rains. For more information, call the park at 416 392-0913. For more information, and some sample photos:
Musical Jam Sessions In The Rink House, Fridays 8:00, starting May 21
Hello fellow musicians,

I am happy to announce the beginning of Dufferin Grove Park Open Jam Session. It is to begin on Friday, May 21, 2004. Starting at 8pm. It is going to take place at the park lodge, located at the Northwest corner of the park, beside the skating rink. Parking at the base of Gladstone or across the street at Dufferin Mall.

The jam session will take place once a week, every Friday, starting at approximately 8pm and finishing whenever.

The sessions will be either acoustic or low level amplification. No need for a drum kit, an in-house 8 piece drum kit will be provided by me.

All skill levels welcome, from amateur to professional.
Any type of instrument is acceptable. - Hey Eric, "pass the washboard."
All genre's of music; blues, rock, jazz, funk, bluegrass, country, punk, folk, classical, Etc.

Everyone is welcome, especially participants. Hope to see you there. - Anthony Smith.
For information, contact Anthony at surveyti@interlog.com
June 2004
Three Funny Hats, Sun. June 13, 11:00am
Look for the Green and Purple Dome on Sunday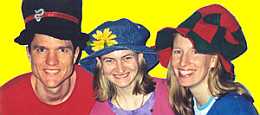 A magic carpet ride of storytelling & songs for all ages "especially good for those 3 - 100".
At the Dufferin Grove Park 11:00am - noon. Tickets $5 at the door. (In case of rain: Village Café - 962 Bloor Street West at Dovercourt).
From their website: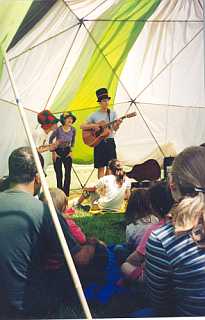 Three Funny Hats are Kimberly Way, James & Kathy Patterson, a storytelling and musical trio who perform educational and entertaining shows for all ages. The program includes many original stories & songs as well as favourite fables, parables, and folk songs from around the world.

Three Funny Hats love what they do. Their performances sparkle with enthusiasm, charisma and a spontaneous fun-loving camaraderie. Children in the audience are invited to participate, dance and play throughout the show and are sometimes spontaneously welcomed to become one of the characters in a song or story.

Three Funny Hats aim to produce music and stories that are like vitamins, offering 'entertainment nutrition' to little and big minds alike. They tell of nature and discovering the seasons, value and respect all for life. Three Funny Hats recognize the sensitivity, intelligence and curiosity of young people. These qualities are animated in the content of their materials and given special focus during their performances for young audiences. Their performance presence is warm and beckons young and old alike to enter a golden world of tales and song.
Read more at http://www.threefunnyhats.com.
Kids' floorcloth-painting workshop Sat June 19 1-5
Artists Jeannie Soley and Gillian Tremain will be holding a kids' floorcloth-painting workshop at the rink house, Saturday June 19 from 1 - 5 p.m. We'll take 12 kids max., anywhere from 6 to 12 years old, cost will be $25.00 plus a $15.00 materials fee, with payment in full by cheque or cash the day of the class.
The children will learn how to prime a piece of artist's canvas; we'll then discuss various aspects of surface design ( textiles), and the kids will create their own "floor art" using acrylic paints. Wear something you don't mind getting covered in non-washable paint !! We'll provide juice and cookies halfway through the afternoon, and hopefully we'll be able to work outdoors on the grass.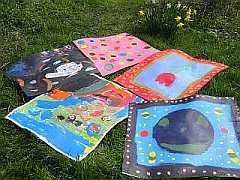 To register please e-mail Gillian at : gabhangi.ca.inter.net or call 416-532-0773 and leave a message. Class may be cancelled if there are fewer than 10 kids interested.
Sacred Drums Ceremony Monday June 21, 2004
INTI RAYMI

We celebrate the festivity to

Father SUN or TATA INTI

IT IS THE NEW ANDEAN YEAR!

Date: Monday June 21, 2004

Time: 5:30 to 8 a.m. (we will await the first sun rays)

Place: Dufferin Grove Park (across from Dufferin Mall)

INTI RAYMI, the SUN Festivity, the Inca New Year

The cosmic agricultural calendar of our INDIGENOUS ancestors is represented by the CHAKANA (Southern Cross), the Inti Raymi, is an extract of a long process of observation and study of cosmic laws, its philosophy is rooted in nature and nature itself is linked to time and space where men and women are the dynamic nucleous to maintain the harmonic balance of the trilogy of "PACHAS" (spiritual, physical and cosmic world).

The ceremony is an encounter with the heart of the earth, our heart whose energy is produced by the rays of the sun to fuse with the sound of our drum in order to achieve harmony and healing for life and its reproduction.

INTY RAYMI, ENCOUNTER OF MAN/WOMAN WITH NATURE - everyone is invited, bring your drum and invite your friends.
For more information: pachakusi@hotmail.com or phone: 416-534-8905
---
The Cooking Fire Theatre Festival
a New Festival of Outdoor Performance
in Dufferin Grove Park
Thu-Sun June 24-27 Read More
---
The Cooking Fire Theatre Festival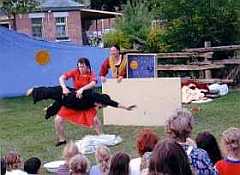 The Cooking Fire Theatre Festival is a week-long outdoor performance extravaganza produced by The Cooking Fire Committee, a group of local artists with long standing ties to Dufferin Grove Park. In the last week of June, companies from Toronto, Halifax and New York City will perform plays for children and adults, offering work that combines storytelling, puppetry, singing and clowning.

The performances range from a show performed in a tree, political satire, retellings of old folktales, a new take on Victorian melodrama, and a very tiny piece about religious tolerance in medieval Europe. Soup and bread will be served to the audience as well, and you can come for a short play and a meal, or stay for the whole evening and watch big and little shows happening all over the park. An event bringing together interesting companies from different parts of North America, The Cooking Fire Theatre Festival will blend humour, seriousness, inventiveness and delight, adding a new chapter to theatre in Dufferin Park.
Dusk Dances, June 29 - July 4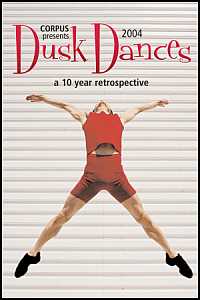 Featured in the Dufferin Grove Park program will be the Toronto premiere of Julia Aplin's Nice Cuppa Tea, a work created for Company Blonde for Ottawa's Dusk Dances in 2002; Ayelen Liberona's exquisite 2002 aerial work, Falling; Danny Grossman Dance Company performing Grossman's classic work, Bella; Victor Quijada's Montreal hip hop sensation, Rubberbandance Group, returning with Mi Verano, the hit of last year's event; and an intergrated modern dance commission for Spirit Synott, a dancer who uses a wheelchair, and Perry Augustine by choreographer Rachel Gorman.
Dusk Dances:

DUSK DANCES is a unique summer festival that brings contemporary and traditional dance to popular downtown public parks. At sunset, neighborhood residents gather to experience the best of Canadian dance, ranging from classical ballet to raging flamenco and bold modern dance. As dusk descends, a theatrical host leads the audience - dog walkers, local residents and those who have travelled across the city to catch the event - to five eclectic dance pieces that unfold in different areas of the park. Offered to audiences on a pay-what-you-can basis, DUSK DANCES is an accessible and entertaining way to spend a summer evening.

From their website http://www.corpus.ca/english/corpusbody5.html
July 2004
CLAY AND PAPER THEATRE PRESENTS: LILITH, THE TRUE STORY OF THE FIRST WIFE OF ADAM.
Opens at our park on July 16, 17 and 18 at 7.30 p.m. This show is a re-mounting of what Clay and Paper call their "most extravagant show ever," and indeed, the glowing giant puppets for that show, performing under brilliant lights in the grove just north of the baseball diamond two years ago, were unforgettable. There are some new puppets and the show has new material, but the Lilith puppet and the "God Giants" will also be back. Park friends will remember that these puppets were expelled from the rink house by order of the health and safety inspectors on December 18 last year. Now they've returned, and are rehearsing every day beside the field house. (Feel free to watch!)
After the first three performances here at our park, the show will tour other west end parks:
Alexandra Park at Dundas and Bathurst, July 23 to 25.
Grange Park, just south of the art gallery, from July 30 to August 1.
Trinity-Bellwoods from August 6 to 8.
Centre Island from August 13 to 15. Then back to our park again from August 20 to 22.
When the show is on at our park, there will be a bake-oven supper every night as there was during the previous theatre and dance performances at the end of June. And then when the show travels to other parks, we just might follow it with the bake-oven food cart (it has a special bicycle hook-up), to accompany the puppets with some bread and other tasty things. David Anderson, the director of Clay and Paper and Lilith, is the person who first suggested combining a play with a park dinner. That was a wonderful idea, and we may try to honour the work of Clay and Paper by moving a little of the oven food along with the show. For more information about Lilith: the true story of Adam's first wife, go to
August
SUNDAY AUGUST 15 8 P.M.: BENEFIT PERFORMANCE
Some of the park staff or former staff are also in theatre. Current staff Dalal Badr and former staff Lea Ambros and Kyle Cameron are performing in The Counterfeit Marquise at this year's Summerworks Festival. They have arranged to put on one park performance at the end of the festival, pay what you can (all proceeds to the park). This is a new version of a shadow-puppet play with music and narration. Its language is poetical and philosophical but despite (or even because of) this, the children at the Summerworks matinee performance at Theatre Passe Murreille looked spellbound for every moment of the 40-minute show. A wonderful chance, too, to see Dalal Badr perform while she's still unknown (she just graduated from the National Theatre School in Montreal). In years to come, we can say we knew a great actress when she worked at the food cart and Friday Night Supper. Performance near the Field House at 8 p.m., with torchlight. Inside the rink house if it rains.
posted posted August 12, 2004
THE POTTERS ARE BACK: August 16,17,18
Every few years, potter David Windle, a long-time friend of the park, sets up a portable kiln in the open air at Dufferin Grove Park and makes raku pottery with his friend Judi Gillies (and other potter friends). It's very interesting to watch, and David is a wonderful explainer as they're all working. He says that "raku" - a Japanese style of glazing and firing pots that makes them look darkly iridescent - means "happiness." This year they'll be at the park, near the rink, from 11 a.m. to 5 p.m. on Monday August 16, Tuesday August 17, and Wednesday August 18. For more information you can call David at 416 461-8425 or Judi at 416 537-6872; or just come out and see what they're doing (and if you like this way of making pots, you can sign up for their next "raku happiness" event).
LILITH RETURNS TO THE PARK: AUGUST 20,21,22
posted August 12, 2004
The park's resident giant puppet theatre company, Clay and Paper Theatre, has been performing this year's play "Lilith: the True Story of the First Wife of Adam" in different parks all over the city this summer. To end their run, they're returning for three more performances in Dufferin Grove Park. Performances start at 7.30; food is available at the park bake oven from 6.45 (Friday night supper is at 6.30 on Aug. 20).
Lilith incorporates some of the company's huge, magnificent puppets from previous productions and some new puppets as well. There is lots of original music, and the lights in the trees make the colours of the puppets glow.
September
Annual Morris Dancers' "Ale", Sept 5
Organized, as usual, by John Parkinson. Morris dancers date back from farm labourers' resistance to early industrial conditions in Great Britain in the eighteenth century. The dancers often wear bells strapped to their legs; some are in blackface (this refers to a miners' disguise, not an attempt to change race); some dance with swords. It's very energetic, and exhilarating to watch. Groups from other parts of Ontario, NY State, sometimes even Britain, have been coming to this park for years on the Sunday of Labour Day weekend. The groups dance for one another to show off their latest dances, and eat fresh bread and chutney, and make pizza and drink ale. The jets from the CNE air show always thunder overhead. The "Ale" is not a public event per se, but they welcome anyone who comes over to watch, and they often share their food.
Seventh Annual Native Child and Family Pow Wow "Honouring our Youth" Sept. 25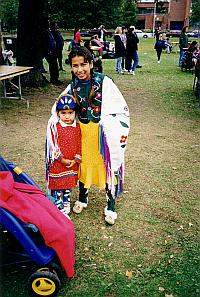 Saturday Sept.25 at sunrise, then noon to 5 p.m., SEVENTH ANNUAL NATIVE CHILD AND FAMILY POW WOW "HONOURING OUR YOUTH." Organized by Steve Teekens. This pow wow begins at sunrise in the main park fire circle. All are welcome. This year the sunrise ceremony will be led by Alex Jacobs, an Ojibway originally from Matagami First Nation. Steve describes him as "a respected elder who has a wealth of knowledge in Native Culture." At 12 noon there is the grand entry of elders and dancers. The host drums are the Red Spirit Singers and Eagle Heart Singers, both groups from Toronto. There will be interesting children's crafts and storytelling, buffalo burgers and tacos, the giant teepees, and all the usual exciting hubbub. This year the playground will have extra supervision and the shovels and tap will be removed from the sand pit, because of the crowds of children using the playground (taking a break from the dancing).
Second Annual "Dufferin Groove" Shinny Hockey Players' Concert, Sept 26
Sunday Sept.26 11 a.m. to 10 pm. SECOND ANNUAL "DUFFERIN GROOVE" SHINNY HOCKEY PLAYERS' CONCERT. - "Dufferin Groove" is the name of the confederation of Dufferin Rink shinny hockey players who belong to eight (or more) different bands. They will be playing, with pauses, down in the hollow by Dufferin Street, with the amps facing into the hill to swallow the sound, away from the neighborhood. The concert is for fun and to benefit the park - proceeds from food sold to hungry musicians and their friends/audience will all go back to the park.
Three Funny Hats are back, Sunday Sept 26, 11am-noon
Hello Friends!

We are very happy to say that there will be a Three Funny Hats show in Dufferin Grove Park on Sunday September 26th at 11am-noon! Admission is $5 each to our magic storytelling tent- Just look for that green & purple dome.

It feels like ages since we've seen you all and we'd love to see you there!

It'll be a lively roller coaster of music and stories for all ages, with new energy and old favorites too.

Spead the word, 'cause it might be the last warm day for an outdoor show! Let's hope for sun.. there's no back up location this time, and the tent is not water proof...

With warm greetings from all of us,
Kathy, James & Kimberly>

Three Funny Hats for details call: 416-652-8069
October 2004
Mask, Puppet and Costume Making, Daily Until Hallowe'en
Night of Dread Parade" mask, puppet, and costume making. From 1:00pm on, in or in front of the rink house, they teach you, everyone welcome.
Night of Dread Parade, Saturday October 30, 5:45pm

This is the month of the community parade, the parade everyone can be in if they wear a costume (black and white encouraged). David Anderson, the director of Clay and paper Theatre, has this to say about the parade:
OUR DEVILS, YOUR DEVILS, THEIR DEVILS, DAREDEVILS! In response to a world filled with fear and doubt, Clay and Paper Theatre presents the fifth annual NIGHT OF DREAD. Preparation for the event begins with an ongoing series of weekend workshops where the general public is invited to help create stunning masks, gigantic puppets and costumes or learn to perform with them. This revelry culminates in a night of pageantry, masquerade and music featuring towering puppet images, stilt walkers and theatrical ritual designed to let people imagine their darkest fears and banish them.
Incorporating international folk and theatrical traditions, and timed to coincide with the dates of many festivals of death and remembrance around the world, the NIGHT OF DREAD includes a fantastical community masked parade through the Dufferin/Bloor/College Street neighbourhood. The procession returns to Dufferin Grove Park for an evening of ceremonial festivities that express our personal and individual fears, then ritually purge them."

The workshops for mask-making and puppet-making leading up to the parade are every Thursday from 3 to 7 p.m. and Saturdays and Sundays from 1 to 5 at the rink house. Last year some little shrines, memorializing friends or ancestors, were added to the parade and then set on the candle-lit hillside for the rituals that followed. Organizer Leah Houston says that this year there will be two bigger shrines as well, one for cyclists who have died in accidents, and one for lost stories. She says that people who have mementos they want to add to these shrines should come to the rink house and add them, on one of the weekends preceding the parade.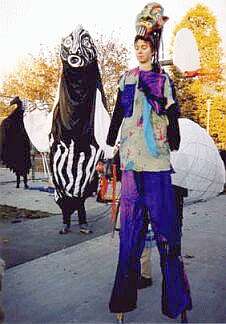 For people who want to wear the special Night of Dread puppets or walk on stilts, turn up at Dufferin Grove Park any time after 2 p.m. on the parade day - don't be too late, because the whole scene gets a bit hectic later. If you get hungry, the park cooks will have cheap and very delicious food for sale from 3 p.m. until the end of the festivities. There will also be Pan de Muerte (bone-shaped bread of the dead, made with anise and coloured sugar) and the customary Portuguese-style roast piglet. The bonfire will be bright and warm, the music will be energetic, and our fears - we hope - will be shooed away by all the hubbub, at least for one memorable night. The bands will be set to lead the procession out of the park at 5.45 sharp. The parade route will be a bit shorter this year (by popular request).
See http://www.clayandpapertheatre.org/
December 2004
GIFTS FOR SALE, SUNDAY DECEMBER 12 AT THE RINK HOUSE, 10 a.m. - 4 p.m.
There will be an arts and crafts show at the park again this year, with fine offerings by some local artists, on Sunday December 12 inside the rink house. We'll also have calendars and daybooks on sale at the Zamboni snack bar for all of December.

The calendar is the Toronto Parks and Trees Foundation desk calendar "Toronto Tree Portraits." These wonderful old-tree portraits are the work of the eminent photographer Geoffrey James (who lives in our neighbourhood). Leslie Coates, a long-time friend of the park, who runs the Parks and Trees Foundation, donated a book of Mr.James' photographs for the rink house bookshelf, including many photos from parks in other parts of the world - have a look, they're filled with light. The desk calendar costs $15, and all proceeds go to city-park-related projects (three years ago we got a grant from them to start our current web site).

The daybook we're selling is the "Women's Daybook", published by Sumach Press, and put together by Judy Whalen and park friend Liz Martin. (Liz organizes the Havelock and neighbourhood street festival every year.) This popular daybook is one of the best-laid-out daybooks available anywhere - many of us who work at the park wouldn't ever use a different one. It costs $15, of which $5 goes to the park.