News 2011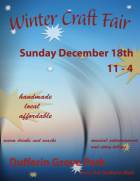 ANNUAL WINTER CRAFT FAIR
SUNDAY DECEMBER 18, 11 am to 4 pm.
From organizer Heidrun Gabel-Koepff: You are cordially invited to the season's winter craft fair at Dufferin Grove Park Sunday Dec 18th. Local, non-professional crafters bringing great deals to you for the holiday season! We will have wonderful hand-made goods like necklaces, jewelry, scarves, teddy bears, dream-catchers, knitwear, ceramic bowls and tiles, print work, hemp shopping bags, bath and body products, life music, story-telling and much more.
The Zamboni Café will offer great, healthy food and hot drinks.
Hope to see you there.
From the Summer 2011 Newsletter:
Sunday June 19, 2 to 5 pm, ninth annual Day of Delight
From David Anderson of Clay and Paper Theatre: Our ninth annual celebration of love, courtship and desire. Bring someone you love, for an afternoon of theatre, music, dance, installation and participatory works including: Cardbodia, our beloved cardboard village, aerial dance, Punch and Judy's puppet kissing booth, stilt dancing, storytelling, anonymous love letters to strangers, a stag n' doe can-can, country love songs, and a musical bicycle parade – complete with giant puppets – that will deliver you to our very special Day of Delight wedding.
Participating artists include: Lisa Marie DiLiberto, CYCLOPS Cycling Oriented Bicycle Squad, Sage Tyrtle, The Upside Down Ladies, Circus Alchemy, The Ismailova Theatre of Dance, Clare Samuel, Members of Parahumans Dance Theatre, Shannon Roszell, The Saucy Tarts, Martin Helmut Reis, Blackcurrant Productions, Kristina Esposito, Richard Underhill, Honey and Blair, and more! Pay-what-you-can, $10 suggested.
Papier-Mâché Art Camp at Dufferin Grove Park
Papier-Mâché Art Camp at Dufferin Grove Park with Artist Erin Robertson 9 - 5 pm $175. per session includes all art materials & one snack a day provided & one bursary spot per session

July 18 – 22, 2010 (Ages 6 – 11) –
Theme: Helmets & Hairspray
Have you ever dreamed of a 10 storey high beehive hairdo or a vulture-proof helmet? This is the time to invent it! Use papier-mâché to express your inner style while protecting your most prized possession, your brain! Put your head in the trusted hands of Erin Robertson, the queen of style, and safety.

July 25 – 29, 2010 (Ages 8 – 13)
Theme: Dog Show
Have you ever wondered what different types of dogs there COULD be? Over the course of one week this summer, you will train invisible dogs and then create your very own breed. Here's your chance to customize your canine with the one and only papier-mâché dog trainer, Erin Robertson.