News 2012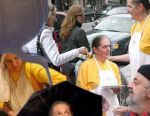 Performance: FOOD=NEED, November 1st, 2012,2 to 5 pm
(in the garden near the market, by the rink-side campfire site)
From the artists: Food is a basic human need. It shapes desires and obsessions and yields many kinds of enjoyment and pain. One can explore food from diverse perspectives, seeing it both as an object produced and consumed and also as a symbol of our human relations. The diversity of what we eat (and don't eat) and of how food is produced and shared shapes cultures, communities, and nations.
---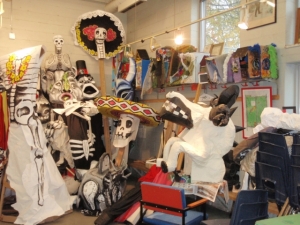 Thirteenth annual NIGHT OF DREAD
Saturday October 27, 2012
Assemble 4pm, by the campfire at the basketball court .
Parade leaves the park at 6pm, returns to the park an hour later, for more performance, spectacle, and good food.
---
From the August 2012 Newsletter:
Park event in August:
''A History of Forgetting. Clay and Paper Theatre. August 3rd to August 26th, 2012'. Outdoors at Dufferin Grove Park, Wednesday, Thursdays & Fridays at 7:00 PM, Saturdays & Sundays at 2:00 PM and 7:00 PM.
From director David Anderson: "Explore long discarded histories, forgotten people and, of course, lost love. With a baby as narrator (I'm a clean slate!), this Surrealist inspired journey embraces the omitted, the erased, the lost. A giant pair of blue hands, a seven foot tall face, melting clocks, a dancing key, the cave paintings of Lascaux and a slew of literary and historical characters parade across time and space and the green expanse of Dufferin Grove. What will you remember? What might you find? What will The History of Forgetting unlock for you?"