< March 29-2007 | Notes Library | April 12-2007 >
Weekly Market Notes for April 5, 2007
Hello Market Friends:
We're going to have a wonderful, weather-defying market this week so bring along your bags and backpacks and load up with fresh food to share with friends and family. Check out some great Ontario highlights:
From Jonathan Forbes:
"I'm coming with No. 1 Med organic Maple Syrup in 250ml and 1 liter sizes. I'll also have lots of dried mushrooms, wild fruits and veggies."
From Plan B:
"This week will be our first for local fresh garlic shoots, lots of local salad mix, watercress, basil, cilantro, arugula, boston lettuce, red russian kale, mizuna as well as rutabagas, parsnips, cabbage and shiitake mushrooms. I should have lots of my own salad mix within four weeks, and possibly a bit sooner. We will also have good availability on green garlic but if chefs are asking we need them to preorder so we don't short the regulars. Otherwise, hundreds of thousands of seedlings are germinated and doing well. All of our unheated greenhouses are germinated as well with spinach and lots of different greens for a good supply of local soil grown salad mix. Cheers to you!" Alvaro
From Greenfields:
"We are excited to have a large variety of local produce this week, especially considering the time of year. Yesterday, Mark managed to dig up enough JERUSALEM ARTICHOKES (aka Sunchokes) for the week. You can expect them freshly dug from our fields for the next few weeks. Local greenhouse grown SPRING MIX will be there as usual along with beautiful bunches of RED RUSSIAN KALE, PAC CHOI, MIZUNA, YUKINA and KOMATSUNA all local from John's greenhouse. Also just in this week is local loose baby SPINACH, it looks great and we managed to get a large quantity. Hydroponic CILANTRO, RED CABBAGE, PARSNIPS and SHIITAKE MUSHROOMS round out this week's local selection.

Sweet ripe MANGOs are on sale this week, Red Peppers are a bargain as well, new Ginger just arrived along with the regular display. See you at market."
From Natasha & Andrew Akiwenzie:
"We won't be able to make it this week. The wind and weather has made us take our net out of the water. We are going to take the time to fix some of the nets the ice damaged a couple of weeks ago. Good news though about the ice. It has moved out of Colpoy's Bay and hopefully melted where ever it went to. We should be there next Thursday. Have a good Easter and enjoy the long weekend."
From Jessie Sosnicki:
Ben will have potatoes and lots of my perogies this week at market! Happy Easter to everyone! While I'm busy seeding, transplanting and watering, Ben is busy fixing 'greenhouse glass' this time of year on the farm!! Our old greenhouses are no spring chickens! Sincerely, Jess & Ben.
If you haven't got your tomato seeds from Colette or Angelos yet, this picture of the huge "seedlings" in the Sosnickis' greenhouse will make you want to hop to it: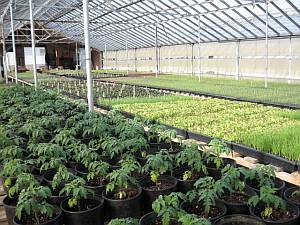 See you at the market!
Anne
Dufferin Grove Organic Farmers' Market
Thursdays, 3-7 p.m. year-round
www.dufferinpark.ca