< January 29-2009 | Notes Library | February 12-2009 >
Weekly Market Notes for February 05, 2009
Hello Market Friends:
It's February, and thoughts may turn to romance, but before we get to the (very romantic!) market news, I'd like to ask you to put a different spin on valentines:
Please join in: The Canadian Biotechnology Action Network is trying to stop genetically-engineered sugar beets from being accepted for processing (for the first time) at Lantic Sugar, and they've made it a very sweet, valentine themed campaign. If the rinkhouse were a little roomier, we'd set up the paper doilies, sparkly glitter and glue, but given our space constraints, we'll just have some samples, and ask you to visit cban's website to send your very own valentine messages to Lantic. There's lots of information there to help you learn about what's happening (and why GMO sugar beets are a bad idea) and this issue is at a point where your voices could really make a difference.
Now, back to our regularly scheduled, lovely news: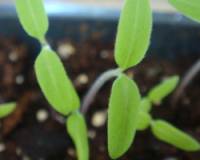 From the Sosnickis: "Despite what that groundhog has to say, we are plugging along in anticipation for the new growing season! Decided to share a picture this week of one of our new tomato seedlings. We will be firing the greenhouses within the next few weeks. The new season is upon us! Ben will be coming with the storage crops and all the food as usual." Jessie.
"Lots of fresh and healthy produce at the Greenfields table this week. Local veggies available are Red Beets, Carrots, Red Onion, Parsnips, Potato, Winter Squash and Greenfields grown Celeriac and Sunchokes. Also here for your culinary enjoyment are Broccoli, Cauliflower, Celery, Red Chard, Cilantro, Ginger, Black & Green Kale, Red Leaf and Romaine Lettuce, Parsley, Red Peppers, Spincah and Yams. A nice selection of fruit: Ambrosia Apples, Avocado, Grapefruit, Lemons, very nice Navel Oranges and Anjou Pears. Come on out!!" Mark
"Urban Harvest will be back after a month of packing all the wonderful new, rare and old favourite seeds for this year. We will have some body care too, to protect your precious skin from this fierce winter. Happy Brigid's Day. Looking forward to being back!" Colette
Beretta Farms has specials on turkey franks, nitrate-free spicy beef sausage, and grass-only NY striploin steak. Hooray for February! Lindsey
From Deer Valley: "We are in the process of replacing the transmission on the van, and it may not be ready in time to make it to the market this week." Irene
Over her years of work at Dufferin Grove, Anna Bekerman has come up with some mighty fine things to do with market food. For last week's Friday night supper, she made a delicious tajine (with lamb from Best Baa and market root veggies), and heavenly apple-cloudberry pie. Definitely worth dusting off your skates if you haven't been in a while! It's a little different every week, and there's always a vegetarian menu, too.
See you at the market!
Anne Freeman