Hey, this is kinda funny, as even though these are just a week and a day old, the fields have changed like you would NOT believe. I swear not, the potatoes are TWICE as big now!!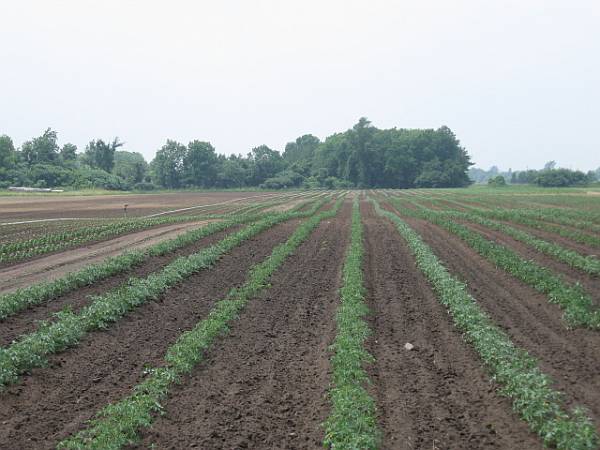 Our tomato patch last week. You can tell the different varieties from the colour and texture of the foliage.....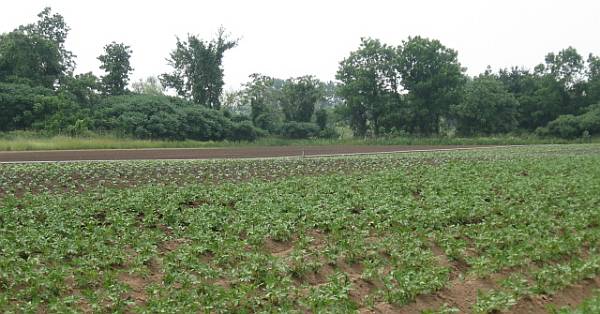 Our potatoes LAST WEEK! They have grown a foot since then I swear! I will send another pic!! Lots of irrigation and this heat!!! Zucs, Cus and Melons in the background. We will be harvesting the first of the cucs NEXT WEEK!!! Holy heat, LOTS of irrigation, things are booming! Great tomato/pepper/cuc fields let me tell you!!!
Ben will be there tomorrow with the last of our lettuce AND peas!! Fast done, I know, blame the heat. We are babying our big crops right now.......Get ready for a bumper harvest of the good favs: tomatoes (roma, slicing, TONS of heirlooms, peppers, sweet corn, onions, potatoes (Ben dug some today for his supper!!!! Just one plant bearing a few bit size pieces for his first tasting!!!
- Jess