< June 7-2007 | Notes Library | June 21-2007 >
Weekly Market Notes for June 14, 2007
Strawberries are here!!!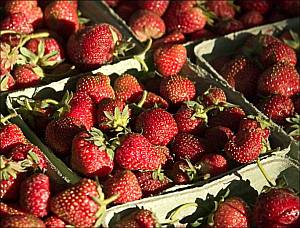 photo by Laura Berman
Hello Market Friends:
Ted was out in the field when I called, but I could hear his answer: "YES,LOTS". My question, of course, was whether he'd be bringing strawberries. Get out your best jam jars, the shortcake recipes, whatever you need, the time is here at last! They'll be coming from Greenfields, too:
"Our field crew presses on in the sticky summer sun. Wheel hoes, Stir-up hoes, Beam hoes and the most important tool of all, our Hands are in constant use as the crops begin to take off. Lots of fresh picked produce coming from our fields; our first harvest of Strawberries will be a sought after item. Broccoli will make its first appearance, Kohlrabi is a stunning display of colour (try sauteing the greens, really nice!) Radishes are perfect for salads. Here come the Greens; Red & Rainbow Chard, Black & Green Kale are still tender enough to have raw in your salad. Beautiful bunches of Spinach and Dandelion are loaded with nutrients and flavour, Red Mustard,Romaine Lettuce, Green & Red Leaf Lettuce as well as our Spring Mix. Great fresh tasting Cilantro compliments, well,anything. A nice selection of fruit adds to our table of homegrown produce. Enjoy your day." Mark & Co.
From Colette of Urban Harvest:
"All of our plants and seeds will be on sale this week!"
A great market ahead, and here's a special park event announcement:
A group of professional bodyworks who live in this area will be offering free samples of their work, including Trager, Cranio Sacral, Massage, Shiatsu and Reiki, at the park this Thursday June 14, between 3:00 and 7:00. Rain date is June 21st. We look forward to seeing you!
Dufferin Grove Organic Farmers' Market
Thursdays, 3-7 p.m. year-round
www.dufferinpark.ca
p.s. One of our market storytellers, April Aliermo, will be a Director at the daps playground summer camp in July (Dundas & Dovercourt). If you know little ones aged 4-6 who might be interested in gardening and arts & crafts, visit www.dapsplayground.com.