< March 23-2006 | Notes Library | April 6-2006 >
Weekly Market Notes for March 30, 2006
Dear market friends,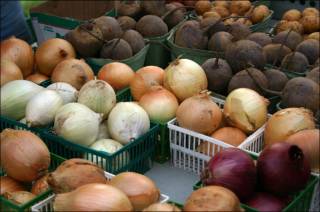 I saw my first robin today! It should be a great day for a trip to the park, and the market will be starting to spill outdoors, just a little, so there will be room for all.
Let's start with the good news from the farms this time:
From Angelos (Country Meadows Gardens):
This weather is great for the greenhouses, everything is growing in leaps and bounds. Tomorrow I will have a very limited amount of my greenhouse salad greens and tomatoes. At present, we have in excess of 6,000 tomato plants in the greenhouses (made up of over 45 varieties of heirlooms), from tiny seedlings to tomato producing plants.

The goats all have kids, our heritage chickens are laying lots of eggs again, and some are already brooding, so soon we'll have baby chicks. We really have all the signs that spring has sprung at the farm.
From Greenfields:
Wow! That sun sure is shining and we are having a great day here at Greenfields. We have a lot of great organic produce on the menu this week. First off, we have LOCAL Green Cabbage, Carrots, Shiitake Mushrooms, Beets, Parsnips, Yellow Onions, Red & Yukon Potatoes, Butternut Squash, Mustard Greens, Watercress, Rutabagas, Rosemary, Sage and a delicious Spring Mix. We will also have a great selection of fruit including Fuji Apples, Avocadoes, Grapefruit, Kiwi, Lemons, Oranges and Bosc Pears. For veggies and miscellaneous items we have Bunched Beets, Broccoli, Red Cabbage, Bunched Carrots, Celery, Red Chard, Garlic, Ginger, Black & Green Kale, Leeks, Red & Green Leaf Lettuce, Romaine Lettuce, Green Onions, Parsley, Mixed Sweet Peppers, Red Peppers, Easter Egg Radishes, Spinach, Tomatoes and Yams.

AND, last but certainly not least we will have our very own Greenfields Sunchokes. Yay! We hope to see you on Thursday. Thanks for your support. Mark & Kaidy.
From Irene of Deer Valley (Venison) Farm:
Have you tried our venison breakfast sausages yet? Come sample some this week at the market. We also have a variety of cuts, 100% pure venison burger patties, venison cabbage rolls & chili available as well. For info about the health benefits of Elk Velvet Antler, Emu Oil, nutritional benefits of venison or recipes – see www.venison.ca
From Beretta's:
LAST WEEK for the GREAT specials of March: ground beef $3.50 /lb save $1.50 beef stew $ 7.99 /lb save $1.35
beef braising ribs $2.99 /lb save $3.00
chicken wings $3.99 /lb save $1.00 pork belly bacon $6.79 /lb save $.90
sirloin tip roasts $7.99 /lb save $2.00

We'll also have FLINTSTONES SMOKED DOG BONES again!

See you there, Mary Lou
posted March 30, 2006
Dufferin Market Wins Green Toronto Award of Excellence
The media lines have been buzzing this week, following the announcement that the market has been chosen to receive a Green Toronto Award of Excellence in the Health Category. There are nine categories, with three honorees in each. On May 2, at City Hall, one winner from each category will be chosen to receive $5,000 to donate to the environmental organization of their choice. We invite you, loyal market fans, to join in the discussion and send along your suggestions for who should receive this money if we win! If you'd like to learn more about these awards go to www.toronto.ca/greentorontoawards and to see the other recipients, go to the Green Toronto Awards winners page.
See you at the sunny-day market!
Anne Freeman,
Market Maneger