< May 6-2010 | Notes Library | May 20-2010 >
Weekly Market Notes for May 13, 2010
Hello Market Friends:
Okay, we were getting a little spoiled with the summery temperatures, but there's plenty of good food that a wee chill won't stop! We're especially rich in greens, and if you like the French idea of 'terroir', these fresh leaves carry the flavour signature of each of our farms' rich organic earth. Time for superb market salads.
Sosnickis news: "The cooler weather, wind & rain had to be dealt with, so all is still on schedule around here! We are already busy suckering and running tomato twine in our soon-to-be heirloom tomato jungle! So when we have to park the tractor and planter due to weather, there is always a ton of other jobs waiting. We'll be bringing the few first heads of our Lettuce and will also lift the row covers and snip out some fresh Tatsoi and Bok Choy! The flea beetles have still managed to get in there and chew a bit, so they are not the most attractive BUT tender and very tasty! More of our awesome 'no they are not carrots' bunches of pink, spicy 'Ostergruss' Radish, round mild Radish, Green Garlic, Rhubarb, tromp around in the mud and harvest some more Leeks, perhaps more Spinach, storage Potatoes, Cabbages, Perogies, Sauerkraut, and of course our Plants and Compost!" Jess & Ben.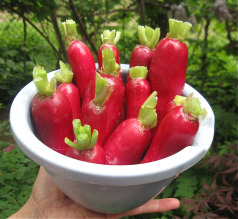 Tim Clement, maker of delicious (Red Fife or new gluten free Buckwheat) crepes, sends this tribute to the 'no they are not carrots' radishes:
Unique recipe for 'Ostergruss' radishes from Sosnicki Farms

"If you are like me, the first thing that comes to mind when using radishes is to slice them into coins, then add them raw to a mixed salad. That was until last night, when my gal, Angelika introduced me to a new realm of radish preparation possibilities.

She started with the long, crimson coloured and spicy 'Ostergruss' radishes from Sosnicki Farms. These beauties average about 4-6 inches in length and are ruby red in colour. Rather than being limited to cutting them into coins, she sliced them in half, length-wise, leaving about an inch of greens attached to the tops. She then steamed them until they were barely "fork-tender", tossed them with a healthy dollop of Bee's Universe Wildflower Honey, a knob of butter and a dash of sea salt, and then sautéed the radishes until mouth tender.

The result was something beyond compare! Radishes are peppery when raw, but cooking mellows out their flavour considerably. What started out as a crunchy, spicy crudité was magically transformed into a soft, sweet, melt in your mouth delectable side dish that could easily replace the usual fare of carrots or green beans.

This dish is a feast for the eyes and the palette, like a bowl of edible jewels. The radish, which may be viewed as somewhat of an "underdog" vegetable, achieves a respected, new and gourmet status with this treatment! A seasonal treat, well worth exploring. HIGHLY RECOMMENDED! Bon Appetit!"
Greenfields report: "Just a quick note re our own produce this week. Due to ongoing cold weather and a severe frost (more like a solid freeze up) we will have very little of our own asparagus this week. We will have our own dandelion, radicchio and possibly spring salad mix. Last week, I personally felt like packing up and going home as we struggled to set up in the wind at the beginning and was stunned to see how many customers turned out. A dedicated group at Dufferin! Very encouraging." Lorenz
Growing Spaces writes: "New this week, Rhubarb Citrus Jam! After picking over 80 lbs of rhubarb stalks this week, Adam and Blythe are busy making this delicious jam for Thursday's market. Come by and try this fresh new jam. It goes great on crumpets and is wonderful as a filling for layer cake!"
Bob Felhazi of Pine River Organic Farm cut his asparagus just in time to save it from frost, so look for his helper, Helga, with a good supply.
"ChocoSol just made a wonderful unsweetened coconut chocolate! This one is for the hard-core dark chocolate lovers and for those who have decided to forgo any sweeteners! This fresh ground chocolate has a beautiful texture and the coconut butter mellows out the bitterness. Also, ChocoSol will be rocking HOT drinks on the spot this week with our pedal powered blender of the infamous ChocoCycletta! BYOCUP! Have a great Thursday!" Mathieu
Come fill up your fridge, pantry and tum, and enjoy the flavours of spring.
See you at the market!
Anne
p.s.This sounds fun:
Gleaning Screening: A Fundraising Film Screening and Party, Thursday, May 20th 2010 (Doors at 6:30pm, Film at 7:30pm, Party to follow)
Kick off the new harvest season and support NOT FAR FROM THE TREE at our spring screening of THE GLEANERS AND I and then party it up with drinks, mingling, prizes, and fun. Among other special offerings, a select number of our signature drink – known as "The Gleaner," designed by Chef Sharon Bergey of Jamie Kennedy Kitchens, and made with a delicious preparation of elderberry syrup gleaned from a Toronto tree – will be available.
Be one of the first to see this new venue, the Toronto Underground Cinema, and an inspiring film that critics have adored ("Visually brilliant!" "A bewitching documentary!" "A tribute to all the people who think outside the box"), about our favourite subject: gleaning!
Special for Early Birds! Buy tickets in advance and get a free drink with admission! What better way to kick off the long weekend? See you there! Tickets available for purchase online or by calling or emailing info@notfarfromthetree.org