< October 26-2006 | Notes Library | November 16-2006 >
Weekly Market Notes for November 9, 2006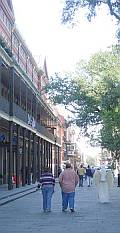 Hello Market Friends:
I'm back from New Orleans, and while my head is still spinning a little, the usual preoccupations with what the weather might do and where to fit a few extra tables for this week's very full market have a way of bringing things down to earth. For those who are curious, some stories(and soon pictures)from the trip are posted on the website: New Orleans Adventure
A warm welcome back to our other travelers:
From Colette Murphy:
"Earthly Paradise will be back this week from our sojourn in Torino for Terra Madre 2006. Please stop by the table and take a peek at the amazing book each of us received listing all 1600 food communities."
From Jonathan Forbes:
"I'm back and will be at the market tomorrow with Maple Syrup in 3 sizes, lots of freshly dried wild mushrooms, including the elusive lobster mushroom. I'll also have fruits, veggies and a little bit of fresh High-Bush Cranberry."
Bruno and Paula are still away, but Gabriel will be at the Fun Guy table.
This is your last chance to stock up before another traveler hits the road: Angelos will be heading to Greece for the olive harvest next week, and will be away for three markets.
From the Sosnickis:
"We will have lots of beets with tops, potatoes, lots of big and medium size green cabbages as well as cute little reds also for $2 a head, also lots of Bok Choy, celery and a few pounds of our flavourful spinach! (it was MUDDY picking that spinach today!!) Also, our bunched SWEET carrots (12-15 count in each bundle, because they are small). I've never done this before (competition?) but Greenfield's carrots are awesome and really do blow ours away right now!! Taste is soo important, and those folks grow some great carrots! Also, I will have my coolers filled with our frozen sweet corn and green beans (remember the great taste of late summer? All yours again with our corn and beans ready to heat and serve!) I also may bring some of our sourkraut, which is now ready! Perogies available next week, November 16th!!" Sincerely, Jess & Ben
Evelyne of Hearty Catering will have *new* jarred soups, as well as veggie sushi, some of it 100% raw, with sprouted sunflower and almonds. Popular stews will be back, too, and there will be lots of salads and prepared meals to take home as well as some hot foods on the spot.
From Irene of Deer Valley (Venison) Farm:
Chili & venison meatballs will be available for take-home this week…hot chili & burgers-on-a-bun can be enjoyed while at the market. Frozen burgers are also available for those who like to cook at home. order@venison.ca
Stonehenge Farm has some kittens to give away. Call Ute at 905-659-0013 if interested, or talk to her at the market.
This will probably be the last market on the rink before we move to our winter setup. It looks like the most beautiful day of the week, so come and enjoy it!
See you at the market!
Anne
Dufferin Grove Organic Farmers' Market
Thursdays, 3 to 7 p.m. year-round
www.dufferinpark.ca