< September 21-2006 | Notes Library | October 5-2006 >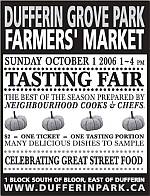 Weekly Market Notes for September 28, 2006
Hello Market Friends:
Could anyone lend me a crystal ball? I've been watching Sunday's weather forecast, but I need something a little more definite! It seems we may have a few showers the day of the Tasting Fair, but the food is going to be wonderful. I can't let out too many secrets, but you won't want to miss Jonathan Forbes' Cloudberry Tarts, Mark Skinner's Pumpkin Soup, the return of Ionel Alecu's Honey Crepes...and that's just the beginning. Whether the sun is out or we're under the market tents and umbrellas, it's sure to be lots of fun.
Please forward the poster to your pals who may not know about it yet or print one to post.
No frost at the farms yet, but longer nights and cooler days mean it's time to say goodbye to summer flavours and welcome the great foods of autumn. Here's the news from the vendors:
From Greenfields:
"Lots of sunshine and amazing fall colours make a day of harvest an absolute pleasure. Lots of fresh produce coming from Greenfields this week: bunched Beets look great, Green Cabbage, Savoy Cabbage an excellent size and taste, the first of our Celery Root(nice grated raw, baked, mashed and more). Our Greens are looking great: Red & Rainbow Chard, Green & Purple Kale and Dandelion. Get your Eggplant while it lasts, anise flavour from our Fennel, sweet and tasty Leeks, Red Radish. The first of our Squash will be here(Butternut, Delicata, Green & Sweet Dumpling, Acorn, Hubbard and Pumpkins) and more!" Mark
From Evelyne Gharibian of Hearty Catering:
I will be bringing a different vegetarian hot soup to the market each Thursday from now until the end of October. It will be available to eat on the spot (in a biodegradable bowl) or to take home in a mason jar. I will continue to bring a variety of salads and made to order wraps and multigrain pita stuffed with grilled vegetables, dips, and goat cheese. I also have available wheat free wraps and sprouted raw wraps.
From Maria Solakofski of Guerilla Gourmet(a special visitor):
"I will be selling pear pies for Thanksgiving weekend by reservation only. Email: maria@guerrilla-gourmet.com or phone 647 831 3377 to place an order. The pies will be made with spelt flour, oats and flax with spices and butter--unless I get an order for a vegan pie.

The pies are 7" round and 3" deep, filled with pear-fect goodness, and I will sell them for $15. The Tasting Fair will be a perfect opportunity to have a sampler.
By the way, if you haven't passed through the park in a while, our local colours are looking especially beautiful since the planting of many new young trees this past week. See you at the market! Anne
Dufferin Grove Organic Farmers' Market
Thursdays, 3 to 7 p.m. year-round
www.dufferinpark.ca
Tasting Fair: Sunday, October 1st, 1-4 p.m.