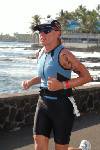 Bev Coburn
Iíve lived in this neighbourhood since 1998 - a studio-loft on Lansdowne, a house on St.Clarenís and, at the Chelsea Lofts since 2006.
My background is in FITNESS and HISTORY Ė I used to work in the archives of the College of Physicians and Surgeons of Ontario,
Iím now working in the health and wellness industry. I am a certified Personal Trainer, a certified Older Adult Specialist as well as CPR certified. My business name is ACTIVE AGE FITNESS. I offer personal training services to meet my clients individual GOALS of HEALTH, FITNESS or PERFORMANCE.
What is a good GOAL? A good GOAL is one that you are 85% sure you can accomplish. Personally, I love a GOOD, LOFTY GOAL!
As I said, one of my passions is running. In 2001, I managed to achieve a Canadian Record in the 10,000m outdoor track. It was a hot, hot day in July and the 10,000m is the most grueling of all track events,
read more >>