Yo Utano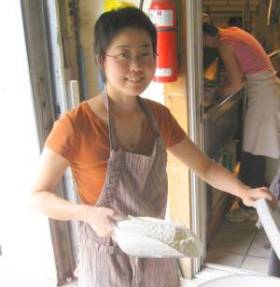 For three years, while studying at York University, Yo was one of the park cooks and bakers. Then she returned to Japan. From Yo's essay:
Food pleases us, torments us, and keeps us together. In this multi-dimensionality, I see many problems and solutions, pains and hopes, all at the same time. Coming from the countryside in Japan to Toronto where I once found was a very depressing place, I have sought a hope through my encounter with a park and the community surrounds it.
A significant portion of my thoughts over food originates from the way I grew up. By the time they were in my age, my parents had fostered a certain degree of anti-establishment spirit through the student movement in the 70s, and by the time I was born they had a clearer vision of the lifestyle that would lead to what a just society should be. After taking several steps of preparation, they settled in a small island located in the west end of Japan with their three children, where they started living as self-sufficiently as they could. That was when I was seven years old.