Dan DeMatteis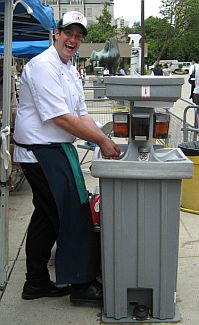 Excerpts about Dan from old park newsletters and posters
Newsletter August 2002
GOLD, the play….and their chef. Tuesday-Sunday: dinner from 6, music and sideshows 7.15-8, play at 8, ending by torch-light.
Every evening except Monday nights, our park's resident puppetry theatre company, Clay and Paper Theatre sets up its giant puppet and its theatre props in various locations at the centre of the park. The play begins at the bake oven. This year for the first time, director David Anderson has hired a chef. His name is Dan DeMatteis, he comes to us from Montreal, and he's been showing us how to cook delicious street food in the wood oven. From 6 o'clock every night, with a little help from park friends, he serves up a $5 meal of roasted or baked dishes straight out of the oven, with a salad often including ingredients from the park gardens. This is an affordable neighbourhood meal in the church supper tradition, right in our park.
Diners can watch the set-up for the play happening around them, and then shortly after seven the band strikes up near the oven. The side-shows start, asking the question – what is gold for us? What do we value?
The play itself begins by the hill just south of the oven, at 8 p.m.
---
Newsletter: Fall 2002
THIRD ANNUAL NIGHT OF DREAD PARADE: Saturday Oct. 26. Paraders assemble at the park from 3 p.m. for costuming and instructions, parade leaves the park at 6 sharp. Parade route: along Bloor, along College, then back to Dufferin Grove Park, for the bonfire to burn the fears. This year for the first time: dancing around the fire with "death," a pageant of many masks (including political figures). Afterwards: live music by the Hokey Jeremiahs, wonderful food by Friends of the Park with help from the summer park chef Dan DeMatteis, plus Portuguese roast pig on a spit. Bring your friends.
---
Rink diary Jan.18 2003
From Jutta: The rink had something new tonight: "Friday Night Supper." Since park cook Dan DeMatteis is back, I asked him and Lea Ambros a couple of weeks ago if they'd like to try cooking a big meal once a week. The weekends have been so crowded at the rink, but Friday nights are different. The kids who don't have dates at clubs come to the rink and hang around looking dissatisfied and swearing at each other. We need to get some families in there, to mix it up a bit better. Lots of people with young children are worn out at the end of the work week. I thought they might like to come to the rink and eat supper there and have a skate, get the kids good and tired, and then go home with no dishes to wash. Even for people without kids, a skate around the rink, with a cheap, tasty supper might be a nice way to end the week.
So Dan and Lea worked all day cooking dinner. Their idea was that they would use mostly market food, so I put it into the market newsletter for this week: Seasonal food from the Thursday organic farmers' market: $5 a plate. Depending on what's available at the farmers' market, the cooks may also offer soup, antipasto, and/or dessert, which will be extra.
The temperature dropped to minus 18 celsius in the evening, and we thought nobody would come. But over forty people came, counting the kids, and there was only a little bit of food left at the end. The staff had set up some long tables, with tablecloths. Strangers talked to each other, the windows were all frosted over with the cold, the rink house was full of good food smells, red-faced skaters got to thaw out by the wood stove – beautiful. The Friday night loudmouths were there too. They were puzzled but not hostile.
---
First Poster: FRIDAY NIGHT SUPPER
Peaceful Friday nights at the rink. If you find Saturdays and Sundays too crowded at the rink but you like getting out to the park, Friday nights are still pretty peaceful. So if you're coming home from a week of work, all bushed and ready to relax, scoop up the kids or call up your girlfriend, get your skates and come down to the rink.
Seasonal suppers: Dan DeMatteis, our summertime chef from the Clay and Paper play "Gold," is back. On Friday nights, the rink house wood stove will have a fire in it, and a couple of long tables will be set up nearby. The chess and checkers and play area are always set up, and now there will also be: Dan's delicious food. He'll be preparing seasonal food from our Thursday Dufferin Rink farmers' market: $5 a plate. Depending on what's available at the farmers' market, Dan may also offer soup, antipasto, and/or dessert, which will be extra.
Swap food lore: Dan is willing to discuss/ show off what you can do with a rutabaga or other storage crops. He's interested in other people's seasonal recipes too.
Open community oven: The smaller bake-oven beside the rink will be heated up on Friday nights too, so if you'd like to bring your own chicken to roast or bread to bake, do it!
If you like, bring along a flask of your favourite kind of tea (!) to keep you warm. And drink a toast to Canadian winter. Starts Friday January 18 6.30 p.m. to 8 p.m.
---
Newsletter April-May 2003
Friday May 2: The first Friday night supper in spring, outside by the larger bake-oven if the weather is nice, otherwise in the rink house. With Dan DeMatteis and Lea Ambros, cooking food from the organic/local foods farmers' market. And possibly a maypole: call the park for information (and to reserve your plate -- $5 for the main course, soup and dessert extra.) There will be lots of room in the oven after 6 p.m. for people who want to cook their own supper. There will also be inspiring organic-gardening films playing on our 16mm projector, in the rink house zamboni room (now, without the zamboni, there's space!)
Newsletter July 2003
SPECIAL EVENTS THIS MONTH:
Dusk Dances: Tuesday July 8 through Sunday July 13. Once again the park will be alive with dances, every night that week from 7.30 p.m. until dark. Original dances, original scores, live music, humour, virtuosity, beauty – what a thing to look forward to. Park rehearsals began in June already: a company of little "sheep," for instance, in a sheepfold complete with sheep turds, with a ram, and a shepherd carrying the traditional shepherd's curved staff. One day during rehearsal the little "sheep" even came out of their enclosure and their deadpan shepherd herded them through the farmers' market, to sample organic parsley and lettuce. These are the same folks (CORPUS) who had the audience in stitches last year with their comic dance about the Canadian Air Force squadron which had lost their planes due to cutbacks, but whose officers had retained all their goofy flying drills. Last year there were upwards of 400 people at each dusk dance, moving around the park from dance to dance. This year it promises to be at least as good. There are dancers from the National Ballet, a break dance group called Rubberbandance, a dance that takes place in the air with the dancer suspended from a crane, and more. Pay-what-you-can. Dan DeMatteis will be making food at the oven daily, if you come to the dances hungry.
---
Newsletter August 2003
Friday night supper: the pressure to make early reservations has been a bit less during the summer, and it's often been possible to book dinners up to an hour or two beforehand. (416 392-0913.) On August 1, Dan DeMatteis made an experimental dinner of Beretta's Meats organic beef heart, tongue, and oxtail. That one was never fully sold out, but the meat-eaters who switched to vegetarian on that day, missed a delicious meal. Out-of-town visitor Dayo Okunlola told us that where he comes from in Nigeria, those parts of the cow - the organs and the heart, tongue, tail - are the most expensive parts of the animal. Here they are sold off cheap or made into pet food. But the philosophy of using the whole animal - as traditional peoples did, when waste was not an option for anybody - was expressed at that Friday night dinner.
Saturday night supper: this is only until August 16, in conjunction with Clay and Paper Theatre's performance of the Sylliad. Supper is at 6.30 at the bake oven, and tickets don't need to be pre-booked.
Dinner price and philosophy: At $5 for the main plate and between $1.50 and $2 for the soup, the salad, and the dessert, it's hard to spend more than $10 per person for supper at the park. Considering that much of the food is organically grown by local farmers, this is obviously not a money-making venture. It's not meant to be. It's also not meant to provide a "bargain." The point is to celebrate local food and make a good place for neighbours to meet, as well as to ease the burden of work on young families. Friday night supper is when you can change out of your week work clothes, round up the kids and meet your friends at the park - no cooking and few dishes, and the kids can run around with other neighbourhood children until they're so tired they're ready to drop into bed.
There has been some unhappiness by people wanting to book birthday parties at Friday night supper. With a very few exceptions, the answer to such large group bookings is no. It's a wonderful way to have a bargain birthday party, but any block bookings will displace the ordinary supper scene that we intended. Birthday parties can be booked separately through Dufferin Park Youth Works: e-mail them at dufferinpark@dufferinpark.ca. The days when there's room in the oven for party food are Saturday daytime, and Sunday to Thursday suppertime. All other details are negotiable. In fact, Sunday pizza days can accommodate smaller parties from 1-3p.m. (without the usual extra labour charge - that's a bargain) or larger parties from 3.30 on. Big birthday parties are another wonderful form of sociability in the park, and we honour them: only not at Friday night supper.
---
Newsletter August 16 2003
THE BIG HYDRO BLACKOUT: Thursday August 14 (4.30 p.m.) to Saturday August 16 (9.20 a.m.): 41 hours with no hydro! The power went off an hour after the farmers' market began. By nightfall the park was totally dark except for small groups of people sitting around with guitars (or battery cassette players) and candles. The next morning Dan DeMatteis and Emma Cook came to the park and began cooking Friday night supper. They decided to stop taking reservations and just make as much food as possible. (Many people couldn't cook at home, but of course the park's bake-ovens are off the grid, so we can always cook as long as we have wood.) Down at the wading pool we were not permitted to open, at first, to conserve water. So we just set up some sprinklers, so that people who had no water at home (that means most apartment high rises near the park and all over the city) could come and cool off. By noon there was a municipal change of mind: in the interest of cooling people down, we were allowed to fill the wading pool. We served organic hot dogs, water melon, and cool drinks, and the whole playground was packed all day. By evening the scene moved to the ovens, where extra tables had been set up and the food was ready. Supper was delicious, as always.
---
Newsletter October 2003
FARMERS' MARKET TASTING FAIR. Chefs and all our regular farmers will be paired at this special event: every table will offer some utterly delicious food item ($2 each) featuring one or more of the ingredients that farmer produces. Those market vendors who are bakers or caterers will offer $2 portions of their best dishes or baked goods.
or children, there will also be pizza-making at the oven in case the special foods are a little too adventuresome. In addition, there will be little pumpkins to carve at the pumpkin-table, to get ready for the special event of the evening: a candle-light pumpkin-sailing on the wading pool (and a bonfire with marshmallows), weather permitting. Clay and Paper Theatre will be preparing costumes for the big Oct.25 parade over by the field house, so there's lots happening in the park that day.
But the main thing is that there will be good food, lots of friendly chefs, and lots of chance to discuss things with the farmers and with your neighbours. This event is produced by Friday night supper chef Dan DeMatteis. Co-sponsored by Slow Food Ontario (you'll be able to find out about this great Italian organization too, if you haven't heard about them yet). SUNDAY OCTOBER 19 from ONE P.M.TO FOUR P.M., near the ovens (or in the rink house if it rains). Return for Pumpkin lantern sailing and marshmallow roast at the wading pool at 6.30 P.M.
---
December 2003
Excerpt: CITY OF TORONTO GRANT 2003, SMALL CAPITAL PROJECT FINAL REPORT
Re: Kitchen Renovations for the rinkhouse/clubhouse in Dufferin Grove Park
.....All this time our park's Thursday farmers' market had continued to grow slowly as people discovered it. We decided to celebrate the still-not-quite-finished kitchen and to strengthen the market by having a food event, hoping to interest the press and get some publicity for the farmers. In conjunction with the Italian-founded organization Slow Food, we put on a farmers' market "tasting fair" in the middle of October. This event combined chefs with farmers to serve little sample portions of delicious recipes prepared with local produce. Usually such events are rather pricey, but we were able to make this broadly available by charging only $2 per item. We were not, however, able to interest the press. No one wrote it up in advance (or afterwards). We were all the more amazed and astonished when almost 1600 tickets were sold for food portions, entirely covering the farmers' and chefs' costs. People came in droves. Street posters and word of mouth did it all.
That was the first coming-out party for our kitchen. The week afterwards, our contractor completed almost all the rest of the job, including the installation of a window, a fan, and a great deal of fiddly finishing work.
Then on Nov.29, to celebrate the kitchen's near-completion, our staff person Dan DeMatteis and some of his colleagues collaborated with one of the farmers to put on a great community feast that also marked the opening day of our rink season. The wonderful dinner that was prepared carried our highest-ever price tag: $10 for a heaping plate, a sampling of eight different ways to prepare this local farmers' pork. An entire large pig went into this dinner. There was marimba music in the change room, and good skating, and mulled wine, and a campfire where people could sit and eat as well: a very fine second-coming-out party for our kitchen.
---
Newsletter October 2004
TEN YEARS OF COOKING FIRES/CAMPFIRES IN THE PARK
This year is the tenth anniversary of the Friends of Dufferin Grove Park community campfire permit. Toronto Fire Safety Chief Ted Scovell helped us get our first permit in 1994. Through him, we found out to our joy that campfires are NOT illegal in city parks (even the city staff were surprised). Isabel Perez started us off, cooking tortillas over the fire, just like her mother did back home in Guatemala – but right here, in the park, cooking with the kids in the playground. From tortillas we went to donuts, from donuts to the first bake oven, from the bake oven to the pizza days and the second bake oven and the farmers' market and Friday Night Supper. Now that it's been ten years, that calls for a celebration. We'll invite some of the people who helped us get started, for the first Friday after the rink opens. There will be torchlight skating, a winter campfire (of course), music, and delicious food. There's a very good chance that park cook Dan DeMatteis will be back from his Italian apprenticeship and will show a bit of what he learned there. Put it in your calendar: Friday suppertime, December 3.
---
Newsletter June 2006
THE THIRD ANNUAL COOKING FIRE THEATRE FESTIVAL Wednesday, June 14th – Sunday, June 18th, 2006
From director Kate Cayley: "We are pleased to announce the third annual Cooking Fire Theatre Festival, a weeklong performance extravaganza celebrating theatre, food and public space in Toronto's Dufferin Grove Park. Companies from Toronto, Victoria , Halifax and New York City will present original work that promises to delight, provoke, and inspire. Each evening, Toronto's Number Eleven Theatre will lead the audience from site to site throughout the park to see performances ranging from an ancient Japanese folktale to a modern cowboy musical, from grand spectacles to intimate puppet pieces.
Delicious organic meals will be served to the audience over cooking fires and from Dufferin Grove Park's two wood-fired outdoor community bake ovens. Dan DeMatteis, who cooked at the park in years past but now works for Jamie Kennedy, will be back just for that week to work with the park cooks.